Critical Care and Emergency Referrals go from Strength-to-Strength
Clinical Connections – Spring 2017
The RVC's Small Animal Emergency Referral and Critical Care services were set up in 2001 by Dez Hughes. He arrived from the University of Pennsylvania full of enthusiasm, new ideas and a passion 
for teaching veterinary and veterinary nursing students about emergency and critical care (ECC).
Since that point, the services have been headed by Amanda Boag then Dan Chan and Sophie Adamantos together, then Dan Chan alone. Professor Chan recently became Medical Director of the Queen Mother Hospital for Animals and so now Dom Barfield and Karen Humm have taken over the reins as joint heads of service. They aim to build on their predecessors' reputation for excellent teaching and provision of a great service for referring vets, pet owners and patients. Dan Chan is still strongly involved in clinical work.
Commenting on her and Dom's new roles, Karen said: "We're proud to be leading the ECC Service. We both trained here to become specialists. I have been at the College since 2005, with Dom having worked here since 2008."
Dom added: "That time has allowed us to understand the importance of the relationship we have with our clients. We want to make sure we provide the best possible service we can and we will be working to improve our communication and strengthen our links with referring vets."
Both Dom and Karen are European and American Diplomates and RCVS Recognised Specialists in ECC. They lead a team of four other ECC diplomates, seven residents training for the ACVECC diplomate examination and 13 interns with a wide array of clinical interests.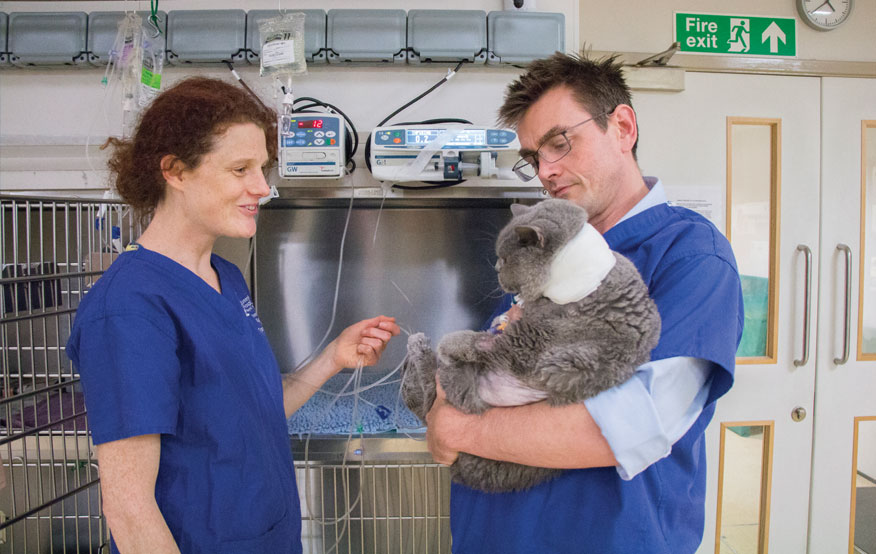 The nursing ECC team is led by Katy Nichols and Elle Haskey, who have more than 30 years of veterinary nursing experience between them. They have 30 registered veterinary nurses in their team, many of whom have post-registration qualifications in ECC, working solely in the intensive care unit (ICU) and emergency room (ER). Together they make the largest and most experienced ECC team in Europe. With the support of the patient care assistants, this means the provision of the highest quality animal care and a fantastic learning environment for veterinary nursing and vet students.
However, it is not just about the size of the ECC team and qualifications of clinicians but the way it works with other clinical teams. Dom states: "Our strength is not only our large team, allowing effective management of complex cases, but also our multidisciplinary approach. The ECC team is an integral part of the hospital and gives support to, and crucially is supported by, all the other services."
The Critical Care Service is based in the ICU. Over the past 10 years, this service has developed hugely, offering continuous renal replacement therapy, mechanical ventilation for patients with severe respiratory or neurological compromise and advanced transfusion medicine. We are certainly the only veterinary ICU in the world that can have post-operative cardiac bypass and hypophysectomy patients (diabetic remission clinic) in the same week. We have a team larger than most small animal clinics and it pays dividends in managing these complex cases.
The cause of disease in the critical care patients is highly variable. The team deals with a lot of post-surgical patients, septic patients, those with neoplasia, immune-mediated disease and a large number of poly-trauma patients. The RVC service is the only Level 1 Veterinary Trauma Centre in Europe and it is the 5th busiest in the world.
This wide variety of work is also apparent in the Emergency Referral Service, which feeds critical patients to the Critical Care Service and determines the most appropriate service to care for other emergency patients. RVC Small Animal Emergency Referrals provides advice and emergency appointments for referring vets 24 hours a day, seven days a week.
In relation to advice and referral cases, Karen added: "Hopefully, we can be of help to vets when they have a tricky case. Both of us have spent a fair amount of time in first opinion practice and we know how hard it can be to deal with emergency and critical cases alongside all the other cases in busy practices. We aim to provide the support that we needed when we were in that position. Whatever the emergency - The RVC team is here to help."

Sign up to get Clinical Connections in your inbox rvc.ac.uk/clinical-connections