Breakthrough in treatment of Cutaneous and Renal Glomerular Vasculopathy
Clinical Connections – Autumn 2018
Emergency and Critical Care and Internal Medicine specialists at RVC Small Animal Referrals have made a ground-breaking discovery in the treatment of cutaneous and renal glomerular vasculopathy (CRGV).
The condition was first observed in Alabama in the 1980s, hence the nickname 'Alabama rot'. The lack of understanding of what causes this disease or the mechanism by which dogs develop clinical signs has led to high fatality rates for dogs who develop it. The reason for its sudden appearance in the UK six years ago also remains a mystery.
The disease causes small clots in blood vessels, which eventually lead to skin ulcers, tissue damage, and kidney failure in the most severe cases. Many theories have been hypothesised about the cause, including E. coli-produced toxins and bacteria, however most of them have been excluded from previous investigations.
Though developing a reliable cure is impossible until the cause is identified, the RVC team has been successful in saving some dogs with the condition with therapeutic plasma exchange (TPE or plasmapheresis). This filters the blood so toxic substances or auto-antibodies, including whatever causes CRGV, are removed. The filtered blood is returned to the dog along with plasma, from healthy donors, provided by the RVC's Transfusion Medicine Service.
Its development was made possible by noticing the similarities between CRGV in dogs and some forms of thrombotic microangiopathy in humans, which can be treated with plasma exchange. Two out of six dogs who underwent plasmapheresis at the RVC made a full recovery.
The findings of the research have been published in Frontiers in Veterinary Science, with the article title 'Description of the Use of Plasma Exchange in Dogs with Cutaneous and Renal Glomerular Vasculopathy' (https://bit.ly/2LO8x9S). It was authored by Ragnhild Skulberg, Stefano Cortellini, Dan Chan and Rosanne Jepson of the RVC and Giacomo Stanzani formerly an RVC resident but now a UCL doctoral researcher.
Lead authors, Drs Jepson and Cortellini (Co-directors of the extracorporeal therapies at the RVC), commented: "Despite only a third of dogs treated with TPE recovering from their disease, this is the first time that dogs so severely affected by CRGV have been reported to survive, and so we remain optimistic that TPE may play an important role in the treatment of this deadly disease."
"The current data is insufficient to ascertain if this is truly an effective treatment, we only describe the application of a procedure, however this could be a promising start, both to improve outcomes of the most severely affected patients and plan further research in understanding how this disease may develop."
Plasmapheresis has also been used at the RVC to treat immune-mediated haemolytic anaemia and polyradiculoneuritis, and can be used to manage patients with selected intoxications or myasthenia gravis.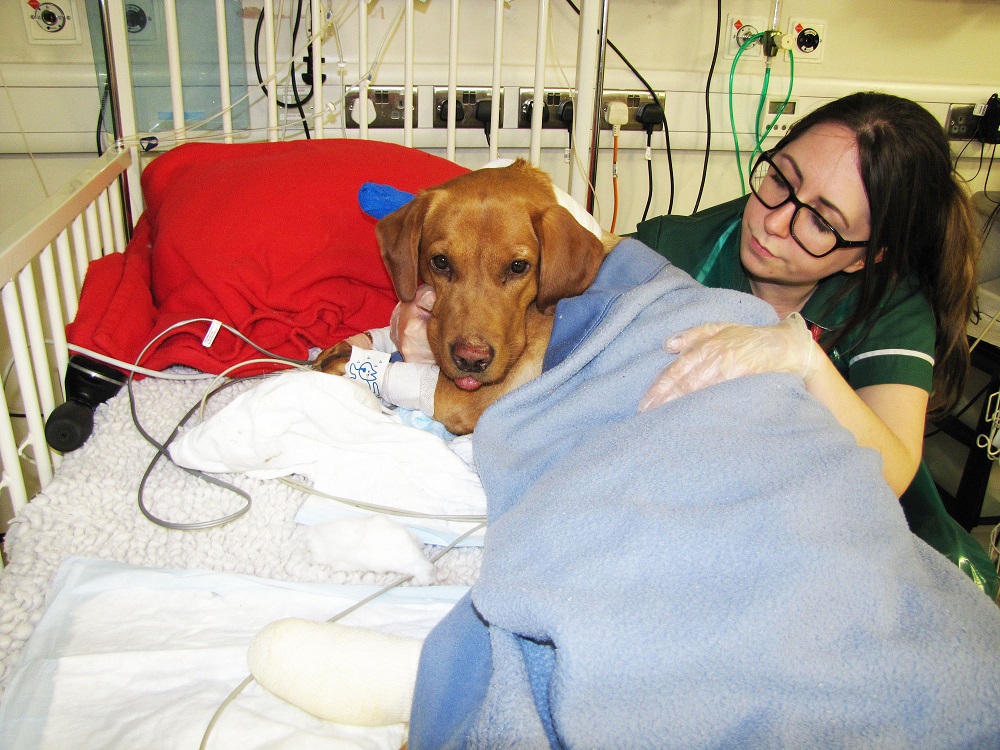 Recommendations on identification of a suspected CRGV case:
The current recommendation if a dog presents to a vet with skin lesions that could be compatible with CRGV is to provide careful monitoring. Assessment of renal function (biochemical profile and urinalysis) may provide a useful baseline for future comparisons. The time interval between identification of skin lesions and the development of acute kidney injury is between one and nine days. Dogs with suspected CRGV should be carefully monitored in terms of their renal function in this time window. RVC Small Animal Referrals is pleased to offer advice to veterinary surgeons, should they identify a suspected case.