Brain Bank Benefits Beyond the RVC
Clinical Connections – Autumn 2019
The RVC has established a Companion Animal Brain Bank (CABB), with the objective of collecting and storing samples of brain tissue and other biological specimens for research and educational purposes.
Each year more than 100 dogs and cats are euthanised at the RVC due to neurological conditions. These samples of brain tissue represent a previously unutilised, precious research commodity. The CABB aims to collect and archive this brain tissue (alongside whole blood, serum, plasma, urine, CSF, DNA and RNA), as well as samples from appropriate controls euthanised due to non-neurological conditions.
Routine collection of companion animal brain tissue has benefits for future patients diagnosed with neurological disease, the attending clinicians, students working with the cases and the research community as a whole, which can access the bank.
Explaining the benefits of the CABB within RVC Small Animal Referrals, Dr Abbe Crawford, Staff Clinician in Neurology and Neurosurgery, said: "Many animals euthanised due to neurological disease do not have a definitive diagnosis, which can be distressing for owners and frustrating for clinicians. The CABB could provide such a diagnosis – routine collection of companion animal brain tissue facilitates a more accurate neuropathological diagnosis, including distribution and grading of lesions.
"When combined with clinical, biochemical and imaging findings, information on diagnosis could improve clinical decision-making, student and resident teaching, management of future cases, and ultimately provide a more comprehensive, complete service to our clients and their pets."
Knowing that their animals are contributing to disease understanding and scientific advancement can provide comfort to many owners at the difficult time of losing a pet. Furthermore, by actively discussing and implementing brain banking at the RVC, the team hopes to open new avenues of tissue archiving across neurology and other disciplines.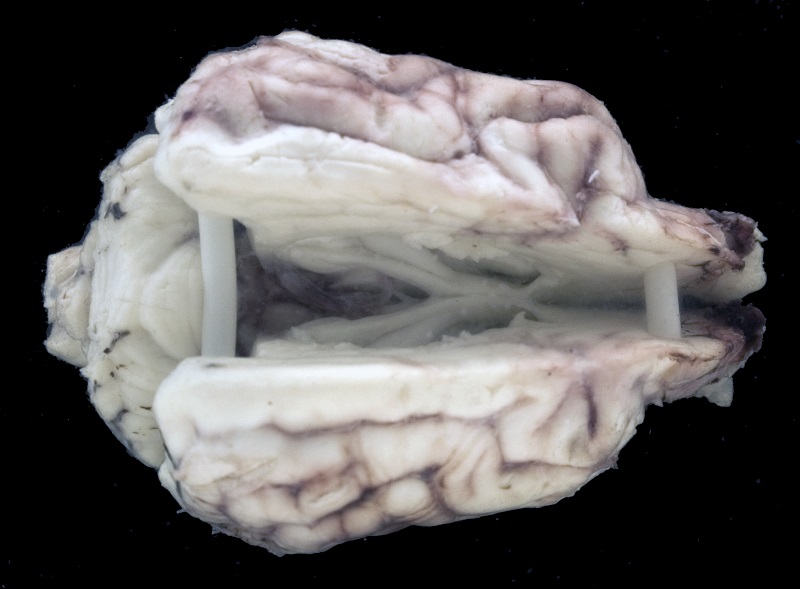 Neurological diseases such as brain tumours and epilepsy affect many of the patients presenting to veterinary surgeons. Such diseases also affect the families and communities of our clients and remain a key area of unmet need in veterinary and human care. Over the last 30 years, significant advances in neurological disease research have come from examining human and animal brain tissue. However, there is an acknowledged paucity of brain tissue available to researchers globally. In human medicine this resource gap is now being successfully addressed by the creation of the UK Brain Banks Network, which ensures human brain tissue is readily accessible to researchers from any related discipline.
The RVC uses a standardised methodology that has been adapted from the Medical Research Council's Brain Bank Network to ensure systematic sample collection, processing, storage and cataloguing of brain tissue.
In relation to the CABB facilitating research into veterinary and human neurological diseases, Dr Crawford said: "High quality research into neurological diseases has long been hampered by the limited availability of well characterised brain tissue. A CABB increases the availability of such tissues to researchers from any discipline. Use of a standardised protocol, adapted from human brain banks, means that specific regions of the brain from companion animals and humans can be directly compared at the gross and cellular level, facilitating high quality translational research.
"Availability of companion animal brain tissue facilitates detailed investigation of the pathophysiology of neurological diseases at the cellular and molecular level e.g. characterisation of disrupted cellular pathways, identification of biomarkers for disease diagnosis and understanding the microenvironment of brain tumours. This greater disease understanding has the potential to improve diagnosis and drive the development of new treatments for human and veterinary patients."
The Animal Care Trust kindly awarded a grant of £15,873 last year to enable the establishment of the CABB. That funding enabled the purchase of an Eppendorf CryoCube F740 Freezer with a factory setting of -80°C.
The goal of the team is to store a minimum of 50 brains over a three-year period, so creating a freely and easily accessible resource to researchers across the UK.