Advances in the Identification of Horses and Ponies at an Increased Risk of Laminitis
Clinical Connections – Spring 2020
By Nicola Menzies-Gow, Reader in Equine Medicine
Endocrinopathic laminitis is the commonest form of the disease in the UK, accounting for up to 90% of cases. It encompasses laminitis associated with the two common endocrine diseases, equine metabolic syndrome (EMS) and pituitary pars intermedia dysfunction (PPID).
The central feature of EMS is insulin dysregulation (ID) and additional features include adipose tissue dysregulation (resulting in altered production of adipose-tissue derived hormones known as adipokines, such as adiponectin) and obesity. The increased risk of laminitis in animals with PPID is also associated with ID.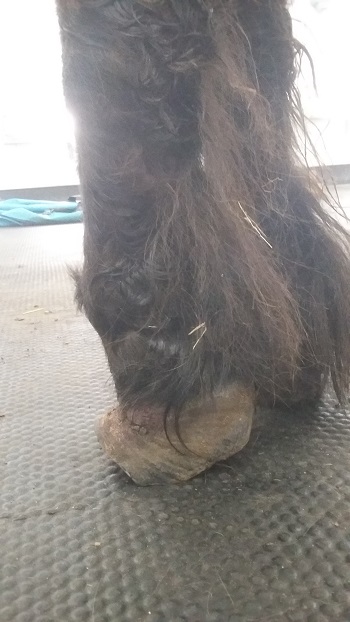 RVC researchers have been studying laminitis for over 20 years and were among the first to define endocrinopathic laminitis. They demonstrated that laminitis-prone animals had a metabolic phenotype which included insulin dysregulation, increased circulating triglyceride concentrations and hypertension that was only apparent in the spring/summer rather than winter, coinciding both with the consumption of spring/summer grass and the time of year when laminitis risk is increased.
Identification of animals at an increased risk of endocrinopathic laminitis relies on detection of insulin dysregulation. RVC research1 has demonstrated that either the oral glucose test (OGT) or the oral sugar test (OST) can be used to detect ID manifesting as basal hyperinsulinaemia and/or an excessive insulin response to oral carbohydrate consumption. RVC researchers revealed that these tests are comparable and measurement of peak circulating insulin concentration following a single feed of glucose2 or corn syrup provides a simple and practical way of identifying animals at increased risk3. Further research has shown that using a higher than previously recommended dose of commercially available corn syrup (Karo Light) for the OST (0.45ml/Kg) is more reliable than a lower dose (0.15ml/Kg)4.
RVC research has demonstrated that circulating concentrations of the adipokine adiponectin are lower in animals with a history of endocrinopathic laminitis and in healthy animals that go on to develop laminitis5. Thus, measurement of adiponectin concentrations is recommended as an additional measure of laminitis risk. The RVC has worked with Axiom Veterinary Laboratories in the development of a total adiponectin assay, which had been available to vets since 2019.
Prevention is key and relies on owners instituting a variety of management changes to ensure that the animal loses weight if they are overweight/obese or remains at an ideal weight and to restrict carbohydrate intake to minimise the resultant insulinaemic response. Weight monitoring as a crucial element to weight loss management in equidae. Billions have been invested into digital healthcare start-ups and a multitude of apps have been developed to aid human weight loss. RVC researchers designed a weight-loss monitoring app (Equine Weight Loss Diary) for horse owners and evaluated owner commitment to and success with a weight loss plan for their animal. The majority (66%) of owners felt that a weight-loss monitoring app would be helpful and most (80%) who used the app found it helpful. Thus, digital technology is available that will support owners that are trying to get their horses or ponies to lose weight.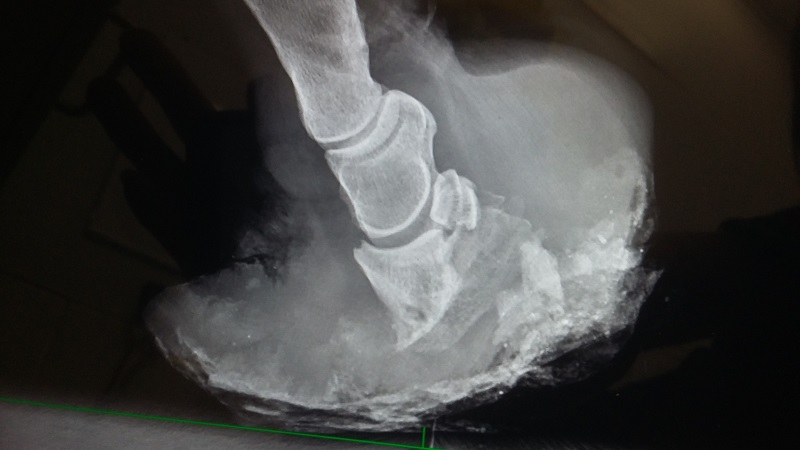 Accelerometers are wearable sensors that have been used to quantify physical activity in humans and dogs. RVC research has validated the use of these devices in horses and revealed that they can be used to distinguish between standing, grazing and locomoting whilst an animal is at pasture. They were subsequently used to demonstrate that strip grazing does not result in reduced physical activity. Thus, any reduction in calorie intake does not appear to be offset by a reduction in energy expenditure and so strip grazing should be an effective management tool to encourage weight loss or maintain an ideal weight in the horse.
Whilst there are still many questions relating to endocrinopathic laminitis that remain to be answered, RVC researchers continue to devote their time to this devastating disease.
References:
1. Smith S, Harris PA, Menzies-Gow NJ. 'Comparison of the in-feed glucose test and the oral sugar test'. Equine Vet J 2016;48:224-227
2. Borer KE, Bailey SR, Menzies-Gow NJ, et al. 'Effect of feeding glucose, fructose, and inulin on blood glucose and insulin concentrations in normal ponies and those predisposed to laminitis'. J Anim Sci 2012;90:3003-3011.
3. Knowles EJ, Harris PA, Elliott J, et al. 'Use of the oral sugar test in ponies when performed with or without prior fasting'. Equine Vet J 2017;49:519-524.
4. Jocelyn NA, Harris PA, Menzies-Gow NJ. 'Effect of varying the dose of corn syrup on the insulin and glucose response to the oral sugar test'. Equine Vet J 2018.
5. Menzies-Gow NJ, Harris PA, Elliott J. 'Prospective cohort study evaluating risk factors for the development of pasture-associated laminitis in the United Kingdom'. Equine Vet J 2017;49:300-306.