Advanced Imaging Case Study
Clinical Connections – Autumn 2017
Dr Randi Drees, Senior Lecturer in Veterinary Diagnostic Imaging
Benji, a three-year-old greyhound, was on a walk when he saw a deer, which he chased into the woods. His owner heard him vocalise and ran to find him lying on his side unable to move.
Benji attempted to lift his head and was able to move his front legs but made no attempt to stand up. He was taken to his referring vet's practice immediately and injury to the spine was suspected. An emergency referral to the RVC's Neurology and Neurosurgery Service was initiated.
Veterinary Neurologist Joe Fenn evaluated Benji and was concerned about injury in the caudal cervical or cranial thoracic region. A radiograph was taken to gain overview, and the appearance of the first thoracic vertebra was suspected to be altered - though a distinct diagnosis was not possible from the radiographic exam. Radiographs display the three-dimensional patient in a two-dimensional image and superimposition makes distinction of lesions difficult, especially in complex structures such as the vertebral column.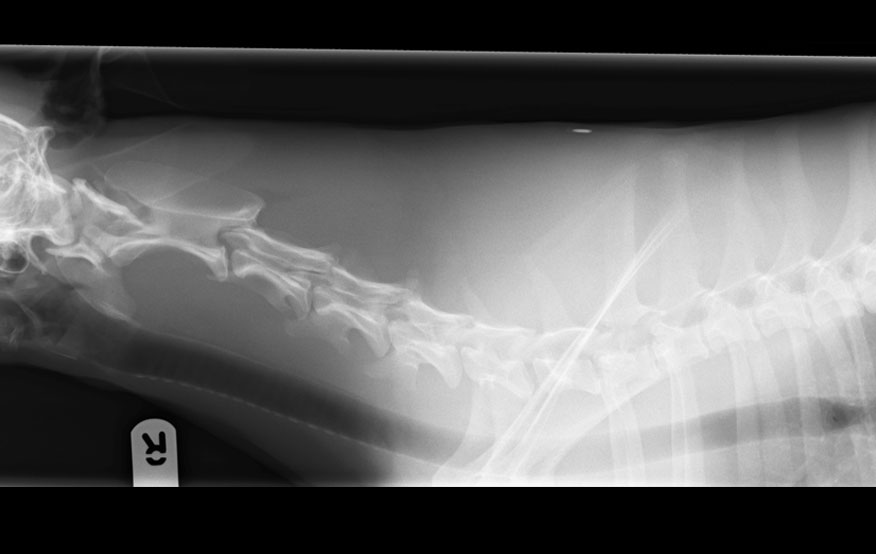 MRI exam was deemed the next best step to evaluate Benji's spinal cord that may have been injured. MRI allows excellent overview of the central nervous system, and, by using different sequences, we can highlight tissue characteristics to determine if they are damaged or normal. The RVC has a high field (1.5 Tesla) MRI scanner, as you would find in a human facility. It provides excellent anatomical detail compared to lower field MRI scanners, where the images tend to be lower resolution and changes can be missed.
Benji's MRI confirmed an injury to the spinal cord, which explained his clinical signs, but did not give us the full story regarding the suspected vertebral changes at this level.
Imaging of bony structures can be challenging on MRI, since the bones do not give off as much signal as soft tissues in the body.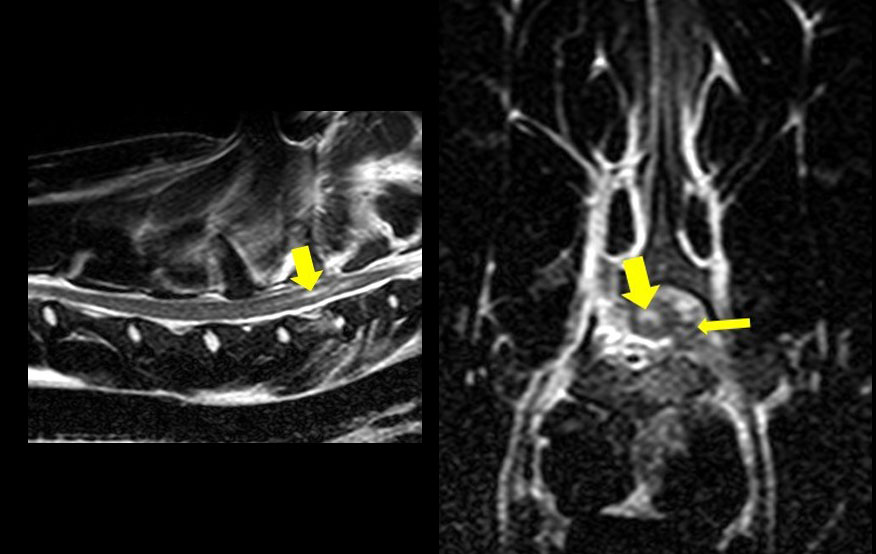 Case discussion between the specialists is essential in allowing for a thorough work-up and this often is performed while the MRI exam is ongoing, to decide if further imaging is necessary. In Benji's case, there was concern about the appearance of the first thoracic vertebra also on the MRI, and in addition to the spinal cord changes a fracture was suspected.
For further evaluation, Benji underwent a CT exam which gives an excellent overview of the bony structures, and an oblique fracture through the vertebral body of T1 and the portion of the vertebrae that surrounds the spinal cord was identified. Subsequently, it was necessary to perform surgery to stabilise Benji's vertebral column in order to avoid further injury to the spinal cord.
Teamwork is key at RVC Small Animal Referrals, and in reviewing cases we use advanced image visualisation techniques to display the anatomy. Images are reformatted into multiple planes (multiplanar reconstructions, MPR) or 3D formats. Bringing back the three-dimensionality of the patient on the screen enables us to understand the anatomical findings and communicate them to our treating surgeons, referrers and owners.
In Benji's case, as in many other patients that come to us, advanced imaging and specialist discussion allowed us to exactly appreciate his spinal cord disease and vertebral fractures, allowing for optimal surgical planning of the fracture fixation, and granting him a good recovery.
Sign up to get Clinical Connections in your inbox rvc.ac.uk/clinical-connections