A Promising New Therapy for Dogs with Chronic Spinal Cord Injury
Clinical Connections – Spring 2020
Spinal cord injury is a common problem in dogs and is most often seen secondary to intervertebral disc extrusions (so-called 'slipped disc'). Unfortunately, some dogs are affected more than others. There is no cure available for the most severely affected cases, who become paralysed.
Olfactory ensheathing cell transplantation into the spinal cord and chondroitinase ABC injection within the spinal cord are two of the most promising treatments recently developed by researchers to repair the spinal cord. Both therapies have been successfully tested separately in companion dogs, showing safety of treatment and in some dogs improved walking ability, in research conducted by RVC Senior Research Fellow, Dr Nicolas Granger. However, not all treated animals improved, and the improvement seen was variable and unpredictable.
Dr Granger and his colleagues, including Postdoctoral Researcher at the RVC, Dr Jon Prager, from the Clinical Investigation Centre, and Dr Liang-Fong Wong Senior Lecturer at the University of Bristol's Medical School, have since developed a method to modify olfactory ensheathing cells (harvested from the patient's nose) so that they continuously produce chondroitinase. This provides a way of combining both treatments into one transplant for affected dogs, to help more animals improve a greater amount. These modified cells have been tested in the laboratory extensively, and the next stage has been to determine if this new treatment can improve walking for dogs with severe spinal cord injuries.
To achieve this, Dr Granger and Dr Prager have teamed up with Dr Joe Fenn, Senior Lecturer in Neurology and Neurosurgery at the RVC, to offer a pilot trial to eligible dogs at the RVC. The aim of their current work is to evaluate the feasibility and efficacy of this exciting new therapy in dogs that have been left chronically paralysed after suffering an intervertebral disc extrusion. This trial is conducted under a Project Licence issued by the Home Office (the Animals Scientific Procedures Act) following approval from the RVC's Animal Welfare and Ethical Review Board. Because it is a pilot study, the trial will initially only include a small number of dogs, but it may lead to larger studies in the future.
Dogs that are enrolled in the study will undergo an initial anaesthetic for the nasal biopsy, after which Dr Prager will culture the olfactory ensheathing cells that have been retrieved for three to four weeks. During this time, the cells will be modified to produce the chondroitinase enzyme, after which dogs will then return to the RVC to have the cells transplanted into the injured region of spinal cord. The first patients, such as Harley and Susan (pictured) have already undergone the nasal biopsy stage of the trial and will have the cells transplanted in the coming weeks. The dogs also receive spinal cord MRI scans to check how their injury is changing over time.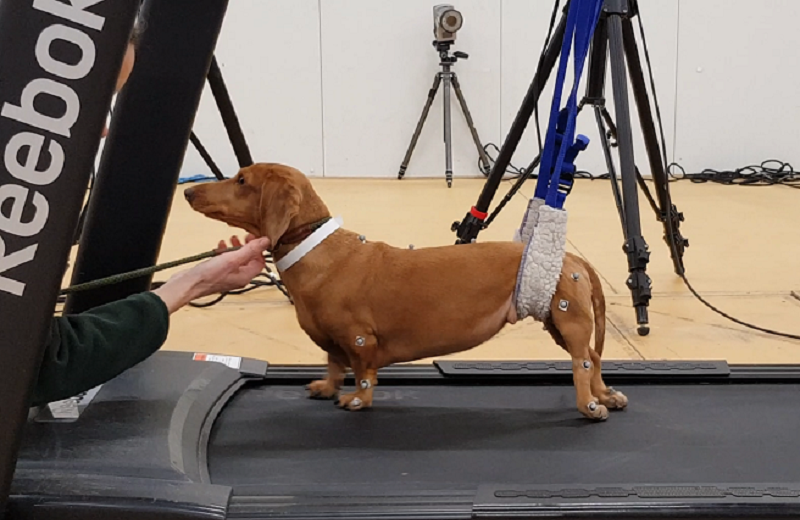 The hope is then that this transplant will allow axons to reconnect across the chronically injured section of spinal cord in dogs such as Harley, with potential improvements in hind limb function as a result. Regarding this exciting trial, Dr Granger said: "The Royal Veterinary College has long been at the forefront of research into areas that benefit human and animal health and welfare. Here, we are testing for the first time a unique cell transplant that has potential to improve paralysis in dogs by repairing the spinal cord. It could pave the way to clinical trials in people."
This clinical trial has been supported by the Langford Charitable Trust (https://langfordtrust.org) and the West of England Dachshund Association (http://wedachs.co.uk). For further information on this trial or to discuss any potentially eligible patients, we would ask colleagues to contact the RVC Clinical Investigation Centre on (01707) 666605 or email cic@rvc.ac.uk.
The Veterinary Neurology and Neurosurgery Service
RVC Small Animal Referrals has the largest and most advanced Veterinary Neurology and Neurosurgery Service in the UK, providing diagnostic services and treatments such as complex spinal and brain surgery, including hypophysectomies that few other centres in the world can offer.
Our team comprises five experienced veterinary neurologists, a number of veterinary specialists-in-training and a large team of dedicated small animal neurology and physiotherapy nurses. The team of veterinary neurologists works closely with our Physiotherapy and Rehabilitation Service to ensure the best outcomes for dogs and cats.
Diagnostic procedures are available for the investigation of spinal, brain and neuromuscular disorders. Surgical facilities are available for treatment of lesions in all three of these systems. The service's caseload also includes the investigation and treatment of intervertebral disc disease, cervical spondylomyelopathy, lumbosacral disease, vertebral malformations, neuromuscular disorders, intracranial neoplasia, inflammatory disorders of the central nervous system, spinal fractures and seizure disorders.
Our ultrasonic aspirator surgical system and facility for stereotactic brain biopsy allows us to offer cutting-edge neurosurgical care. Do not hesitate to contact us if you want information about ongoing trials and studies.