A Collaborative Approach to Ocular Pathology
Clinical Connections – Spring 2017
Professor of Veterinary Pathology Simon Priestnall, an RCVS and American Specialist in Veterinary Pathology, talks about the ocular pathology expertise at the RVC, which supports referred patients. The expertise can also be accessed directly by veterinary practices as part of the service offered by the RVC Pathology and Diagnostic Laboratories team.
"Ocular pathology is a specialised branch of anatomic pathology and requires experience of seeing many cases and a range of clinical conditions and disease entities. Many pathologists feel out of their depth with ocular pathology, but with time and experience it is a very rewarding and interesting discipline.
RVC Ophthalmology Service, led Dr. Charlotte Dawson, receive many ocular samples, including whole eyes (enucleation) and, increasingly, samples of cornea, conjunctiva and even intraocular biopsies (e.g. lens). Having an in-house expert and specialist pathology service enables a rapid diagnosis for patients referred into the RVC's hospitals, therefore clinical decisions can be made and necessary treatment started more quickly.
We hold monthly rounds (virtually if needbe) in which we discuss clinical cases from all RVC referral services, sharing, with gross (macroscopic) pictures and ultrasound or intra-surgical images, in conjunction with the histopathology findings. These make for both a great discussion of case management and work-up, and are essential training for our anatomic pathology and ophthalmology residents.
My interest in ocular pathology has developed from a strong clinical and research collaboration with Dr Caroline Thaung, Consultant Ophthalmic Pathologist at Moorfields Eye Hospital and Honorary Senior Research Associate at University College London's Institute of Ophthalmology. Caroline is a world expert in ocular pathology and enjoys sharing interesting veterinary cases. The RVC and Caroline's team have collaborated is in developing a classification and scoring scheme for feline idiopathic anterior uveitis. She has an excellent blog (https://eyepathlondon.wordpress.com).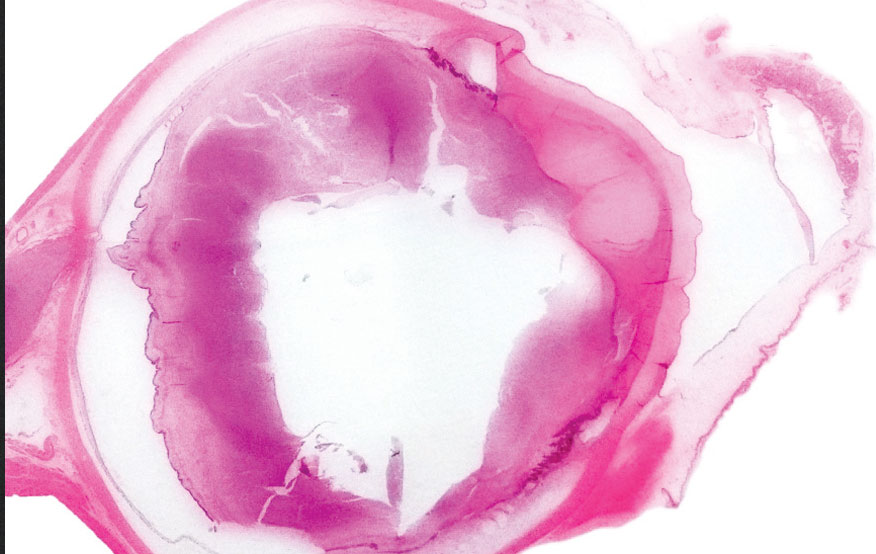 Recent interesting cases we have shared expertise for include comparative pathology of ocular neoplasms (e.g. melanomas and squamous cell carcinomas) in humans and animals, retinal degeneration, glaucoma and cataract development.
More unusual cases we have examined are eyes from an aged common hippopotamus living at Whipsnade Zoo, an alpaca with severe panophthalmitis following a penetrating injury and lens rupture, and I am currently working with the University of Las Palmas de Gran Canaria's Institute for Animal Heath and Food Security to examine and describe the histopathology of cetacean (whales and dolphin) eyes.
(Update 2020) Dr Alejandro Suarez-Bonnet, Lecturer in Comparative Pathology and I are currently closely examining the molecular aspects of ocular squamous cell carcinoma in the horse as part of study funded by the Horse Race Betting Levy Board (HBLB) and we hope our findings will inform improved treatments and prognostic outcomes.
The RVC's Diagnostic Pathology Service is keen to receive ocular samples as well as other surgical biopsy samples from practising veterinary surgeons, which are essential for the training of our anatomic pathology residents. Our turnaround time for all routine samples is 48 hours from receipt of the specimen into the laboratory, and the report contains a full 'board-style' histological description, diagnosis, and comment tailored specifically to the case. My colleagues and I are always keen to follow up cases over the phone or by email.
The RVC Facilities:
Outstanding diagnostic laboratory facilities at the RVC's Hawkshead campus provide a range of world-class diagnostic pathology services, enabling you to provide better medicine and fast results to your clients. These diagnostic services are provided by pathologists and technicians with a vast experience of routine and more complex clinical cases. There are excellent links between the diagnostic team and our specialist clinical teams.
RVC Diagnostic Laboratory Services can be contacted on 01707 666208 and via the email address: diagnosticlabs@rvc.ac.uk
Sign up to get Clinical Connections in your inbox rvc.ac.uk/clinical-connections