The Animal Care Trust funds research into combatting deadly wildlife virus
Nobody could help but be moved by the tragic plight of the Saiga antelope as portrayed in David Attenborough's Planet Earth II when 150,000 antelope died in front of the series' TV crew across three devastating days. Royal Veterinary College (RVC) researchers were presented with a £3,000 grant from the Animal Care Trust (ACT) to research this disease and support its eradication.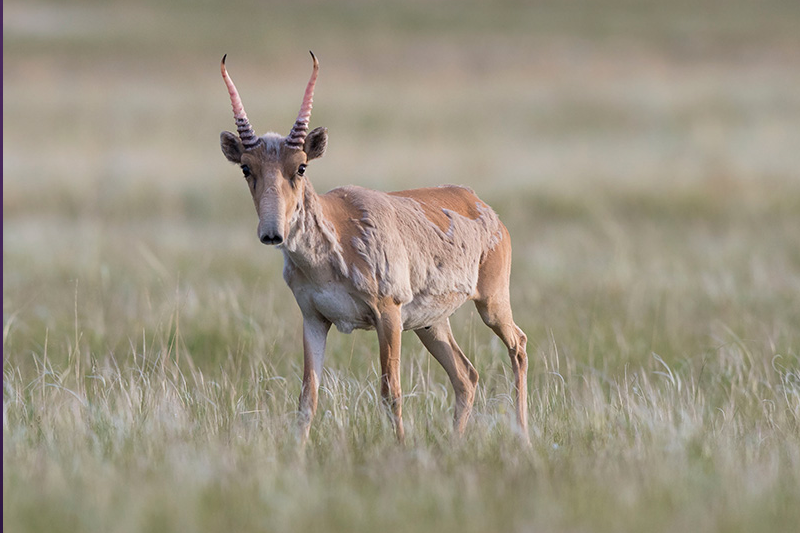 Peste des Petits Ruminants (PPR), also known as 'goat plague', is a widespread animal disease with mortality rates of over 90% and it threatens wildlife conservation across the world.
The impact of PPR is greater than previously recognised though. An outbreak in Mongolia in 2016-2017 led to a 50% decline in the endangered Mongolian saiga antelope population. Economic losses are estimated at $1.5-2 billion each year, and the spread of the disease threatens the livelihoods for more than 330 million of the world's poorest people.
The £3,000 grant from the ACT was presented to the Ecosystems Health theme – Wildlife Research Group, led by the RVC's Professor Richard Kock.
Speaking about the research, Professor Richard Koch said: "The Animal Care Trust have kindly supported ongoing studies on a disease affecting critically-endangered saiga antelope. This funding enabled a post-doctoral student to focus on a Science Communication article warning the international science and conservation community of the impacts of PPR.
"The RVC research group has been a major player in developing guidelines on how to manage the wildlife disease in the context of the Global Eradication programme for this virus which was initiated some years ago by the Food and Agriculture Organization of the United Nations and the World Organisation for Animal Health."
The Royal Veterinary College is a research-led organisation and the Animal Care Trust provides funding to pioneering research that aims to improve the health and care of animals. For more information about the research projects that we have funded, please visit What we support - Research.