Sanna Eriksson Titus has been awarded a Wild Animal Research scholarship
RVC student Sanna Eriksson Titus has been awarded a Wild Animal Research scholarship investigating the transmission of elephant endotheliotropic herpesvirus (EEHV) between and within herds. The Aitchison-Tait Trust, who are generously funding this scholarship, have awarded £2,000 towards Sanna's project.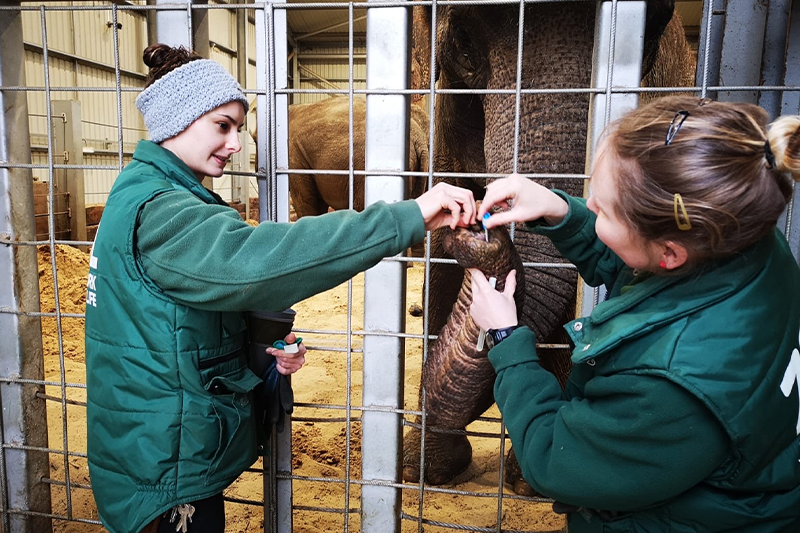 As part of the RVC Animal Care Trust's commitment to improving animal health, we support students with unique learning opportunities and experiences to further understanding of veterinary treatment and care.
Sanna tells us more about her project, and what she hopes to achieve through this scholarship opportunity:
"Asian elephants are a culturally significant species who reside in captive collections across the globe. They have been considered 'endangered' for over forty years, and zoos help wild populations through contributions to veterinary knowledge, public awareness, education, research, training and genetics.
"The majority of adults in captivity are positive for Elephant endotheliotropic herpesvirus (EEHV). Severe cases of EEHV can lead to haemorrhagic disease (HD), which is the leading cause of mortality in captive Asian elephant calves. Immunosuppressed and young elephants exposed to EEHV for the first time are at the highest risk of developing HD. There is no known treatment for EEHV-HD, and 70% of deaths occur within seven days; however, it is not unusual for calves to 'drop dead' within one day.
"The only way to control EEHV is through intense monitoring and providing medical support during severe episodes. Similar to other herpesviruses, elephants are infected for life if they survive primary exposure. EEHV carriers will excrete the virus during times of stress or immunosuppression and can infect other members of the herd.
"Zoos need to know which management strategies promote EEHV excretion within herds, so infection of any at-risk elephants can be avoided. Introducing or removing elephants from such a socially complex herd may be stressful, exciting and/or overwhelming, which may cause viral excretion.
"The aim of this study is to determine the influence of (1) between herd moves and (2) within herd moves on EEHV excretion. A total of 205 trunk swab samples were collected from five Asian elephants at ZSL's Whipsnade Zoo, during a timeframe where (1) two males were moved away from the herd and a new bull arrived, and (2) mixing of the new bull with the cow herd for breeding purposes.
"Thanks to financial support from the Aitchison-Tait Trust, these trunk swabs will be analysed using real-time quantitative polymerase chain reactions (RT-qPCR) to identify EEHV excretion. Creating a timeline of EEHV presence around these moves and herd management practices will determine whether these events promote viral excretion. This research will inform zoos whether inter- or intra-herd movements are a risk when an elephant susceptible to EEHV-HD is present ensuring zoo populations are as safe as possible by helping prevent premature deaths."
---
Acknowledgements: Dr Fieke Molenaar, Dr Stuart Patterson, Dr Akbar Dastjerdi, Matthew Perkins, Dr Sophie Common, Dr Anthony Sainsbury, Dr Carole Day, Dr Louise Gibson, and ZSL Whipsnade Zoo's Asian elephant keepers.
Trunk swab sample collection on an Asian elephant involved in this study, performed by two keepers at ZSL's Whipsnade Zoo. Photo credits to Eimear Daly.