Owners thank generous blood donors who saved Stan's life
Stan was brought to the Royal Veterinary College at the end of April for the management of severe gastroenteritis after eating a rotting animal carcass on a walk. He was critically unwell, and was admitted to Emergency & Critical Care where he underwent repeat surgeries after an infection was detected in his abdomen.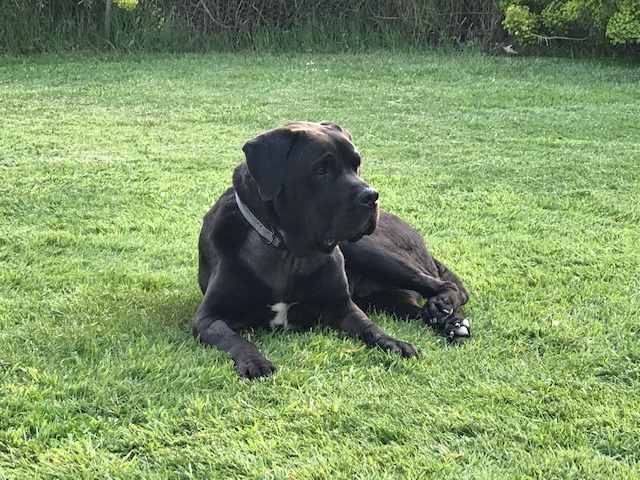 Stan underwent surgery at his referring vets originally, but was referred to the RVC for further treatment. Stan had exploratory-laparotomy surgery with our surgery team as he had septic peritonitis, and had a gastronomy feeding tube placed during surgery.
Thanks to our superhero blood donors, Stan was able to receive numerous blood and plasma transfusion during his stay. And after lots of hard work from our veterinary surgeons and the incredible care given by our veterinary nursing team, Stan was discharged to continue his recovery at home.
Stan's adoring family are delighted to see the recovery that he has made. His owner, Mike, said: "I've had dogs all my life but never one like Stan. He is so special to us. We cannot thank the blood donors enough. Without them Stan would not be with us anymore and our lives wouldn't be the same. You saved Stan's life and for that we will be forever grateful. So will Stan. Particular thanks to Elsa, Archie, Isis and Cooper."
Elsa, Archie, Isis and Cooper provided the blood donations that Stan received. We thank them and their owners for contributing to Stan's and many other pets' recovery.
---
Without our blood donors and the amazing support you give us to look after our superheroes, Stan may not have made such a strong recovery. To find out more about the blood donor programme and how you can support us, please visit our ACT Blood Donors page.