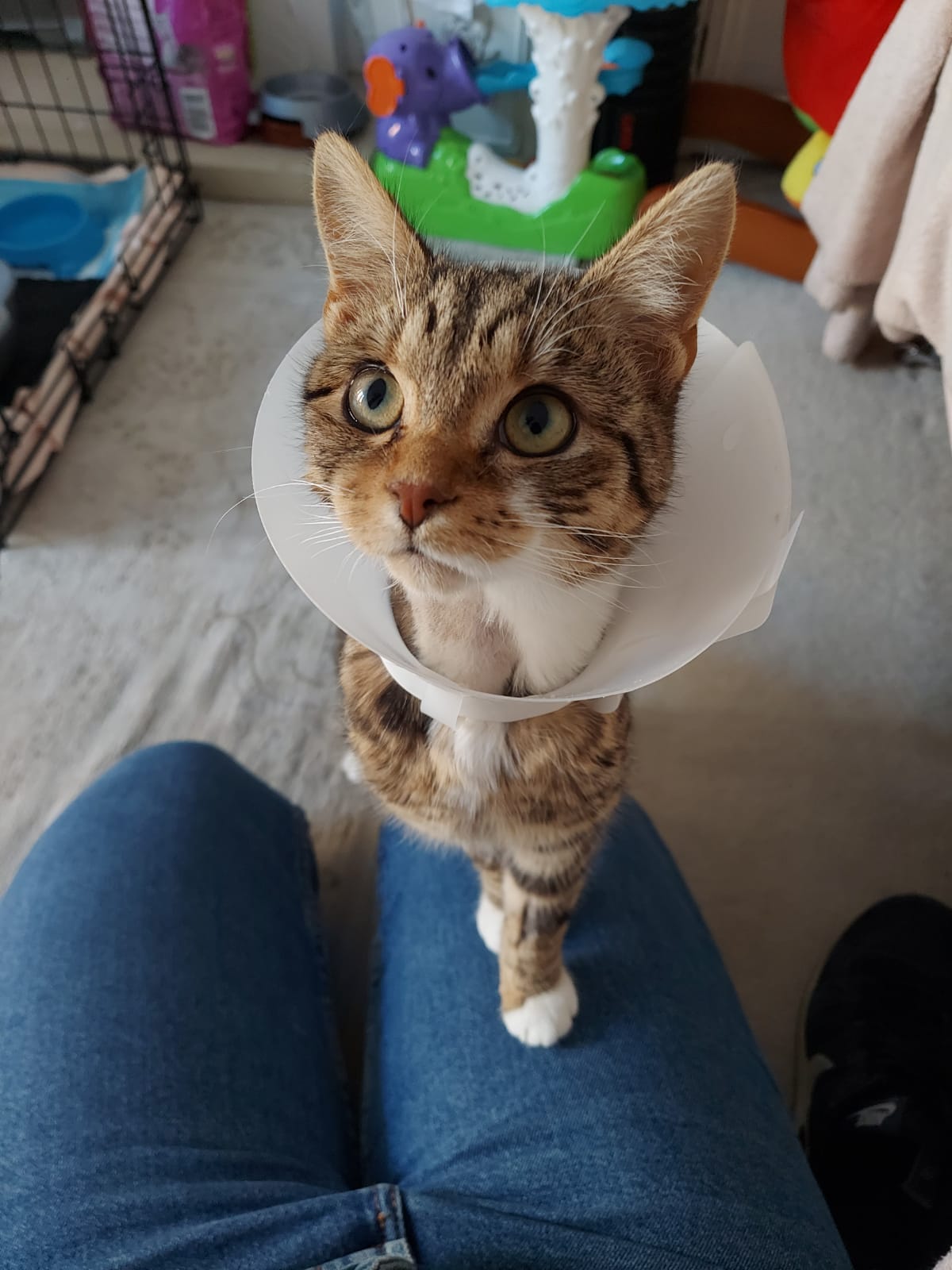 Manila's Story in Silvia's words…
"Manila is a domestic tabby, born on 29th August 2020. We had always wanted a kitten, but with our busy jobs and lots of travels we never felt it was the right time. While working from home during lockdown we thought it was the perfect time to get a kitten and train her properly on how to behave and look after her while changing owners.
"Manila has the strongest personality ever seen and the doctors at the RVC would call her SASSY! She loves people and she is always very good company. From Day 1 she was comfortable around the house but would definitely let you know when she wasn't happy. "
A few days after getting Manila we noticed there was always a wet patch around her legs and where she would sit. We thought it was very unusual and immediately took her to our local vet. We understood straight away that there was something serious going on which was very hard to accept as she was just 2 months old and very happy otherwise.
"We started the initial process of visits, scans, blood samples and so on and then at the beginning of December, just 3 weeks after we got her, we learned that she had a congenital condition, extremely rare with no chance of survival. There was no previous record of a cat born with so many abnormalities; she was initially diagnosed with bilateral ectopic ureters with partial obstruction of both ureters.
"After a very long consultation with our vet, they suggested we prepare for the worst because any surgery would have been too complicated to perform on a 3 month old kitten.
"In all this Manila was a very happy kitten, but with constant incontinence. Around March we received a phone call from our vet asking to repeat the scan now that she was 6 months old and her body was more developed. After the scan they advised us that a very capable surgeon at the RVC was willing to perform this very rare surgery. We were very scared that she could die during surgery but it was our only chance. "The RVC team has been incredible, very honest about all the risks, very objective and extremely thoughtful in handling our feelings. After Manila's surgery, we received daily phone calls (unbelievable!) from Dr Frykfors von Hekkel, updating us and reassuring us about our beloved kitten. Manila spent a week with the RVC and when we went to collect her it was very overwhelming; she looked scared and she had internal and external stitches.
The RVC team reassured us and explained carefully how to handle the situation at home, once again being very honest and making sure we understood that Manila wasn't out of risk despite the surgery's success. She also made herself available on the phone at any time.
"We took Manila back to the RVC twice after her surgery for a check-up and we could not believe it when the doctors told us that she was now fully recovered and expected to live a long, normal happy life! Manila turned 1 year old on the 29th of August. She's a healthy, playful, naughty little girl and we love her dearly. RVC literally saved her life and we will be forever grateful!" Silvia, Manila's owner
"Manila was diagnosed with bilateral extramural ectopic ureters. Professor Vicky Lipscomb and I were able to perform delicate surgery to re-implant them into their correct anatomical position. We've been monitoring her progress closely and are so pleased to see how well she has recovered." Dr Frykfors von Hekkel