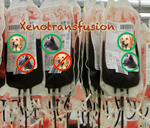 Joining Brian and myself in our virtual studio is Associate Professor Karen Humm one of our leads of our Emergency and Critical Care service as well as lead of or Transfusion Medicine Service here at the RVC. Karen has a keen interest in all things related to transfusion medicine and we thought that we would discuss xenotransfusions. Specifically giving dog blood to cats, this might not be something that everyone agrees with, though certainly something that could be lifesaving. We hope that you enjoy.
Some papers of interest:
https://pubmed.ncbi.nlm.nih.gov/31867733/
https://pubmed.ncbi.nlm.nih.gov/22983454/
https://journals.sagepub.com/doi/full/10.1177/1098612X211007071
To cite this podcast as: Dom Barfield. RVC Clinical Podcast 127 Xenotransfusion with Karen Humm. Published on Jun 25 2021.
If you have any comments about this podcast, please get in touch: email dbarfield@rvc.ac.uk; tweet @dombarfield. We would greatly appreciate your time to rate us on Apple podcast or Acast and kindly write us a review.