World's smallest dogs prone to health problems despite rising popularity, according to latest RVC research
Ownership of the Chihuahua, the world's smallest dog breed, is rising sharply. Yet, according to the largest ever study of Chihuahuas treated in first opinion veterinary practices, the breed is particularly prone to dental disease, obesity, and retained baby teeth, which can be detrimental to their health.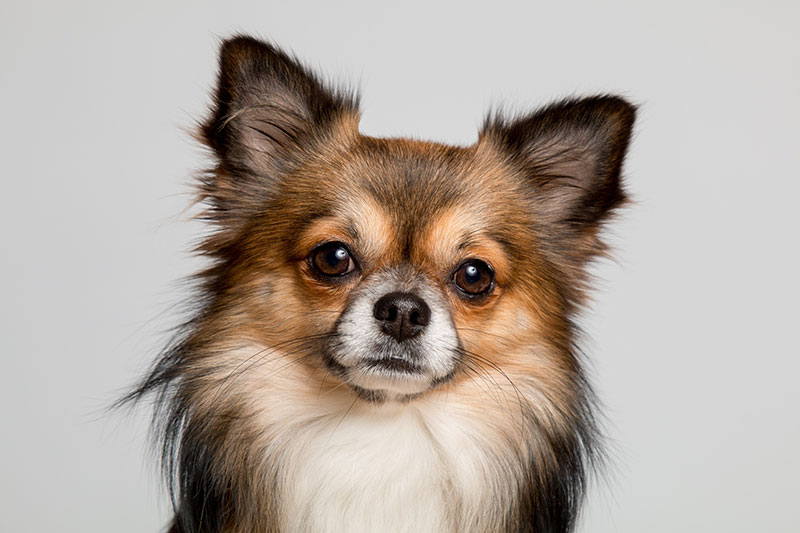 The research, led by the Royal Veterinary College's (RVC) VetCompass™ programme, reveals that Chihuahua ownership in the UK has increased over five-fold in the past decade from 1.0% of all puppies born in 2005 to 5.4% in 2016. However, this sharp rise brings potential problems associated with impulse purchasing, low-welfare breeding at the huge scale to meet consumer demand, legal and illegal importation of puppies, high levels of relinquishment to rescue charities and treating puppies as disposable commodities.
The most common health concerns of Chihuahuas were dental disease (13.5%), obesity (5.9%) and retained baby teeth (5.7%). Compared with other dogs, Chihuahuas were more prone to aggression (4.2%), slipping kneecap (4.0%) and retained testicles (3.9%). Owners should contact their vets in the first instance if they have any health concerns about their pets It is important that new and potential owners not only prepare to recognise, prevent and manage these common issues, but are also aware that expensive surgery costs may be required in order to rectify some of these conditions. Given that both congenital and acquired dental disease is very common in the Chihuahua, owners should pay special attention to dental care in this breed.
Other key findings of the researchers include:
Males are more likely than females to show aggression, heart murmur, ear infection, conjunctivitis and upper respiratory tract infection. There were no disorders that were more common in females.
The average adult Chihuahua bodyweight was 3.4kg.
The average Chihuahua lifespan was 8.2 years. Females (10.2 years) generally outlived males (6.9 years).
The most common causes of Chihuahua deaths were heart disease (18.8%), lower respiratory tract disorder 16.3% and traumatic injury (13.8%).
Dr Dan O'Neill, senior lecturer at the RVC and author of the paper, said: "Chihuahuas are an old breed but the recent craze for them can cause some real welfare issues for this tiny dog. There is increasing evidence that unscrupulous breeders and dealers both inside and outside the UK are cashing in on this trend by making a lot of money but with little regard for the welfare of these puppies and breeding bitches. Owning a dog is a long-term commitment and I would urge anyone thinking about buying a Chihuahua to really consider and prioritise the needs of the dog before making any final purchasing decisions."
Camilla Pegram, VetCompass™ epidemiologist at the RVC and co-author of the paper said: "Dental disease and retained baby teeth should be recognised as important health concerns for Chihuahuas, with preventative care for dental disease a key topic for discussion between vets and owners. In addition, many of the common or predisposed disorders, such as dental disease, retained baby teeth, sliding kneecap and retained testicle(s), often require surgical intervention. The Chihuahua's small size increases its anaesthetic risk. Obesity has many detrimental effects, including increased anaesthetic risk, and aggression makes them challenging patients and pets, therefore nutrition, lifestyle and behaviour are also key areas for veterinary-owner discussions."
Bill Lambert, Head of Health and Welfare at the Kennel Club added: "This research, supported by the Kennel Club Charitable Trust, enables us and all those who care about the health of Chihuahuas to know and understand more about breed-specific issues. The findings will feed into the breed's Health and Conservation Plans which enables the Kennel Club to identify and monitor each individual breed's health issues and provide an action plan on how to address these, and continue to improve health.
"This paper also illustrates that there are increasing numbers of Chihuahuas bred outside the Kennel Club's sphere of influence as their popularity grows, often with little regard for health and welfare. We continue to urge all puppy buyers to make responsible decisions, seek out a good, caring breeder, who prioritises health, such as a Kennel Club Assured Breeder, and fully research their preferred breed, including any health considerations. This plays an important part in improving the health and welfare of all breeds, now and in generations to come."
---
Reference
O'Neill, D.G., Packer, R.M.A., Lobb, M., Church, D.B., Brodbelt, D.C. and Pegram, C. (2020) 'Demography and commonly recorded clinical conditions of Chihuahuas under primary veterinary care in the UK in 2016', BMC Veterinary Research.
The full paper is open access and will be available from Feb 12, 2020 at https://doi.org/10.1186/s12917-020-2258-1.
Download the 'Chihuahuas - Small dogs but big popularity' infographic (PDF 175KB)
Notes to Editors
For more information please contact:
About the RVC
The Royal Veterinary College (RVC) is the UK's largest and longest established independent veterinary school and is a Member Institution of the University of London. It was the first in the world to hold full accreditation from AVMA, EAEVE, RCVS and AVBC
The RVC is ranked as the world's number one veterinary school in the QS World University Rankings by subject, 2019.
The RVC offers undergraduate and postgraduate programmes in veterinary medicine, veterinary nursing and biological sciences.
In 2017, the RVC received a Gold award from the Teaching Excellence Framework (TEF) – the highest rating a university can receive.
A research led institution with 79% of its research rated as internationally excellent or world class in the Research Excellence Framework 2014.
The RVC provides animal owners and the veterinary profession with access to expert veterinary care and advice through its teaching hospitals and first opinion practices in London and Hertfordshire.
---
You may also be interested in:
A new study by the VetCompass team at the Royal Veterinary College (RVC) has found that dogs with …