VetCompass™ at BSAVA Congress 2018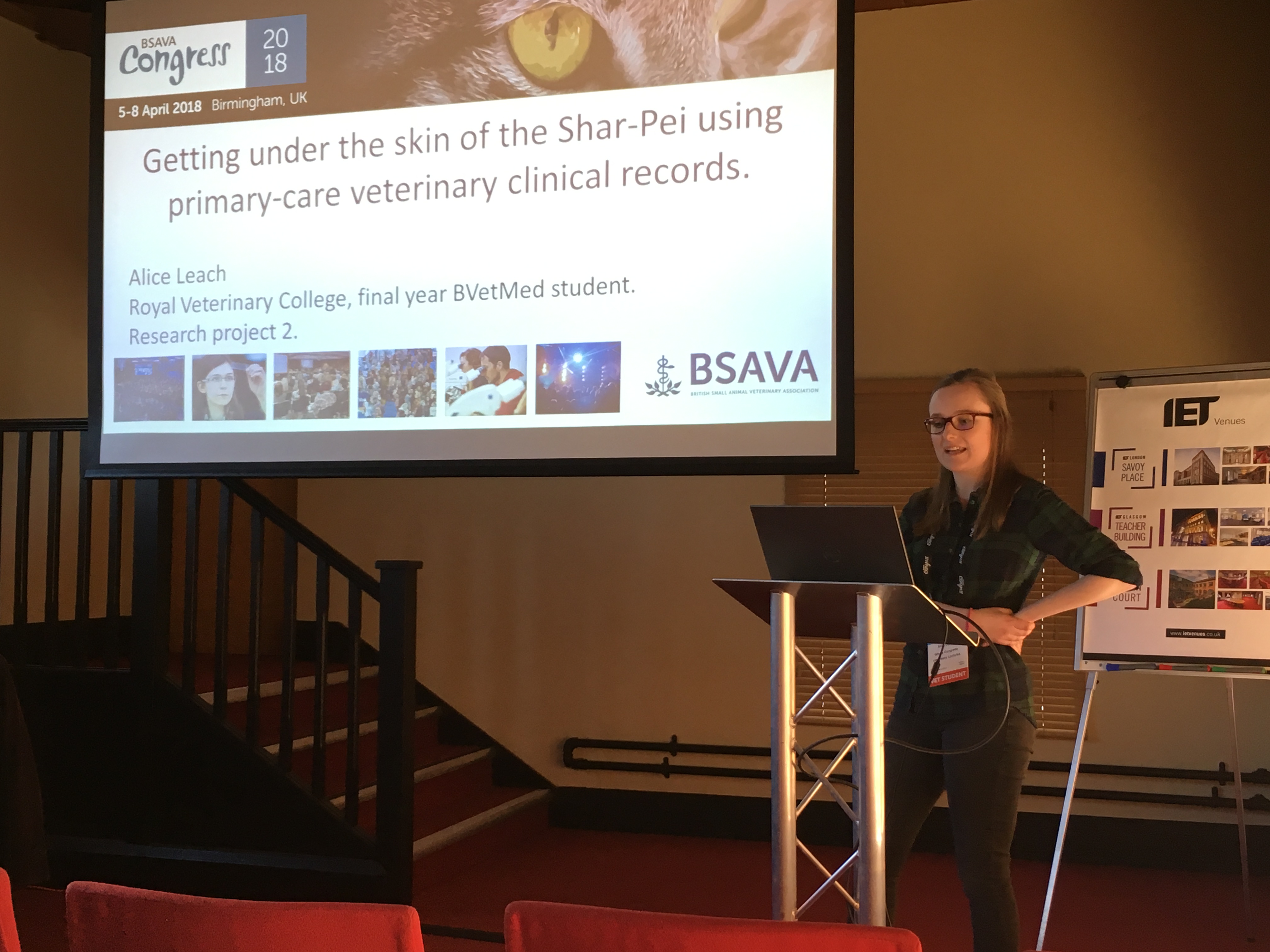 VetCompass™ is now the largest research database of veterinary clinical data in the world and shares anonymised clinical data with over 20% of UK vet practices. The impact of the research flowing from VetCompass™ studies was evident at this year's BSAVA Congress which featured 7 oral VetCompass™ presentations on topics ranging from diabetes in cats to breed-specific studies on cat and dogs.
Refreshingly, 6 of these 7 topics were presented by current RVC undergraduates which also highlights the power of VetCompass™ as a teaching and career development tool for the next generation of RVC veterinary graduates.
VetCompass Clinical Research Abstracts:
Presenter

Current Position
Title
Georgia Teesdale Twyford
RVC

BVetMed5 student
Is previous glucocorticoid therapy associated with likelihood of diabetic relapse among cats in diabetic remission?
Jean Lester
RVC

BVetMed5 student
What's up with Golden Retrievers under primary veterinary care in the UK.
Alice Leach
RVC

BVetMed5 student
Getting under the skin of the Shar Pei using primary-care veterinary clinical records
Jordon Egan
RVC

BVetMed3 student
How common is common? Estimated prevalence of recurrent seizures disorders in cats under primary veterinary care in the UK
Rachel Ball
RVC

BVetMed5 student
What's up with sausage dogs: health of miniature Dachshunds in UK primary practice
Georgina Harris
Cambridge University resident
Clinical presentation and medical management of German shepherd dogs with presumed degenerative lumbosacral stenosis in first opinion practice in the UK
Charlotte Romans
RVC

BVetMed5 student
Deciphering common health issues in Persian cats under primary veterinary care in the UK
---
You may also be interested in:
A new VetCompass study from the Royal Veterinary College (RVC) has revealed that veterinary …