VetCompass at BSAVA Congress 2015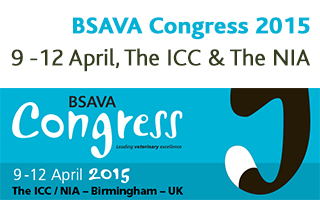 VetCompass enjoyed a hugely successful British Small Animal Veterinary Association (BSAVA) Congress from 9th-12th April 2015, contributing a total of 7 presentations by 5 different speakers during this well-attended event. BSAVA Congress, held at the NIA/ICC in Birmingham, is a multi-stream, international conference attracting stakeholders from every aspect of the companion animal health world and is one of the biggest veterinary congresses in the world.
This year saw the first ever BSAVA lecture stream entitled 'Practical aspects of dog breeding'. During a packed day of talks on dog breeding, Dr Dan O'Neill and Aimee Llewellyn (geneticist and Health Information Manager, UK Kennel Club) jointly presented practical approaches for veterinary practices to improve the advice that they give to breeder clients. Later in the day, Dr Dan O'Neill and Dr Katy Evans (University of Nottingham) jointly addressed importance of generation of high quality evidence to inform decision-making to improve canine welfare. The speakers emphasized the vital role that practicing veterinary clinicians can play to also contribute to dog health at a population level and highlighted the importance of large-scale, ongoing health surveillance projects such as VetCompass.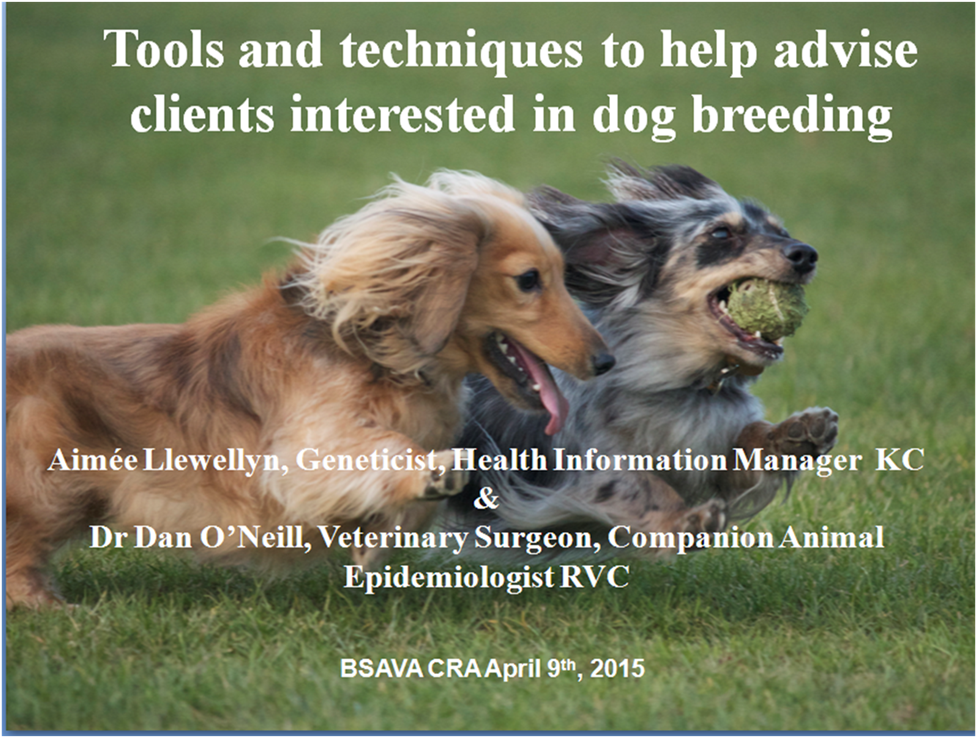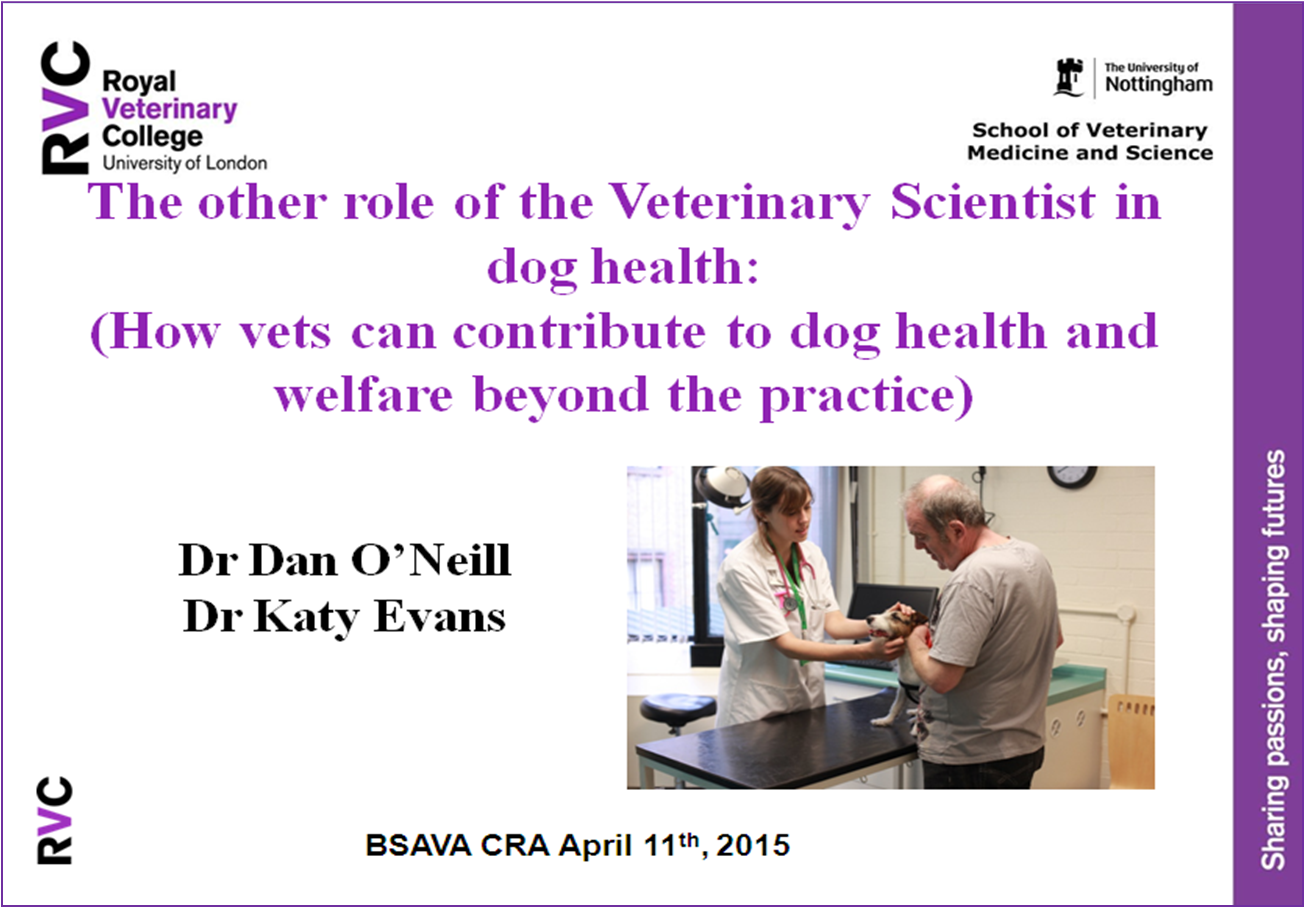 Image courtesy of The Kennel Club, UK (Photographer: @ Gonzor)
On Saturday afternoon, Prof. David Church (RVC) and Dr Dan O'Neill were also involved in the 'Big Issues at BSAVA Congress' stream, with a presentation entitled 'Knowledge is power – Health Informatics'. This session promoted the collection of anonymised electronic data from primary-care practices for practice-relevant research. Current initiatives were described with discussion of how vets in practice can contribute to help projects such as VetCompass and SAVSNET realise their full potential.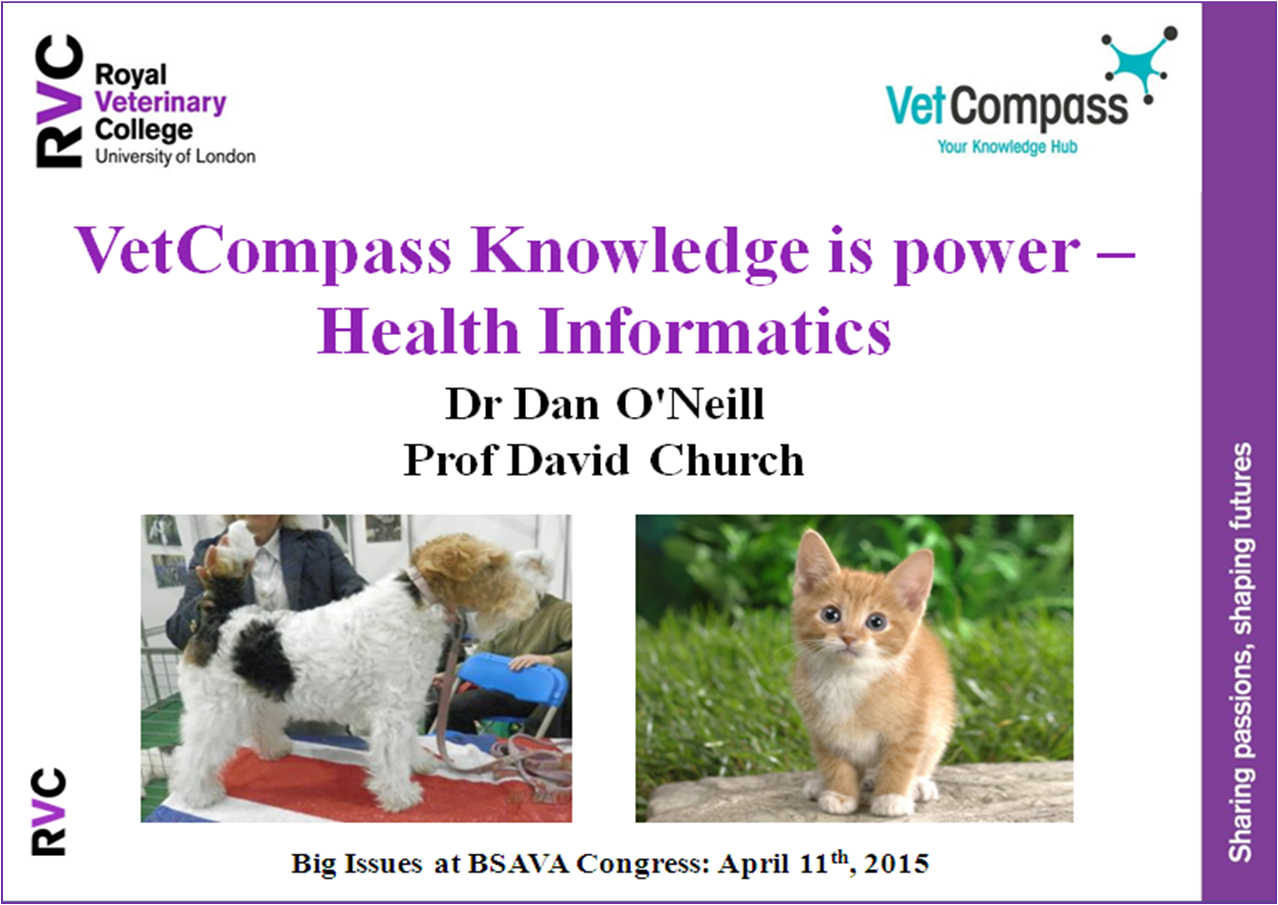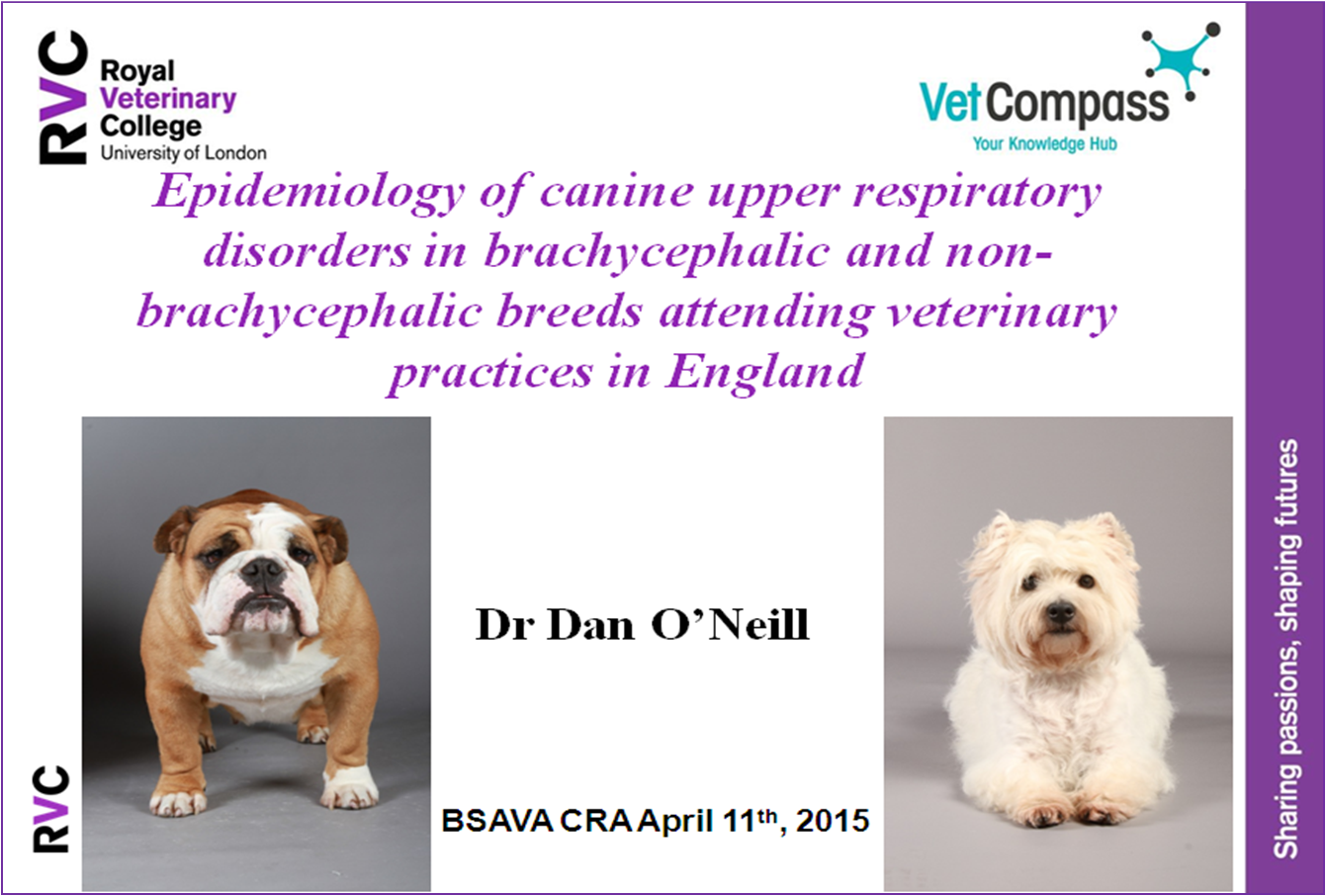 VetCompass research was also well represented with four Clinical Research Abstracts selected for oral presentation. Three of these studies had been undertaken by RVC vet students as research modules during their degrees and it was great to see these students present their work at a major congress. Their talks covered a diverse range of topics:
1. Jennifer Case presented in the 'Working in Practice' stream on 'Epidemiology of gastric dilation-volvulus syndrome in dogs ' using clinical data shared with the VetsNow Group.
2. Erin Manson spoke in the 'Working in Practice' stream on 'Presentation and management of dystocia in dogs' based on clinical data shared with the VetsNow Group.
3. Claire Thomas presented in the Neurology stream on 'Prevalence and management of canine Chiari-like malformation/syringomyelia recorded in primary-care practice in England'.
4. Dr Dan O'Neill presented 'Epidemiology of canine upper respiratory disorders in brachycephalic and non-brachycephalic breeds attending veterinary practices in England' in the Cardiorespiratory stream.
Additional congratulations to Dan on receiving a BSAVA Intern/resident Clinical Research Abstract award for his BSAVA 2014 presentation: 'Longevity and mortality of cats in England'!
Many thanks to the BSAVA conference organisers for a fantastic event, and to all the vets, researchers and other stakeholders we spoke to who gave such positive feedback on the VetCompass programme.