UK dogs and their fatty lumps: finally the risks explained
Springer Spaniels, Dobermann Pinscher, Weimaraners and Labrador Retrievers: some of our most popular dog breeds in the UK are also the most susceptible to lipomas (also known as fatty masses or fatty lumps), according to the Royal Veterinary College (RVC).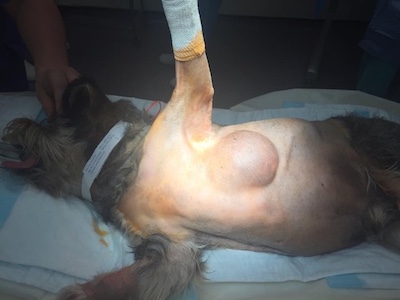 The news comes as part of the findings from the world's largest study of lipoma tumours carried out by the RVC's VetCompass™ Programme.
The results of this ground-breaking study will be used to help vets to identify which dogs are most at risk, assist with future breed health reforms, and prepare owners of predisposed breeds for dealing with this alarming condition.
These results show that lipomas are common in dogs: affecting one in 50 of all dogs each year. Their large size and rapid growth often cause extreme and long-term anxiety to owners of infected dogs.
Amazingly until now, veterinary research has largely ignored lipomas because these cases are rarely referred for specialist treatment and the majority of veterinary research relies on cases that are referred to specialist institutions. However, the RVC's VetCompassTM Programme has revolutionised veterinary research by collecting anonymised clinical data on dogs from first opinion practices. Consequently, this study has been able to specifically analyse the frequency and associations of lipomas in the general populations of dogs in the UK.
The RVC's study identified 2,765 lipoma cases from a population of 384,284 VetCompass™ dogs under primary veterinary care in the UK during 2013. Other key findings included:
At least one lipoma was diagnosed in 1.94% of dogs during the single year of the study
Individual dogs with an adult bodyweight that was equal or higher than their breed/sex average had 1.96 times the odds of lipoma.
As dogs age, their odds of getting lipoma increase. Dogs aged between 9-12 years were over 17 more likely to be diagnosed with lipoma compared to dogs aged 3-6 years old.
Neutered dogs had higher risk.
Insured dogs had 1.78 times the odds of diagnosis.
Purebred dogs had 1.16 times the odds compared with crossbred dogs.
This large epidemiological study from the VetCompass™ Programme at the RVC used anonymous data from hundreds of thousands of dogs seen at UK vet practices. This data reveals the breeds, bodyweights, ages and neuter status, all of which is analysed by the research team who create patterns in the data.
Dr Dan O'Neill, RVC Veterinary Epidemiologist and VetCompass researcher, said:
"Lipomas in dogs are a common and scary diagnosis for owners to hear but yet, to date, there has been very little solid evidence on which dogs are at high risk. Evidence from thousands of dogs in VetCompass is finally helping owners to understand the risks of diseases such as lipoma and therefore reduce the sense of 'fear of the unknown' when their dog gets such a diagnosis These results also suggest strong association between obesity and lipomas which can help in prevention in high risk breeds."
Dr Lynda Rutherford, Clinician and Lecturer in Small Animal Surgery at the RVC, said:
"This paper has supported the theory that lipomas are more common in older, overweight dogs. This information is useful as can be discussed with owners and used as another reason to keep pet dog's weight under control. It also provides a useful insight into how common lipomas are within the UK dog population."
Notes to Editors
The full paper is freely available open access at: https://cgejournal.biomedcentral.com/articles/10.1186/s40575-018-0065-9
O'NEILL, D. G., CORAH, C. H., CHURCH, D. B., BRODBELT, D. C. & RUTHERFORD, L. 2018. Lipoma in dogs under primary veterinary care in the UK: prevalence and breed associations. Canine Genetics and Epidemiology, 5, 9.
For more information please contact: Alex Cassells (alexander.cassells@plmr.co.uk) or Steven Guage Press Line: 0800 368 9520
About the Royal Veterinary College
The Royal Veterinary College (RVC) is the UK's largest and longest established independent veterinary school and is a constituent College of the University of London.
The RVC offers undergraduate, postgraduate and CPD programmes in veterinary medicine, veterinary nursing and biological sciences. It is currently the only veterinary school in the world to hold full accreditation from AVMA, EAEVE, RCVS and AVBC.
In 2017, the RVC received a Gold award from the Teaching Excellence Framework (TEF) – the highest rating a university can receive.
A research-led institution, in the most recent Research Excellence Framework (REF2014) the RVC maintained its position as the top HEFCE funded veterinary focused research institution.
The RVC ranked as the top vet school in the Agriculture, Veterinary and Food Science unit of the most recent Research Assessment Exercise, with 55% of academics producing world-class and internationally excellent research.
The College also provides animal owners and the veterinary profession with access to expert veterinary care and advice through its teaching hospitals; the Beaumont Sainsbury Animal Hospital in central London, the Queen Mother Hospital for Animals (Europe's largest small animal referral centre), the Equine Referral Hospital, and the Farm Animal Clinical Centre located at the Hertfordshire campus.
---
You may also be interested in:
A new study at the Royal Veterinary College reported the frequency and risk factors for using …