The cat's out the bag: the most common diseases in pet cats revealed
Gum and dental disease, obesity, overgrown nails and flea infestation reported by the RVC as the top disorders in cats, with risks varying by age and sex.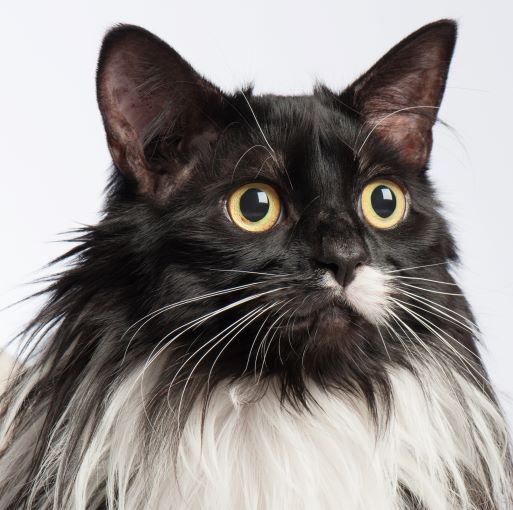 New research from the Royal Veterinary College (RVC) reveals the most common disorders diagnosed by veterinary surgeons across more than one million pet cats in the UK include gum disease, obesity, overgrown nails, and flea infestation. The new study shows that the risk of each condition varies significantly based on a cat's age and sex. Understanding this can help owners make more informed decisions when caring for their cats as well as helping vets focus on targeted preventative healthcare.
Although cats are popular companion animals, many owners still struggle to judge the quality of their cat's life and how it changes over time. Many health problems may be dismissed as typical ailments or expected due to old age when in fact, they can cause serious suffering. Evolution has also taught cats to hide signs of pain associated with disorders such as dental disease or osteoarthritis to avoid appearing weak to predators, making it even harder for owners to spot the signs.
The study, led by the RVC VetCompass programme, investigated the health patterns of a random sample of 18,249 cats from a study population of 1,255,130 cats in the UK. The most common cat breeds in the UK were British Short Hair (3.01%), Ragdoll (1.82%) and Bengal (1.22%). Other common breeds included Maine Coon (0.93%), Persian (0.73%) and Siamese (0.68%).
On average, each cat was diagnosed with one condition per year. The average count of conditions per year was higher in males than females, and higher in older cats than younger cats.
Of the specific conditions diagnosed, the most common were gum disease (15.23%), obesity (11.58%), general dental disease (9.23%), overgrown nail(s) (5.23%), flea infestation (5.07%) and heart murmur (4.44%). Females and males had different risk for almost half (14) of the 30 most common conditions. For example, female cats had higher risk than males for poor quality of life, post-operative wound complication, over-grooming, flea bite hypersensitivity, hyperthyroidism, and overgrown nail(s). Males had higher risk for periodontal disease, road traffic accidents, heart murmur, lameness, obesity, abscess wound and cat bite injuries.
Other key findings include:
The risk differed between younger (< 8 years) and older (≥ 8 years) cats for 27 (90.00%) conditions. For example, younger cats had higher risk for cat bite injury, flea infestation, RTA and post-operative wound complication.
Older cats had higher risk for lameness, abscess, cystitis, over-grooming, general dental disease, constipation, underweight, osteoarthritis, haircoat disorder, anorexia, otitis externa, vomiting, cardiac dysrhythmia, weight loss, chronic kidney disease, disorder undiagnosed, gum disease, poor quality of life, heart murmur, flea bite hypersensitivity, obesity, overgrown nail(s) and hyperthyroidism.
The most frequent general groups of conditions were dental disorder (21.21%), obesity (11.58%), skin disorder (9.63%), bowel problems (8.50%), parasite infestation (6.30%) and heart disease (5.99%).
The average age of cats recorded with each of the 30 most common grouped-level disorders varied from 1.67 years for post-operative wound complication to 15.15 years for endocrine system disorder.
These findings provide vets, vet nurses, cat breeders and owners with new evidence to better understand and predict the occurrence of these disorders. It also highlights the key features for owners to prioritise in order to give their cat the best possible life.
Dan O'Neill, Associate Professor in Companion Animal Epidemiology at the RVC and lead author of the paper, said:
"Everyone who loves cats wants to make their lives happier and healthier. This study helps owners to understand that dental, weight and parasite care are the key health issues of cats in general, so that owners can focus their care and finances better on giving their cats a better life."
Danièlle Gunn-Moore, Professor of Feline Medicine, The University of Edinburgh, co-author, said:
"Britain is a country of animal lovers, yet this study shows that the most common illnesses cats suffer with are almost completely preventable. For example, cats cannot gain excessive weight on their own – I know myself how tough it is when your beloved cat asks for a few more kibbles. But we must remember that food is not love; it is far better to play a game with them instead. If we love our cats, we owe it to them to provide the best quality of life that we can. This study gives us the evidence base to do that."
Justine Shotton, British Veterinary Association Senior Vice President said:
"Cats have a reputation for being easy to keep but this new data really demonstrates how important it is for owners to ensure that they're keeping on top of their cats' basic welfare needs. Whether your cat is the laidback type or a bundle of feline energy, regular health checks and a good relationship with your vet can ensure that you're not missing the subtle signs that they're unwell or in pain."
This study was supported by an award from the Kennel Club Charitable Trust and Agria Pet Insurance.
---
Notes to Editors
Reference
O'Neill et al. (2023) "Commonly diagnosed disorders in domestic cats in the UK, and their associations with sex and age", Journal of Feline Medicine and Surgery.
The full paper is available from Tuesday 28th February 2023 and can be accessed here: https://doi.org/10.1177/1098612X231155016.
DOI: 10.1177/1098612X231155016.
For media enquiries, please contact:
About the Royal Veterinary College
The Royal Veterinary College (RVC) is the UK's largest and longest established independent veterinary school and is a Member Institution of the University of London.
It is one of the few veterinary schools in the world that hold accreditations from the RCVS in the UK (with reciprocal recognition from the AVBC for Australasia, the VCI for Ireland and the SAVC for South Africa), the EAEVE in the EU, and the AVMA in the USA and Canada.
The RVC is ranked as the top veterinary school in the world in the QS World University Rankings by subject, 2022.
The RVC offers undergraduate and postgraduate programmes in veterinary medicine, veterinary nursing and biological sciences.
The RVC is a research led institution with 88% of its research rated as internationally excellent or world class in the Research Excellence Framework 2021.
The RVC provides animal owners and the veterinary profession with access to expert veterinary care and advice through its teaching hospitals and first opinion practices in London and Hertfordshire.
---
You may also be interested in:
A new study by the VetCompass team at the Royal Veterinary College (RVC) has found that dogs with …