Study reveals the true risks of anaesthesia in dogs
A team of researchers at the Royal Veterinary College and the University of Manchester used data from more than 150,000 dogs in the UK to assess the risk of death from sedation and general anaesthetics.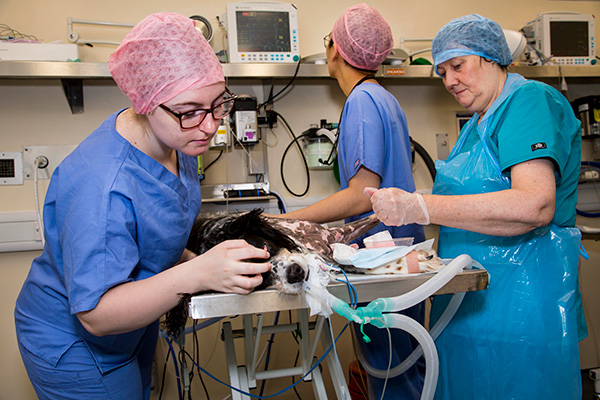 A new VetCompass study, led by the Royal Veterinary College (RVC) and the University of Manchester, has revealed a relatively low risk of death from sedation and general anaesthetics for dogs in the UK. The research was carried out with the aim of generating up-to-date information to help improve shared decision-making between veterinary professionals and owners.
The paper, 'Mortality Related to General Anaesthesia and Sedation in Dogs under UK Primary Veterinary Care', published in Veterinary Anaesthesia and Analgesia, used data from more than 150,000 dogs attending first opinion veterinary practices around the UK. The study examined the overall risk of death for each dog which had at least one sedation and/or anaesthesia procedure over a set period of time. The study also specifically focuses on anaesthesia related to neutering (spaying and castration) in dogs because these procedures are so common in the UK and the worry about the anaesthetic risk can cause real concern for owners.
The findings showed that currently this risk is 14 deaths in 10,000 dogs within two weeks of sedation/anaesthesia procedures carried out for any reason, of which 10 deaths per 10,000 are within 48 hours of these procedures. For neutering surgeries specifically in dogs, this risk was much smaller, with one death in 10,000 neuter procedures related to sedation and/or anaesthesia. No association was seen between the age of puppies at the time of neutering and risk of death.
Dogs in the UK often undergo general anaesthesia for a range of procedures, from routine neutering to dental procedures and invasive surgeries. While in humans the risk of death linked to anaesthesia during surgery is minutely small, general anaesthesia carries higher risks for companion animals. The use of anaesthesia during surgery can lead to major complications for dogs and, in some cases, death. Weighing up these benefits and risks for anaesthesia and surgery can be a major source of distress for owners.
Some of the key factors associated with increased risk of sedation and anaesthetic-related death in this new study included:
Older age
Poorer overall health
More urgent surgeries
Certain breeds such as Rottweilers and West Highland White Terriers compared with mixed breeds.
Factors that were associated with decreased risk included breeds such as Cocker Spaniels compared with mixed breeds.
The team also investigated whether flat-faced 'brachycephalic' breeds were associated with higher risk. Surprisingly, longer-nosed 'dolichocephalic' breeds showed four times the odds of sedative/anaesthetic-related death compared with medium-length nose dogs, whereas no additional risk was seen in flat-faced breeds.
Vets and owners must consider the risk of sedation and/or anaesthesia for each individual animal, and evaluate the risk of the surgeries against potential benefits to the dog's life before deciding whether to proceed or not. This decision-making is particularly challenging for owners in relation to elective neutering surgeries, which are often carried out in young puppies but are not needed to immediately save lives, but rather to potentially improve future quality of life for both dogs and owners.
Overall, these results provide some reassurance for the veterinary and dog-owning communities regarding the safety of neutering for young puppies, as well as the relative safety of sedatives and anaesthetics for more complex procedures.
For older dogs, those with poorer health or undergoing planned complex surgeries, the results emphasise the value of careful planning to manage the anaesthetic risks. Urgent procedures, regardless of complexity, were shown to carry greater risk and therefore should be approached with high vigilance and caution.
Dr Dan O'Neill, Associate Professor in Companion Animal Epidemiology at the RVC and co-author of the paper, said:
"Waving a tearful goodbye to your beloved dog as they are admitted for an anaesthetic at your veterinary surgery can be one of the scariest moments of many dog-owner's lives. This new VetCompass study can help owners deal with these fears by understanding the real anaesthetic risk is not that high: 14 deaths in every 10,000 dogs. Decision-making based on the known can now replace fear of the unknown."
Dr Stephanie Shoop-Worrall, Research Fellow in Epidemiology and Data Science at the University of Manchester and lead author of the paper, said:
"VetCompass is an invaluable resource that has allowed the study of anaesthetic risks from dogs across the UK. These results can help reassure owners of the relative safety of sedation and anaesthesia in dogs, which is only getting safer over time, and can also prompt practice changes for veterinary surgeons to decrease risks further."
Professor Dave Brodbelt, Professor of Evidence based Veterinary Medicine at the RVC and co-author of the paper, said:
"This is a timely study that updates the current estimates of anaesthetic risk in the UK. Going forward, the use of electronic patient records from resources such as VetCompass provide an excellent opportunity to monitor this infrequent but important complication seen in veterinary practice."
---
Notes to editors
Reference:
SHOOP-WORRALL, S. J. W., O'NEILL, D. G., VISCASILLAS, J. & BRODBELT, D. C. 2022. Mortality related to General Anaesthesia and Sedation in Dogs under UK Primary Veterinary Care. Veterinary Anaesthesia and Analgesia.
The full paper can be accessed here: https://doi.org/10.1016/j.vaa.2022.03.006
https://www.sciencedirect.com/science/article/pii/S1467298722001015
For more information please contact:
About the RVC
The Royal Veterinary College (RVC) is the UK's largest and longest established independent veterinary school and is a Member Institution of the University of London.
It is one of the few veterinary schools in the world that hold accreditations from the RCVS in the UK (with reciprocal recognition from the AVBC for Australasia, the VCI for Ireland and the SAVC for South Africa), the EAEVE in the EU, and the AVMA in the USA and Canada.
The RVC is ranked as the top veterinary school in the world in the QS World University Rankings by subject, 2022.
The RVC offers undergraduate and postgraduate programmes in veterinary medicine, veterinary nursing and biological sciences.
The RVC is a research led institution with 88% of its research rated as internationally excellent or world class in the Research Excellence Framework 2021.
The RVC provides animal owners and the veterinary profession with access to expert veterinary care and advice through its teaching hospitals and first opinion practices in London and Hertfordshire.