RVC study reveals extent of dog obesity crisis in the UK
A new study from the Royal Veterinary College (RVC) has revealed the scale of the overweight epidemic in dogs in the UK, with 1 in 14 dogs recorded by their vets as overweight each year.
Worryingly, these findings may just be the tip of the iceberg when it comes to canine obesity, because not every overweight pet will receive veterinary attention for this problem. The study also found that certain breeds were especially prone to weight gain, including Pugs, Beagles, Golden Retrievers and English Springer Spaniels. Owners of these breeds need to be especially vigilant to protect their dogs from losing the battle of the bulge.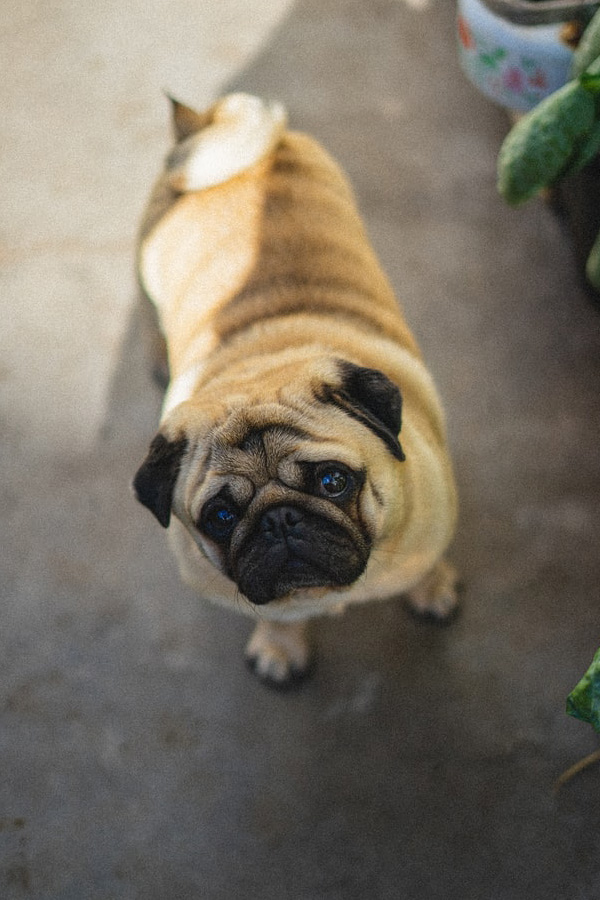 The study was led by the RVC's VetCompass programme and is one of the largest ever studies that uses anonymised health records of veterinary surgeries to explore the obesity issue of dogs. The study included 22,333 dogs whose health was followed for a year to identify that 1,580 were recorded as overweight. As well as showing that specific breeds were at differing risk, the study also highlighted that being neutered and middle-aged were additionally associated with increasing chances of dogs being overweight. Changes in sex hormones following neutering are thought to result in behaviour changes, specifically increased appetite and decreased physical activity, leading to a tendency to gain weight. Therefore, owners should discuss changes to the diet and exercise plans when they are discussing neutering of their dog with their veterinarian and make adjustments as necessary.
Obesity carries severe welfare risks for dogs. Obese dogs have shortened life spans, reduced quality of life and higher frequencies of some important conditions including arthritis, breathing problems, heart disease, diabetes and certain types of cancer. This new study provides a much needed evidence-base for veterinarians and owners to identify and protect those dogs most at-risk. Understanding which dogs are most at risk allows targeted weight control programmes in high risk dogs to either prevent or treat obesity.
Additional key findings include:
7.1% dogs under veterinary care were recorded as overweight in a single year.
Eight breeds showed increased risk of overweight status compared with crossbred dogs: Pug (x 3.12), Beagle (x 2.67), Golden Retriever (x 2.58), English Springer Spaniel (x 1.98), Border Terrier (x 1.72), Labrador Retriever (x 1.70), Cavalier King Charles Spaniel (x 1.50) and Cocker Spaniel (x 1.32).
Two breeds showed reduced risk of overweight status compared with crossbred dogs: Shih-tzu (x 0.53) and German Shepherd Dog (x 0.55).
Dogs aged 6 to < 9 (years) had the highest risk of overweight status (x 2.99) compared with dogs < 3.
Neutered males had the highest risk (x 1.90) compared with entire females.
Insured dogs had 1.28 times the risk of overweight status compared with uninsured dogs.
Owners are encouraged to discuss their dog's weight and lifestyle on every visit to their veterinary practice. This is of particular importance in the high-risk dogs identified in this study such as Pugs, Beagles, neutered and middle-aged dogs.
Camilla Pegram, VetCompass™ Epidemiologist at the RVC, and author of the paper, said:
"This study has used the power of "big data" to robustly address the risk factors for obesity in dogs. Pugs, Beagles and Golden Retrievers were at greatest risk of obesity compared with crossbreeds. As well as genetics, management style could in part drive these breed predispositions. Whilst veterinary professionals and owners should focus efforts on obesity prevention strategies in all dogs, those identified at high-risk, such as Pugs, Beagles and Golden Retrievers, may need a more targeted approach."
Dr Eleanor Raffan, Associate Lecturer in Systems Physiology, at the University of Cambridge, and co-author of the paper, said:
"Where breed increases risk of a problem, it means genes are likely to be at least in part to blame and our previous work suggests that genetics drives a high appetite in some breeds. The bad news is that owners of food-obsessed dogs have to work much harder to keep their dogs at a healthy weight – the good news is that it can be done."
Dr Dan O'Neill, Senior Lecturer, Companion Animal Epidemiology, at the RVC, and co-author of the paper, said:
"To defeat your enemy, you need to know your enemy. Obesity is the enemy of the health of our dogs. This new study identifies the breeds and ages of dogs that are most susceptible to obesity; we can use this information to defeat obesity."
Research reference
Pegram et al. (2021) "Frequency, breed predisposition and demographic risk factors for overweight status in dogs in the UK" Journal of Small Animal Practice. DOI: 10.1111/jsap.13325.
---
Notes to Editors
For more information please contact:
About the RVC
The Royal Veterinary College (RVC) is the UK's largest and longest established independent veterinary school and is a Member Institution of the University of London. It was the first in the world to hold full accreditation from AVMA, EAEVE, RCVS and AVBC.
The RVC is the top veterinary school in the world according to the QS World University Rankings by subject, 2021.
The RVC offers undergraduate and postgraduate programmes in veterinary medicine, veterinary nursing and biological sciences.
In 2017, the RVC received a Gold award from the Teaching Excellence Framework (TEF) – the highest rating a university can receive.
A research led institution with 79% of its research rated as internationally excellent or world class in the Research Excellence Framework 2014.
The RVC provides animal owners and the veterinary profession with access to expert veterinary care and advice through its teaching hospitals and first opinion practices in London and Hertfordshire.