Royal Veterinary College enables students to learn from virtual veterinary experiences in a new phone app
The Royal Veterinary College (RVC) has launched a novel interactive app offering veterinary students a mixed reality veterinary learning experience from their mobile phone, allowing them to apply real-world thinking and rules in a virtual environment.
The VetCompass Virtual Vet Clinic app is free to download on both iOS and Android The app was developed within the VetCompass research team at the RVC with collaboration from the University of Surrey's School of Veterinary Medicine.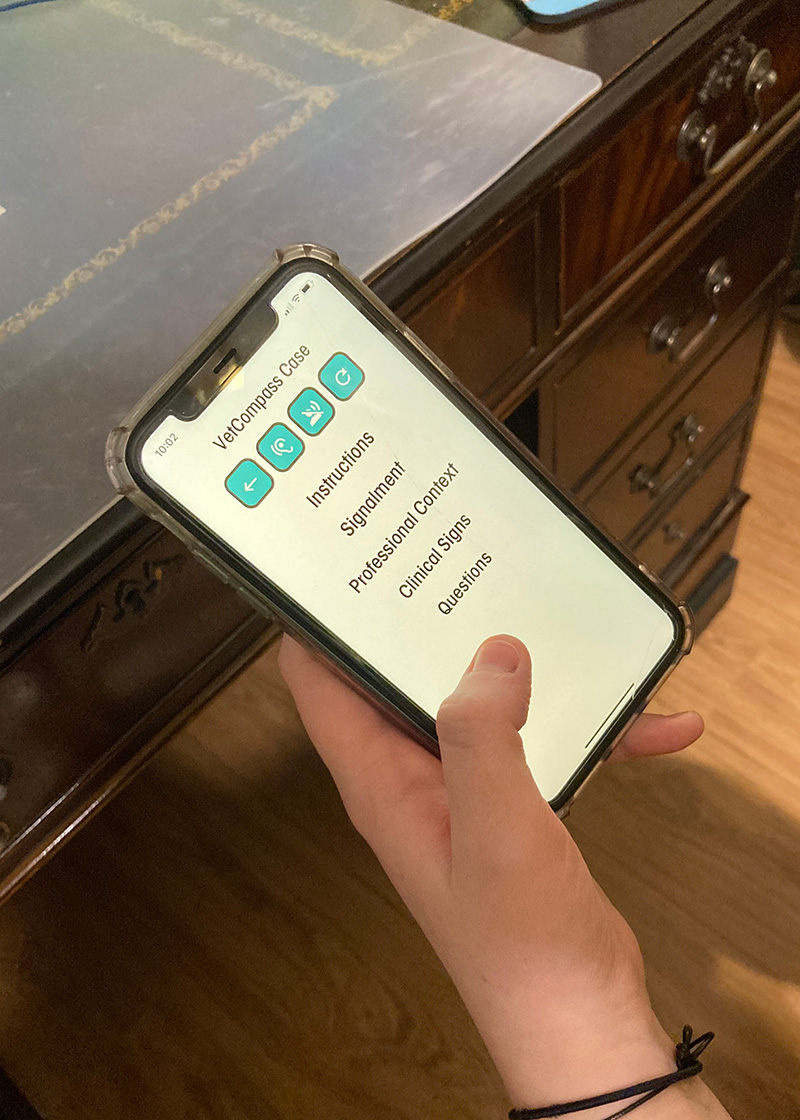 The VetCompass Virtual Vet Clinic app was launched as part of the RVC's structured response to the disruption of real-world placements and work experience in veterinary practices due to the COVID-19 pandemic. Real-world clinical experiences are critical in preparing veterinary undergraduates with 'day-one' skills for entering the profession and this app aims to fill supplement some of the gaps caused by restriction of full access to the clinical environment during the pandemic. However, even beyond the immediate crisis, the app is anticipated to remain a significant contributor to the learning of undergraduates, mixing their real-world veterinary experience with a structured virtual format.
This app builds on the existing real-world experiences of veterinary students by replicating typical caseloads and clinical first-opinion veterinary practice scenarios in a readily accessible virtual world. Students can use the structured clinical skills approaches in the app to develop their veterinary clinical reasoning and case management skills, using clinical information sourced from anonymised and randomised data on over 20,000 dogs. Users can also adapt, filter and select the way cases are presented to suit their individual needs and preferences. The app also supports the RVC's ethos of widening participation in undergraduate education by providing 'enhanced accessibility' options including dyslexia-friendly colour schemes and both audio and written display.
In addition to benefitting students in their clinical years, the app also assists veterinary undergraduates in their preclinical years to start to explore the exciting world of first opinion veterinary care.
Jaya Sahota, 4th year veterinary student at the RVC, commented:
"I have been looking for a resource like this forever. I'd previously searched unsuccessfully for apps with clinical cases: this has popped up at just the right moment! As a veterinary student, it is vital to be able to work through real-life case scenarios beyond those covered in the classroom to refine those critical day one skills that we will be expected to perform immediately in practice. The software in the app is learner-friendly and includes different accessibility options which will be attractive to many users."
Harriet McAuslan, 4th year veterinary student at the RVC, said:
"I think this app will be particularly useful in times like these where we cannot get to spend much time in real practices. This means that a lot of us are missing out on seeing what is actually commonly coming into first opinion practice. I really like that the app adds some professional context to the cases – it helps to have to think about these scenarios in more of a real world setting rather than the perfect conditions that we normally like to imagine when working up a case!"
Conceived by Dr Dan O'Neill (RVC) and Dr Neerja Muncaster (University of Surrey's School of Veterinary Medicine), the app complements a series of other novel innovations developed within the RVC's VetCompass Programme. VetCompass collects anonymised clinical information from hundreds of UK first opinion veterinary practices for welfare-based research. The current version of the app focuses on the health issues of dogs, but work has already begun on extracting clinical data to support a feline version in the future. Other species and adaptations to the current format are also planned.
Dr Dan O'Neill, Senior Lecturer in Companion Animal Epidemiology at the RVC and developer of the app, said:
"At the RVC, we encourage students to 'learn actively' by reflecting, doing and collaborating rather than 'learning passively' by just memorising lists and facts. This app supports modern learning theory by providing diverse and realistic clinical scenarios that students can work up alone or in groups. The app provides the questions but leaves the students to generate their own solutions to these clinical conundrums; and therefore optimising the learning experience."
Neerja Muncaster, Fellow at Surrey Vet School and co-developer of the app, said:
"The global pandemic has accelerated our use of technology and in doing so has provided increased accessibility and inclusivity to users. This novel free app, using real world data, is an authentic tool which encourages independent life-long learning. Investing in and supporting tomorrow's clinicians improves not only their education but most importantly, the welfare of the animals who will be in their care."
The app is available to download for free on both the Apple Store and Google App Store and requires no additional 'in-app' purchases to access the full functionality.
Further information on the app can be found at VetCompass Virtual Vet Clinic App.
The app is available at no charge and has no additional 'in-app' purchases. It is available in both iOS and Android formats from:
---
Notes to Editors
For more information please contact:
About the RVC
The Royal Veterinary College (RVC) is the UK's largest and longest established independent veterinary school and is a Member Institution of the University of London. It was the first in the world to hold full accreditation from AVMA, EAEVE, RCVS and AVBC.
The RVC is ranked as the top veterinary school in the world in line with the QS World University Rankings by subject, 2021.
The RVC offers undergraduate and postgraduate programmes in veterinary medicine, veterinary nursing and biological sciences.
In 2017, the RVC received a Gold award from the Teaching Excellence Framework (TEF) – the highest rating a university can receive.
A research led institution with 79% of its research rated as internationally excellent or world class in the Research Excellence Framework 2014.
The RVC provides animal owners and the veterinary profession with access to expert veterinary care and advice through its teaching hospitals and first opinion practices in London and Hertfordshire.
About the App
The App is designed using a recognised framework for problem-based inductive clinical reasoning to ensure the latest educational theory is used to support the best learning.
The App provides 'enhanced accessibility' options including options for audio as well as written display.
The text is dyslexia-friendly and the app offers options for differing colour styles for further dyslexia support.
The clinical information used within the app is sourced from anonymised and randomised clinical information on over 20,000 dogs. This ensures that the caseloads reliably reflects the real-world caseloads of first opinion veterinarians.
Precise demographic information on the dog e.g. breed, age, along with the diagnosis, accompanies each case. To add realism, each case is additionally set in a randomly generated professional context to help students make clinical decisions within a wider contextual background.
Users can opt to have disorders presented in the probability that they will occur in general practice (e.g. dental disorders are likely to occur quite often) or can opt to give each disorder an equal probability of being presented (e.g uncommon disorders such as Cushing's syndrome will be presented just as commonly as dental disorders).
Users can filter cases to present only those that they have a special interest in, e.g. cardiovascular or endocrine.
Users can select the way the cases are presented to focus on building their understanding of either clinical reasoning or clinical management.
Students are encouraged to think slowly and deeply rather than rapidly and superficially. The app does not provide answers but instead encourages the students to develop their own preferred solutions.
The text-to-speech functionality enables individual as well as group-use.
By providing open questions appended to each case, users are motivated to seek additional information from alternative resources that will further enhance their learning.
The app is available at no charge and offers no additional 'in-app' purchases.
The app is available in both iOS and Android formats.
---
You may also be interested in:
A new VetCompass study from the Royal Veterinary College (RVC) has revealed that veterinary …