'Rottweilers top the lame list' say RVC
Rottweilers are the most predisposed dog breed to suffer from osteoarthritis according to new research from the Royal Veterinary College (RVC). Osteoarthritis is the most common joint disease diagnosed in dogs, and this study is the largest ever conducted into the condition in dogs under veterinary care – covering 455,557 dogs.
This ground-breaking study found that: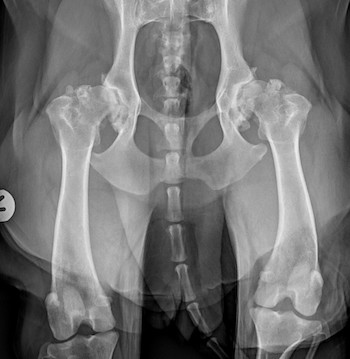 Rottweilers are the breed most prone to osteoarthritis, with the Old English Sheepdog and Dogue de Bordeaux also being very prone to the condition
The large population of Labrador Retrievers in the UK makes them the most commonly treated breed for osteoarthritis in the UK
2.5% of dogs involved in the study had osteoarthritis (which would equate to a total of around 200,000 dogs in the UK)
Dogs that were above average weight for their breed were nearly 2.3 times more likely to be diagnosed with the condition
Dogs aged over 12 years were 54 times more likely to have osteoarthritis than dogs ages under 3 years
Male dogs were 1.2 times more likely to have osteoarthritis than female dogs
For treatments: weight loss was recommended in 25.5% of cases, exercise restriction was advised in 18.8% of cases and in 4.8% of cases the dogs underwent surgery following the condition.
Osteoarthritis poses considerable challenges to the welfare of dogs. The condition is progressive and leads to impaired joint function as well as pain, and particularly affects aging dogs. On average, dogs receive their first diagnosis by the age of 10.5 years. Of the dogs who are diagnosed with osteoarthritis, 75% of cases are recommended to remain on medication as a form of pain relief. It is hoped that this research will improve diagnosis times, which will enable dogs suffering from osteoarthritis to be treated faster.
VetCompass™ is the RVC's pioneering technology, which analyses the veterinary records of 10 million animals from 1,000 veterinary practices in the UK and is now the world's largest research database of anonymised clinical records. The RVC uses this technology to analyse the disorders and to improve the welfare of companion animals.
Dr Dan O'Neill, RVC Senior Lecturer and co-author, said: "Breed predisposition to disease is now recognised as one of the biggest problems facing dogs. Studies of huge populations, such as this one, are giving us vital insights into breed-related health problems in dogs that would have been impossible before VetCompass. This study has enabled us to positively support changes in dog welfare."
---
Notes to Editors
For more information please contact: Uche Graves or Alex Cassells / Press Line: 0800 368 9520
Links to complete research paper Anderson KL, O'Neill DG, Brodbelt DC, Church DB, Meeson RL, Sargan D, et al.: Prevalence, duration and risk factors for appendicular osteoarthritis in a UK dog population under primary veterinary care. Scientific Reports 2018,8(1):5641.
About the Royal Veterinary College
The Royal Veterinary College (RVC) is the UK's largest and longest established independent veterinary school, and is a constituent College of the University of London.
The RVC offers undergraduate, postgraduate and CPD programmes in veterinary medicine, veterinary nursing and biological sciences, being ranked in the top 10 universities nationally for biosciences degrees.
It is currently the only veterinary school in the world to hold full accreditation from AVMA, EAEVE, RCVS and AVBC. In 2017, the RVC received a Gold award from the Teaching Excellence Framework (TEF) – the highest rating a university can receive.
A research-led institution, in the most recent Research Excellence Framework (REF2014) the RVC was ranked as the top vet school in the Agriculture, Veterinary and Food Science unit of assessment, with 79% of submitted academics producing world-class or internationally excellent research.
The RVC also provides animal owners and the veterinary profession with access to expert veterinary care and advice through its teaching hospitals; the Beaumont Sainsbury Animal Hospital in central London, the Queen Mother Hospital for Animals (Europe's largest small animal referral centre), the Equine Referral Hospital, and the Farm Animal Clinical Centre located at the Hertfordshire campus.
About VetCompass™ VetCompass is a research programme conducted by the Royal Veterinary College which shares and analyses veterinary clinical information to understand the disorders and improve the welfare of companion animals. VetCompass uses information from 1,000 veterinary practices in the UK (which is over 20% of all UK practices) and shares data of over 10 million companion animals. In addition, the project also holds anonymised data on over 17 million US animals from over 1000 US practices.
---
You may also be interested in:
A new VetCompass study from the Royal Veterinary College (RVC) has revealed that veterinary …