FPersian cats at high risk of health problems, study shows
Persian cats are a popular breed worldwide and are instantly recognisable from their luxurious coat and flattened face.
They can cost a lot of money to purchase. But despite this, almost two thirds of Persian cats suffer from at least one health condition according to the largest every study of this breed. The research, which was conducted by the Royal Veterinary College (RVC) in collaboration with the University of Edinburgh. The study revealed that haircoat disorders, dental disease, overgrown nails and eye discharge are the most common conditions diagnosed in the Persian cat.
Many of these health issues may be related to the long coat and flat face that is characteristic of the Persian breed. These health issues represent major welfare challenges for Persian cats that should be considered by breeders and future owners. There are an estimated 100,000 Persian cats in the UK.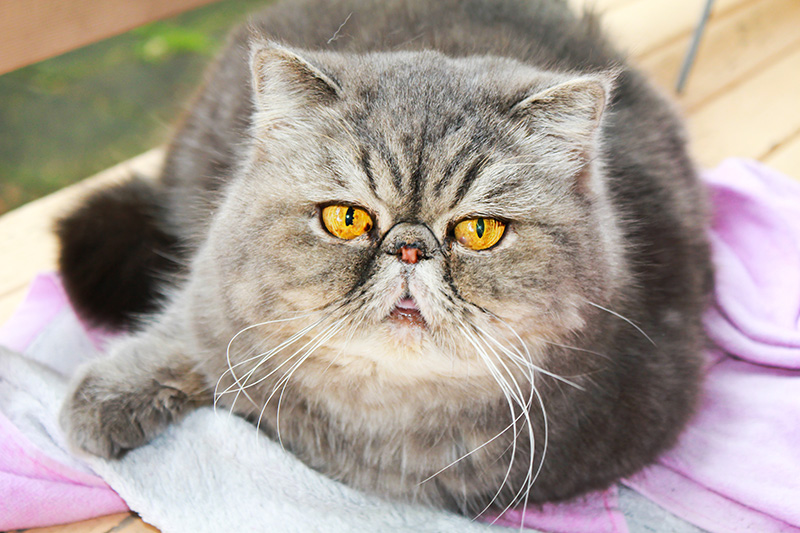 The results of this study will help breeders to select which cats to breed from, veterinarians to spot diseases earlier and owners to ensure that they take preventive measures for common conditions in the breed. This new information will also help the public understand more about the welfare challenges relating to owning and caring for Persian cats.
Key findings from this study include:
64.9% of Persian cats had at least one disorder recorded.
The most common specific disorders were haircoat disorder (12.7%), dental disease (11.3%), overgrown nails (7.2%) and eye discharge (5.8%).
Dental disease was more common in males, while claw/nail problems were more common in females.
The most common causes of death were kidney disease (23.4%) and cancer (8.5%).
The average adult bodyweight of a Persian cat was 3.9 kg.
Male Persian cats (average 4.3kg,) were heavier than females (average 3.4 kg).
The average lifespan of a Persian cat is 13.5 years.
The high levels of dental and eye problems seen in Persians are thought to result from the brachycephalic, commonly referred to as 'flat- faced', shaped heads of these cats. Previous research has shown that this abnormal head shape has been associated with various health problems in dogs, as well as cats. Meanwhile, the high levels of haircoat problems seen in this RVC study are associated with the thick and long coat of the Persian which is prone to tangling and matting.
The academics behind this study analysed the clinical records of 3,325 Persian cats using the RVC's VetCompass™ programme. This enabled them to identify health trends in the Persian cats who were treated under general veterinary care across the UK in 2013.
Dr Dan O'Neill, lead author and VetCompass veterinary epidemiologist at the RVC, said: "Welfare concerns over brachycephaly [flat faces) in dogs have been recognised for some years. Now, our new study of Persians provides evidence that cats with flattened faces are similarly predisposed to some unpleasant and debilitating conditions. Hopefully this evidence baseline will kick-start demands to reform the Persian breed's health by breeding towards a less extreme body shape. Additionally, owners of Persians need to be especially alert to dental, eye and haircoat issues in their cats and seek treatment at the earliest signs of ill-health."
Petra Černá, Intern in Small Animal Internal Medicine, University of Edinburgh and co-author said: "Cats are quite rightly the most popular pet in much of the world. There is a growing preference for pedigree cats and brachycephalic (flat faced) breeds. Persians, a major brachycephalic breed, are one of the oldest breeds, but their 'type' (shape) has changed over time, becoming ever more extreme."
Danièlle Gunn-Moore, Professor of Feline Medicine, University of Edinburgh and co-author said: "Along with growing health and welfare concerns for brachycephalic dogs, our studies raise the same concerns for brachycephalic cats. It is essential we recognise that brachycephalic cats have many of the same problems as brachycephalic dogs, with the most severely brachycephalic individuals having the most serious health problems. We need to start breeding away from extreme brachycephalia before we cause even more harm to these gracious creatures."
A spokesperson from The Governing Council of the Cat Fancy (GCCF) stated: "We welcome the findings of this study and have long advocated for further research into health issues faced by brachycephalic cats. We have previously raised our concerns regarding the health issues experienced by Persian cats. This study also provides a useful starting point, which GCCF hope will lead to future, more detailed studies aimed at defining the degree of brachycephaly that contributes to the associated health problems. This information would be of interest to breeders, judges and regulatory bodies, who continue to work tirelessly to improve the welfare of one of the oldest and most popular cat breeds."
Research reference
The study is published in Nature Scientific Reports and is freely available on open access.
O'NEILL, D. G., ROMANS, C., BRODBELT, D. C., CHURCH, D. B., ČERNÁ, P. & GUNN-MOORE, D. A. 2019. Persian cats under first opinion veterinary care in the UK: demography, mortality and disorders. Scientific Reports - Nature doi.org/10.1038/s41598-019-49317-4
---
Notes to Editors
For more information please contact:
About the RVC
The Royal Veterinary College (RVC) is the UK's largest and longest established independent veterinary school and is a constituent College of the University of London.
The RVC is ranked as the world's number one veterinary school in the QS World University Rankings 2019.
The RVC offers undergraduate, postgraduate and CPD programmes in veterinary medicine, veterinary nursing and biological sciences.
The RVC was the first veterinary school in the world to hold full accreditation from AVMA, EAEVE, RCVS and AVBC, and currently holds full accreditation from RCVS, AVBC and AVMA and conditional from EAEVE.
In 2017, the RVC received a Gold award from the Teaching Excellence Framework (TEF) – the highest rating a university can receive.
A research-led institution, the RVC maintained its position as the top veterinary institution in the Research Excellence Framework (2014), with 79% of its submission being rated as world-class or internationally excellent.
The RVC also provides animal owners and the veterinary profession with access to expert veterinary care and advice through its teaching hospitals: the Beaumont Sainsbury Animal Hospital, in central London, and the Queen Mother Hospital for Animals (Europe's largest small animal referral centre) and Equine Referral Hospital, both located at the Hertfordshire campus.
---
You may also be interested in:
A new VetCompass study from the Royal Veterinary College (RVC) has revealed that veterinary …