Peke-a-poo: Boom in designer dogs creates the perfect storm for animal welfare issues
A new study, led by the Royal Veterinary College (RVC), has revealed a huge demand for designer crossbreed dogs in the UK between 2019 and 2020 and has identified the main factors behind the increasing demand – including beliefs that they are more hypoallergenic, generally healthy, easy to train and good with children, which could be misconceptions based on current evidence. The new study also suggests that this increased demand poses a significant risk to the health and welfare of these designer dogs due to high demand leading to poor breeding and to buyers unintentionally supporting puppy farming and illegal importation of underage puppies.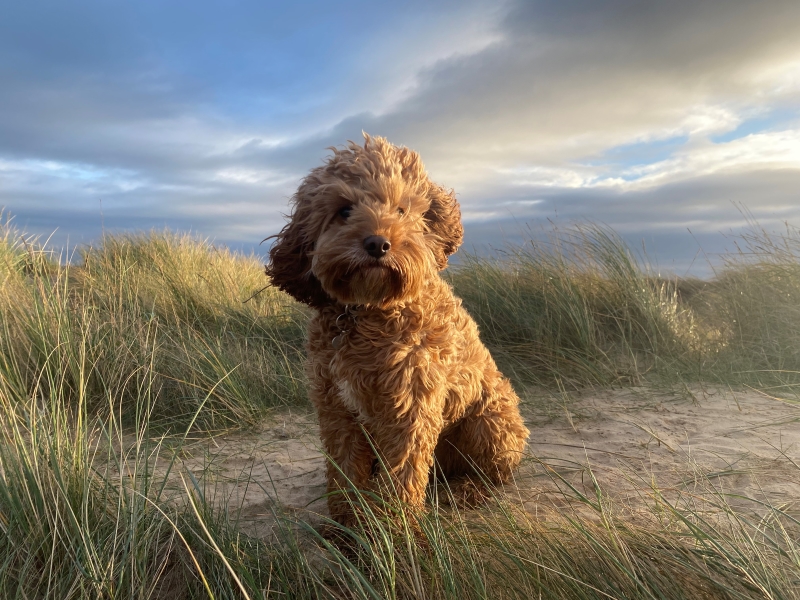 Designer crossbreeding describes the planned mating between distinct pure breeds to create new designer dogs with catchy names. For example, a cross between a Pekingese and a Miniature Poodle would create a Peke-a-poo that could sell for much more than either of the parent breeds. The findings of this study are vital to improving understanding on why the popularity of designer crossbreeds is increasing across the UK and subsequently for improving advice to the public on responsible puppy purchasing that prioritises canine welfare and supports safe and responsible breeding.
The team comprised of researchers from the RVC, the University of Nottingham and an independent consultant. They used the online Pandemic Puppies survey to canvas nearly 6,300 owners across England, Scotland, Wales and Northern Ireland, who acquired a puppy between 2019 and 2020, including 1,575 owners of designer crossbreeds. The five most common designer crossbreeds in the study were the Cockapoo, Labradoodle, Cavapoo, Sprocker, and Goldendoodle.
The team previously documented a significant increase in designer crossbreed ownership during the pandemic, from fewer than 1 in 5 puppies in 2019 being a designer crossbreed (18.8%), to more than 1 in 4 puppies in 2020 (26.1%). This highlights a dramatic shift in demand towards designer crossbreeds in the UK population and suggests that designer dogs are now the latest 'fad breed' for puppy buyers.
Importantly, the study found that the main drivers of acquiring a designer crossbreed puppy compared with a purebred puppy were perceptions that designer crossbreeds offered a size suited to their owner's lifestyle (74.8% vs 59.1% for purebred); were generally healthy (62.1% vs 42.3% for purebred); good with children (56.0% vs 42.5% for purebred); easy to train (54.3% vs 36.4% for purebred); and hypoallergenic (47.1% vs. 7.9% for purebred).
Additional findings include that owners of designer crossbreeds:
Prioritise convenient purchasing of their dog over welfare factors – being less likely to seek a breeder that was trustworthy or provided relevant health tests in favour of a breeder that lived within a suitable distance or had available puppies at the desired time.
Were less likely to be provided with DNA and veterinary screening tests for their puppies' parents by their breeder - in part a result of fewer crossbreed owners asking to see any results or believing that there were no relevant tests for their crossbreed.
Were more likely to source their puppy online, via a general selling website or an animal-specific selling website.
Designer crossbreed buyers also overlooked more 'red flags' during the purchasing process that put them at increased risk of being deceived and purchasing their puppy from unscrupulous sources. This included placing a deposit on their puppy before they had seen it in-person, being less likely to see their puppy in person before purchase and being less likely to see their puppy with its littermates or mother when collected, despite the strong 'Where's Mum?' campaign against puppy farming in the UK since 2015. Ignoring these important 'red flags' risks unintentionally supporting puppy farming and illegal imports of puppies, inflicting major early-life stresses on puppies that could have lifelong behaviour and welfare consequences.
This booming designer crossbreed trade is also posing a serious risk to the overall welfare of these animals. This includes health risks caused by breeding without due regard to health, increasing the risk of inherited disorders. For example, a reduced emphasis on pre-breeding health screening of the parents of many designer crossbreeds could lead to increased levels of debilitating conditions such as hip dysplasia in the Labradoodle (Labrador x Poodle) in the future.
Other issues include a potentially increased rate of relinquishment of designer crossbreeds in the future, as owners realise the reality of their misconceptions. For example, designer crossbreeds are thought to be hypoallergenic (a trait sought-after by almost half of this owner group), yet there is no strong evidence of this trait in studies of designer crossbreeds, and allergies have been cited as one of the top three reasons for dog relinquishment, often within one year of ownership. Additionally, behavioural risks are increased as, in some cases, behaviour in designer crossbreed offspring is less desirable than the behaviour of the parent breeds, including increased levels of aggression in the Goldendoodle (Golden Retriever x Poodle).
It is hoped that this study will help to build an understanding of factors driving the designer crossbreed puppy demand and help vets, sellers and the wider pet industry to educate owners on the importance of safe puppy purchasing and the risks to canine health and welfare if not adhered to.
Dr Rowena Packer, Lecturer in Companion Animal Behaviour and Welfare Science at the RVC said:
"The UK public are flocking towards designer crossbreeds based on perceptions that they are 'off the shelf' easy family dogs; trainable, healthy, and hypoallergenic dogs that fit into their owners' existing lifestyles. Unfortunately, it is unlikely that reality will meet all of these high expectations, with little evidence to support these claims.
"These misconceptions risk poor outcomes for both dogs and their owners in the future, including rehoming, unexpected health problems and bite risks. Would-be owners should avoid being enticed by designer labels and rose-tinted expectations, and instead conduct thorough research to help decide if these are really the dogs for them."
Dr Dan O'Neill, Associate Professor in Companion Animal Epidemiology at the RVC said:
"Sadly, designer dogs often do not come from 'designer' breeding programmes but are farmed indiscriminately to meet the current craze for breed-crosses with catchy names such as Frug and Jackalier. Check out the seller before buying, visit your puppy several times before you bring them home, and always make sure you see the puppy with its mum."
This study was funded by the Universities Federation for Animal Welfare (UFAW), with the original study that generated the dataset was funded by the Animal Welfare Foundation (AWF).
---
Notes to Editors
Reference
Burnett, E., Brand, C.L., O'Neill, D.G. et al. How much is that doodle in the window? Exploring motivations and behaviours of UK owners acquiring designer crossbreed dogs (2019-2020). Canine Med Genet 9, 8 (2022). https://doi.org/10.1186/s40575-022-00120-x
The full paper is available from Canine Genetics and Medicine and can be accessed here: https://cgejournal.biomedcentral.com/articles/10.1186/s40575-022-00120-x
For media enquiries, please contact:
About the RVC
The Royal Veterinary College (RVC) is the UK's largest and longest established independent veterinary school and is a Member Institution of the University of London.
It is one of the few veterinary schools in the world that hold accreditations from the RCVS in the UK (with reciprocal recognition from the AVBC for Australasia, the VCI for Ireland and the SAVC for South Africa), the EAEVE in the EU, and the AVMA in the USA and Canada.
The RVC is ranked as the top veterinary school in the world in line QS World University Rankings by subject, 2022.
The RVC offers undergraduate and postgraduate programmes in veterinary medicine, veterinary nursing and biological sciences.
A research led institution with 79% of its research rated as internationally excellent or world class in the Research Excellence Framework 2014.
The RVC provides animal owners and the veterinary profession with access to expert veterinary care and advice through its teaching hospitals and first opinion practices in London and Hertfordshire.
About the Animal Welfare Foundation
About the Universities Federation for Animal Welfare
The Universities Federation for Animal Welfare (UFAW) is an international independent scientific and educational animal welfare charity. UFAW's vision is a world where the welfare of all animals affected by humans is maximised through a scientific understanding of their needs and how to meet them. UFAW promotes an evidence-based approach to animal welfare by funding scientific research, supporting the careers of animal welfare scientists and by disseminating animal welfare science knowledge both to experts and the wider public.