New VetCompass tool aids diagnosis of Cushing's syndrome in dogs
Researchers within the VetCompass™ team at the RVC have developed a new tool that can be used to evaluate the risk of Cushing's syndrome in dogs. The freely accessible tool is designed to be used in practice to support decision-making and ultimately increase confidence in diagnosis.
Cushing's syndrome is an endocrine disease, resulting from an imbalance in cortisol (a steroid hormone). For dogs, the majority of Cushing's cases are diagnosed and managed within primary-care veterinary practices, with only a minority of all cases being referred.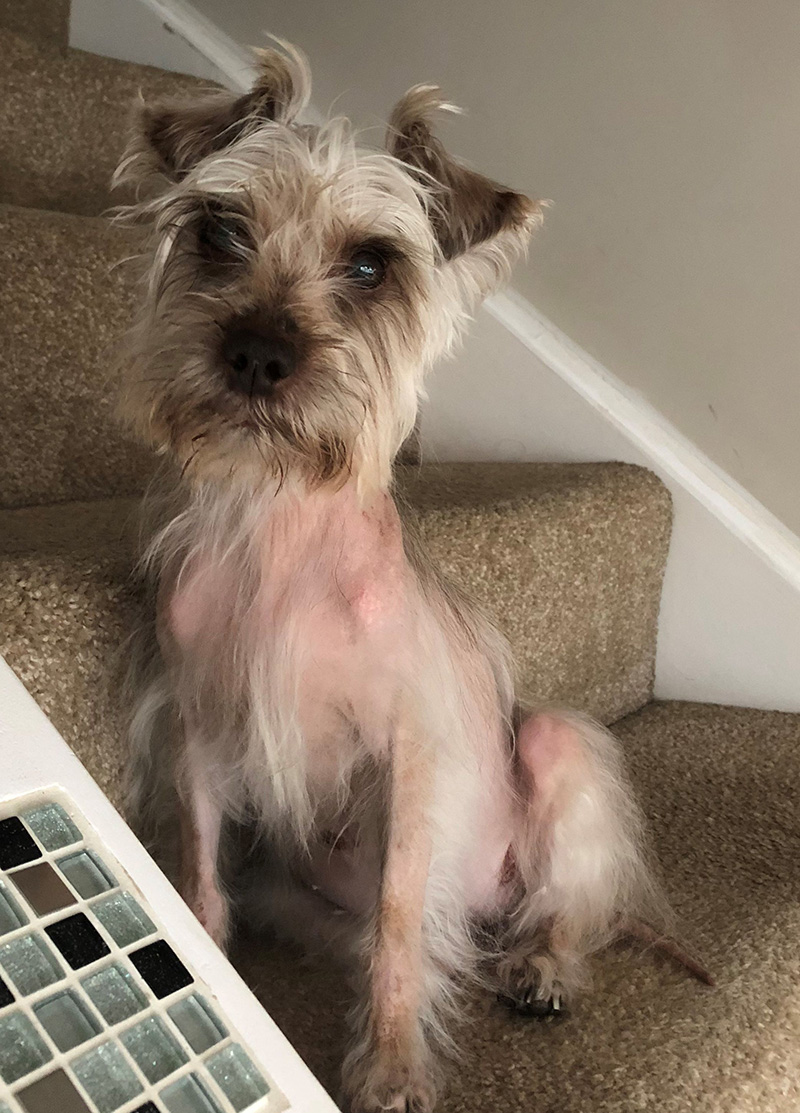 The classical clinical signs associated with the disease are well reported, with affected dogs typically showing various combinations of frequent passing of large volumes of urine (polyuria), excessive thirst (polydipsia), excessive appetite (polyphagia), a potbellied appearance, muscle weakness, bilateral alopecia, panting and lethargy.
Cushing's syndrome can be difficult to diagnose because these clinical signs are often non-specific to the disease. Additionally, there is no single, highly accurate test for Cushing's syndrome and these tests are often over-used, making results difficult to interpret.
To directly support vets in practice, researchers within the VetCompassTM team at the RVC have developed this novel tool which can be used in the practice setting to assess individual patient risks prior to confirmatory testing.
The tool was developed after the application of advanced statistical methods and is made up of 10 'predictive' factors for Cushing's syndrome. The tool reports the probability of an individual dog having Cushing's syndrome, based on these factors.
This study was made possible due to access of large volumes of anonymised data through the VetCompassTM programme and funding from Dechra Veterinary Products Ltd. The study included data from hundreds of dogs tested for Cushing's syndrome across 886 UK veterinary practices and used data on dogs' demographics, clinical signs at presentation and laboratory results.
Imogen Schofield, co-author and PhD student at the RVC, said: "The output from this research provides clinicians in primary-care practice with an easy to use and intuitive tool that can aid decision-making during the often frustrating process of diagnosing Cushing's syndrome. Using our tool to assess how likely a suspected dog is of having Cushing's syndrome before undertaking further testing could reduce inappropriate use of currently available diagnostic tests."
Greg Williams, Senior Business Manager in Endocrinology at Dechra Veterinary Products Ltd, said: "Dechra is pleased to have been able to support this important research. Dechra has established itself as an expert in endocrinology and is committed to paving the way forward in this area. Reaching a diagnosis of Cushing's syndrome can often be seen as a hurdle, before being able to start treatment for this important disease. Therefore, the primary aim of this research was to develop a new tool that directly supports vets in practice with the diagnosis of Cushing's syndrome."
Download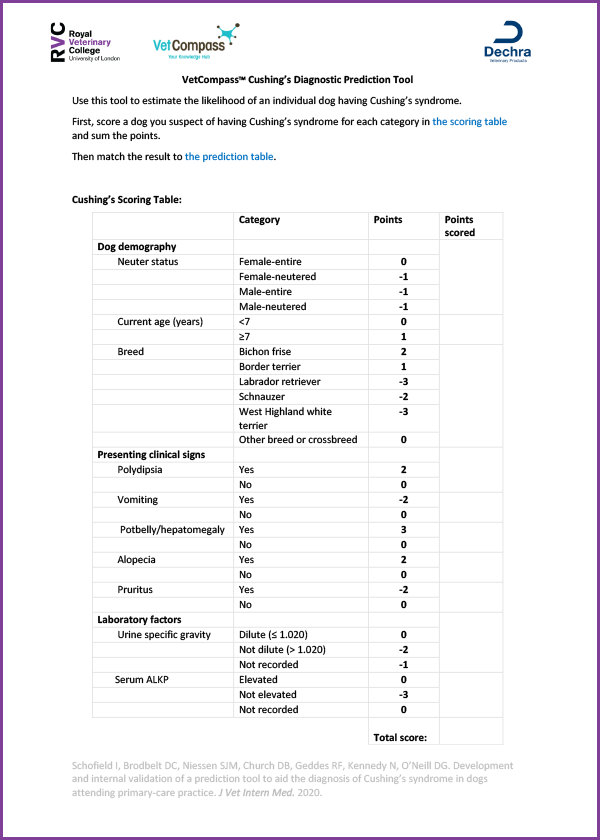 The tool is available as a free download: VetCompass™ Cushing's Diagnostic Prediction Tool (pdf)
Research Reference
The full paper, along with details of how to use the tool, has been published in the Journal of Veterinary Internal Medicine and is freely available open access at: onlinelibrary.wiley.com/doi/full/10.1111/jvim.15851
---
Notes to Editors
For more information please contact:
About the RVC
The Royal Veterinary College (RVC) is the UK's largest and longest established independent veterinary school and is a Member Institution of the University of London. It was the first in the world to hold full accreditation from AVMA, EAEVE, RCVS and AVBC.
The RVC is the top veterinary school in the UK and Europe, and ranked as the world's second highest veterinary school in the QS World University Rankings by subject, 2020.
The RVC offers undergraduate and postgraduate programmes in veterinary medicine, veterinary nursing and biological sciences.
In 2017, the RVC received a Gold award from the Teaching Excellence Framework (TEF) – the highest rating a university can receive.
A research led institution with 79% of its research rated as internationally excellent or world class in the Research Excellence Framework 2014.
The RVC provides animal owners and the veterinary profession with access to expert veterinary care and advice through its teaching hospitals and first opinion practices in London and Hertfordshire.
---
You may also be interested in:
A new VetCompass study from the Royal Veterinary College (RVC) has revealed that veterinary …