New VetCompass paper: Common disorders in Cavalier King Charles spaniels

Disorders recorded in Cavalier King Charles Spaniels attending primary-care veterinary practices in England Summers JF, O'Neill DG, Church DB, Thomson PC, McGreevy PD, Brodbelt DC. (April 2015) Canine Genetics and Epidemiology
Three major UK reports recently identified substantial knowledge gaps on the prevalence and epidemiology of common inherited disorders within individual dog breeds (APGAW 2009, Bateson 2010, Rooney 2009), concluding that these deficits constrain evidence-based, breed-specific prioritisation of disorders for investigation and reform. A new VetCompass paper, published last week in the Open Access journal Canine Genetics and Epidemiology, describes the most common health disorders recorded in a randomly selected group of 1,875 Cavalier King Charles spaniels (CKCSs) presented for primary health care in England over a 6 year period. This study was designed to generate evidence on disorders frequently affecting UK Cavaliers, while exploring the feasibility of linking Kennel Club (KC) pedigree data with VetCompass clinical data in individual dogs to better evaluate genetic bases of identified disorders.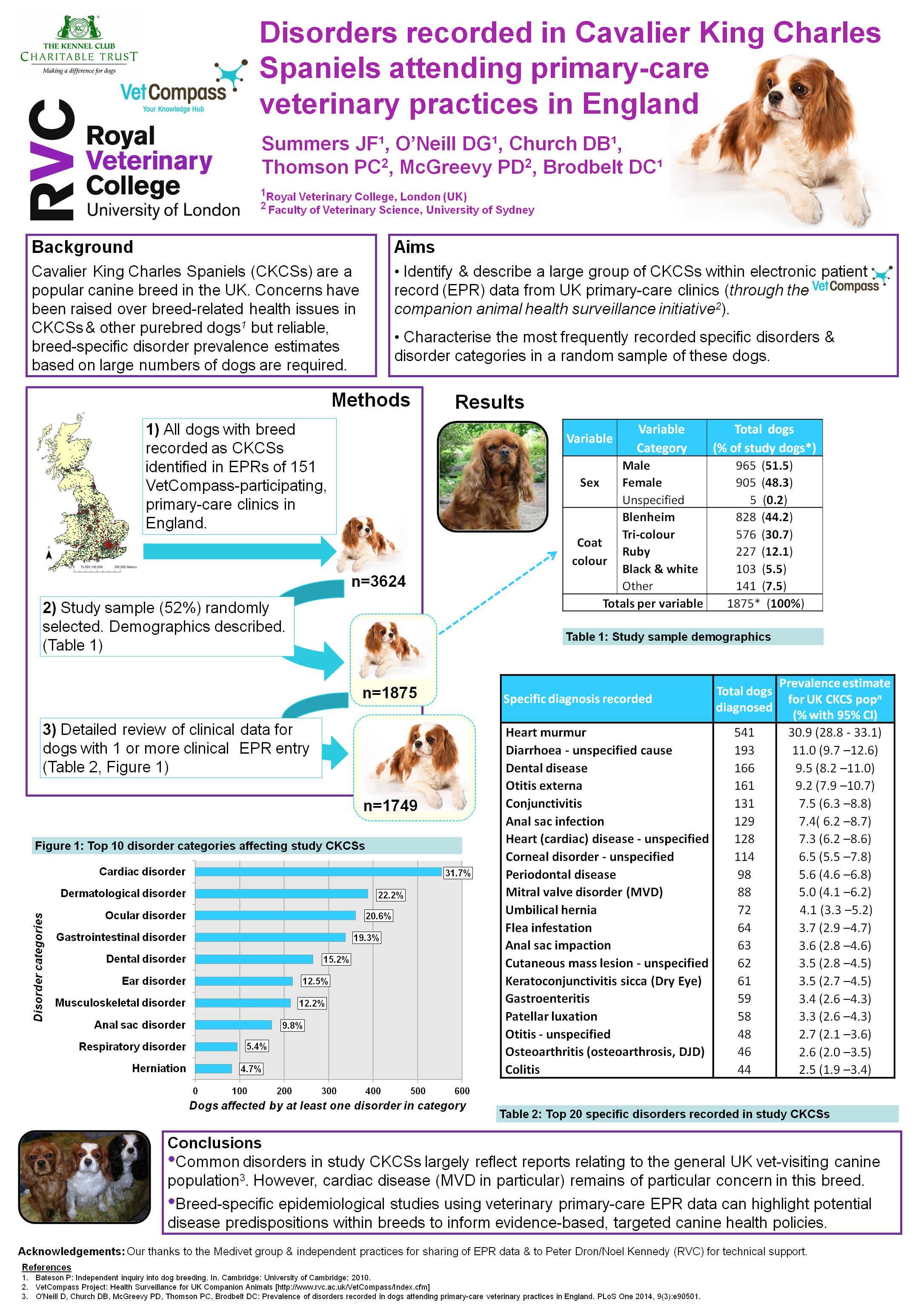 The most common disorders recorded in study dogs were heart murmur, diarrhoea, dental disease, otitis externa, conjunctivitis and anal sac infection, and the most common disorder categories were cardiac, dermatological, ocular, gastrointestinal and periodontal disorders. While the pattern of common disorders in study CKCSs appeared generally similar to that in the general, vet-visiting UK dog population, cardiac diseases (and specifically Mitral Valve disease) continue to be of particular concern in this breed. (A visual summary of results is available in this poster presented at the SVEPM Annual Conference, Ghent earlier in 2015).
Study findings demonstrate the value of veterinary practice-based, breed-specific research in highlighting common problems and potential disease predispositions in popular dog breeds. Knowledge of this type is invaluable to vets, dog owners, breeders and can be used to prioritise particular purebred dog health issues for research and targeted action. Initial exploration of potential linkage between KC pedigree databases and primary-care clinical data held by VetCompass paves the way for future linkage analyses for KC-recognised breeds.
Our thanks go to the pets, owners and clinicians involved in clinical data sharing for VetCompass research purposes, with special thanks to the Kennel Club Charitable Trust (KCCT) for funding the wider project from which this study is derived.