New research shows Pugs have high health risks and can no longer be considered a 'typical dog' from a health perspective
A new study from the Royal Veterinary College suggests urgent action is needed as many health issues of Pugs are associated with their extreme body shape
New research from the Royal Veterinary College (RVC) has revealed that the health of Pugs in the UK is now substantially different and largely worse than non-Pugs. Pugs are almost twice as likely to experience one or more disorders annually compared with other dogs. These findings suggest the Pug can no longer be considered a 'typical dog' from a health perspective and urgent action is required to reduce the high rate of health issues associated with the breed.
The Pug has become extremely popular in recent decades, with a five-fold increase in Kennel Club registrations from 2005 to 2017. However, there is growing concern over the serious health issues of Pugs stemming from the breed's flat face, bulging eyes, wrinkled skin and tendency towards obesity, sadly all characteristics which are often considered 'cute' by the public. While there is growing awareness of these severe health problems in Pugs, until now, the full scale of the health crisis in Pugs has not been fully understood.
To address this knowledge gap, the study, led by the RVC's VetCompass programme, compared the health of random samples of 4,308 Pugs and 21,835 non-Pugs. Information on all disorders recorded in each dog over a single year was extracted. Overall, Pugs were found to be 1.9 times as likely to have one or more disorders recorded in a single year compared to non-Pugs, indicating a poor overall health status in the breed.
Compiling a list of the 40 most common disorders across Pug and non-Pug groups of dogs, Pugs had a higher risk of 23 out of the 40 (57.5%) disorders compared with a lower risk of only seven out of 40 (17.5%) disorders. Brachycephalic obstructive airway syndrome (BOAS)* was the disorder with the highest risk in Pugs, with the breed almost 54 times more likely to have the condition. This reflects the common respiratory difficulties experienced by flat-faced (brachycephalic) breeds due to their extreme flat faces.
Pugs were at higher risk of many other conditions compared to non-Pugs, which included:
Narrowed nostrils (x 51.3)
Eye ulceration (x 13.0)
Skinfold infections (x 11.0)
Ear discharge (x 9.6)
Allergic skin disorder (x 5.9)
Demodectic mange (x 5.6)
Retained baby teeth (x 4.3)
Obesity (x 3.4)
Conversely, Pugs had significantly reduced risk of some conditions, including heart murmur (x 0.2); lipoma (x 0.2); aggression (x 0.3); and wounds (x 0.5). Pugs are often considered to have a very gentle temperament, and this is supported by the study which showed very low levels of aggression in the breed. While this may make the Pug a good family pet from a human perspective, owners also need to consider the quality of life that the dog endures.
Although these results provide evidence for some positive aspects of Pug health, they sadly highlight the Pug overall has substantially poorer health than non-Pugs. The findings suggest that many Pugs may suffer from seriously compromised health and welfare because of the extreme body shape that humanity expects of this breed. To correct this, the body shape of Pugs must shift towards a more moderate, and less extreme, conformation if we are to reduce these health and welfare issues for Pugs in the UK. While we are waiting for these changes in the breed that can reduce these health problems, the advice from experts to the public is to 'stop and think before buying a flat-faced dog.'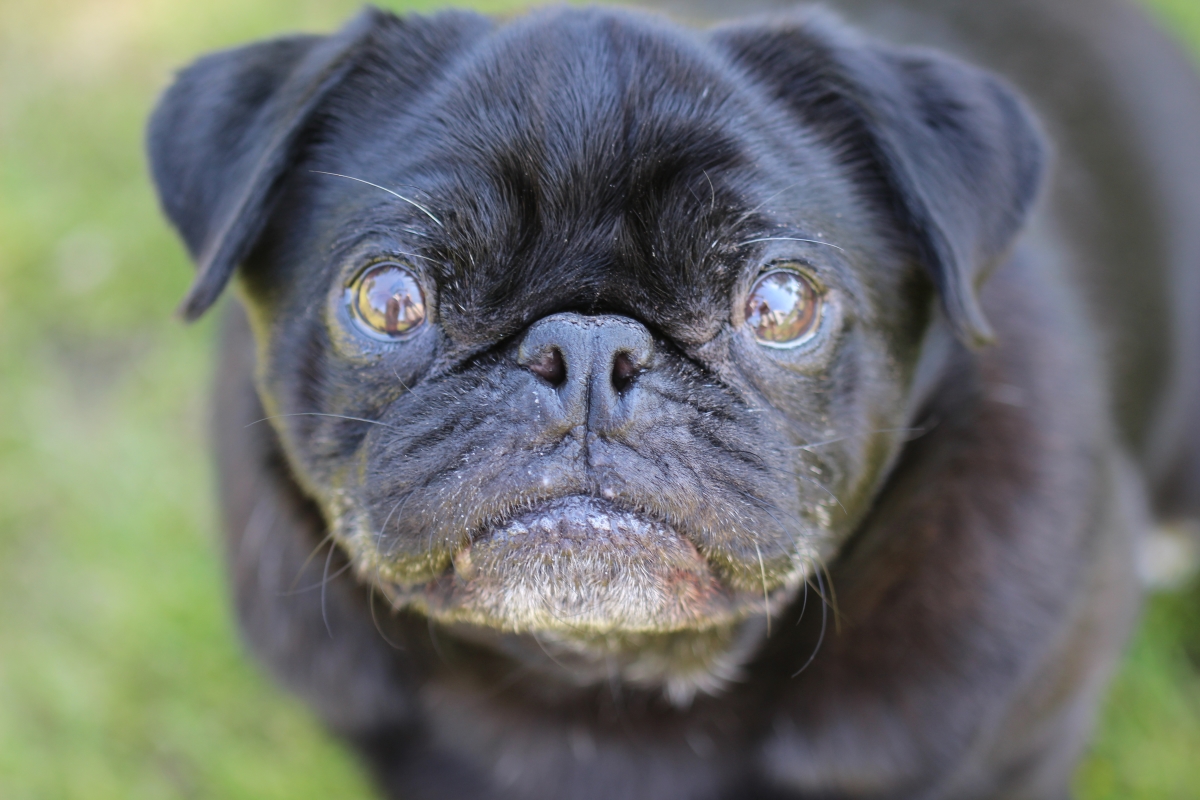 Dr Dan O'Neill, Associate Professor in Companion Animal Epidemiology at the RVC and lead author of the paper, said:
"Although hugely popular as pets, we now know that that several severe health issues are linked to the extreme body shape of Pugs that many humans find so cute. It is time now that we focus on the health of the dog rather than the whims of the owner when we are choosing what type of dog to own."
Jaya Sahota, co-author and RVC veterinary student, said:
"Demographic statistics from this Pug study show that the current Pug population is predominately young with a wide variety of health disorders recorded. This leads to serious concerns of an impending brachycephalic 'health crisis' as this young population ages. Widespread ownership of Pugs with extreme facial and body conformations should be discouraged until measures are in place to ensure stricter and more acceptable breed standards."
Bill Lambert, Health, Welfare and Breeder Services Executive at The Kennel Club, said:
"We want to ensure that all Pugs are bred with their health and welfare as the absolute priority. Dogs with exaggerated features which are bred and bought irresponsibly are one of The Kennel Club's biggest concerns, and this paper highlights there is still a long way to go.
"Collaborating with the RVC and supporting this research through The Kennel Club Charitable Trust enables us to understand more about the breed's complex health concerns and develop evidence-based tools which support responsible breeders in protecting and improving Pug health. These findings will also play a vital part in continuing to develop ways to encourage would-be owners to do their research and to help them understand the potential health and welfare issues that badly bred Pugs can face.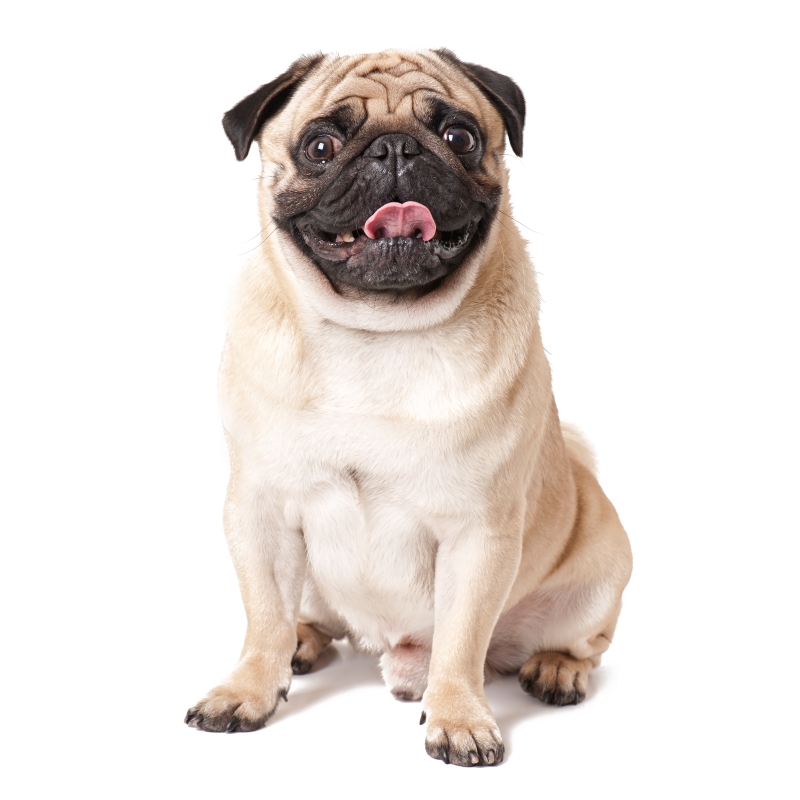 "Sadly, certain exaggerations that can cause health issues are often perceived as 'cute' or 'normal' for the breed and, worryingly, desirable by pet owners too. We, alongside vets, welfare organisations and breed clubs, continue to work collaboratively to educate the general public, many of whom simply don't seem to be aware of the potential issues that some of these dogs face. We aim to curb the increasing numbers of rogue breeders, who are outside of any sphere of influence and are producing dogs with no regard for welfare and continue to urge would-be owners and breeders to think carefully about any breeding or buying decisions when it comes to Pugs, and make use of health testing, evidence-based resources and expert advice available on The Kennel Club website."
Justine Shotton, British veterinary Association (BVA) President, said:
"These statistics are shocking but, sadly, they will not be surprising to our members. Vet teams see pugs with these distressing health problems – from breathing difficulties to eye ulcers and painful spine abnormalities - in veterinary practices across the UK on a daily basis.
"This study clearly demonstrates how it is the extreme characteristics many owners find so appealing, such as squashed faces, big eyes and curly tails, which are seriously compromising pugs' health and welfare and often result in a lifetime of suffering. While these extreme, unhealthy characteristics remain, we will continue to strongly recommend potential owners do not buy brachycephalic breeds such as pugs."
---
Notes to Editors
*Brachycephalic obstructive airway syndrome (BOAS) refers to severe breathing problems in dogs due to combinations of various issues linked to flat-faces including narrowed nostrils, elongated soft palate and collapsed larynx.
Reference
O'Neill et al. (2022) "Health of Pug Dogs in the UK: disorder predispositions and protections", Canine Medicine and Genetics
The full paper is available from 1am GMT on Wednesday 18th May 2022 and can be accessed here: URL: https://www.biomedcentral.com/articles/10.1186/s40575-022-00117-6
DOI: 10.1186/s40575-022-00117-6
Media enquiries
For media enquiries, please contact:
About the RVC
The Royal Veterinary College (RVC) is the UK's largest and longest established independent veterinary school and is a Member Institution of the University of London.
It is one of the few veterinary schools in the world that hold accreditations from the RCVS in the UK (with reciprocal recognition from the AVBC for Australasia, the VCI for Ireland and the SAVC for South Africa), the EAEVE in the EU, and the AVMA in the USA and Canada.
The RVC is ranked as the top veterinary school in the world in line QS World University Rankings by subject, 2022.
The RVC offers undergraduate and postgraduate programmes in veterinary medicine, veterinary nursing and biological sciences.
A research led institution with 83% its research being scored 4*, and 7.5 of the 9 impact case studies submitted found to have "outstanding reach and significance in the Research Excellence Framework 2021.
The RVC provides animal owners and the veterinary profession with access to expert veterinary care and advice through its teaching hospitals and first opinion practices in London and Hertfordshire.