New research highlights dog breeds at most risk of hypothyroidism
A new study from the Royal Veterinary College explores the frequency and risk factors for hypothyroidism in dogs in the UK, promoting greater awareness with earlier detection and treatment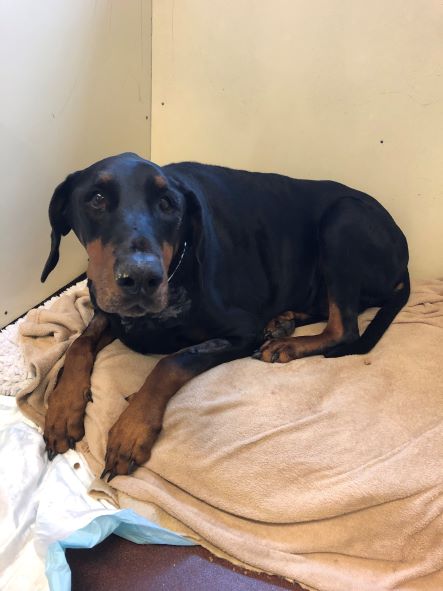 New research the Royal Veterinary College (RVC) has shed light on the dog breeds most predisposed to hypothyroidism, a life-long hormonal disorder caused by a deficiency of thyroid hormones. The findings reveal that breeds, including Standard Doberman Pinschers, Tibetan Terriers and Boxers are highly predisposed to the condition, while some other breeds such as French Bulldogs, Pugs and Yorkshire Terriers are among the breeds least likely to experience hypothyroidism.
Hypothyroidism, a commonly diagnosed hormonal disorder in dogs, usually occurs due to a deficiency in thyroid hormones. The condition can reduce quality of life with affected dogs often showing weight gain, lethargy, hair loss, intolerance to the cold and a tragic facial expression. Previous research has identified several potential risk factors for hypothyroidism such as breed, neutering and aging. However, much of this earlier work is now dated, meaning risk factors need to be checked again for relevance to the current UK dog population. Previous research also provided little information on which dog breeds had reduced risk of hypothyroidism. The findings from this new study have now identified several breeds predisposed to, and protected from, hypothyroidism and will help generate increased awareness of the condition and assist with earlier detection and treatment of cases.
Led by the RVC's VetCompass Programme, researchers identified 2,105 hypothyroidism cases diagnosed amongst a study population of 905,553 UK dogs. This revealed an annual frequency of one case in 400 dogs (0.23%) for the condition, with the most common breeds diagnosed being Tibetan Terriers, Standard Doberman Pinschers and Boxers. The average age at first diagnosis was 7.65 years.
Additional key findings include:
The breeds most highly predisposed to hypothyroidism were Standard Doberman Pinscher (x 17.02), Tibetan Terrier (x 11.25), Boxer (x 10.44) and Alaskan Malamute (x 9.71).
The most protected breeds were French Bulldog (0.27), Pug (x 0.29), Yorkshire Terrier (x 0.38), Shih-tzu (x 0.38) and Jack Russell Terrier (x 0.40).
Two breeds had no recorded cases of hypothyroidism – Cavachon and Cavapoo.
The risk of having hypothyroidism rose as dogs aged, with dogs aged 11-13 years at 4.54 times the risk of hypothyroidism compared with dogs aged 5-7 years.
The risk of hypothyroidism increased as adult bodyweight increased.
Neutered females and neutered males were more likely to be diagnosed than entire females.
Breeds with long skull (dolichocephalic x1.35) or short skull (brachycephalic x 1.15) conformation had higher risk of hypothyroidism compared to dogs with medium length (mesocephalic) skull conformation.
These results will help increase understanding of how breed is linked with hypothyroidism risk in dogs in the UK. Awareness of this information can help UK dog owners and veterinary professionals to identify cases of hypothyroidism earlier and therefore, to commence treatment sooner to protect the welfare of affected dogs.
Dr Dan O'Neill, Associate Professor in Companion Animal Epidemiology at the RVC and lead author of the paper, said:
"As increasing evidence accumulates on the health risks and benefits for individual dogs from being born into specific breeds, this latest VetCompass paper offers insights into close links between breed and hypothyroidism in dogs. Owners of key predisposed breeds can now be alert for early signs of ill-health typical of hypothyroidism. The results can also help good breeders to select away from affected dogs to improve health in future generations."
Dr Rebecca Geddes, Lecturer in Small Animal Internal Medicine at the RVC Queen Mother Hospital for Animals and last author of the paper, said:
"It is great to have this data from UK primary care practices, which will help highlight high risk breeds to veterinary surgeons so they can diagnose and treat affected dogs as early as possible. Hypothyroidism is usually straightforward to manage with medication that can greatly improve quality of life in affected dogs."
Bill Lambert, Health and Welfare Executive at The Kennel Club added:
"These findings are important to help us to identify which dogs may be at most risk of developing hypothyroidism. Ultimately, this should help owners to spot the initial signs, and vets to diagnose earlier to enable treatment, which is known to be effective in managing the disease. The findings will feed into our Breed Health and Conservation Plans which enable The Kennel Club to identify, monitor and improve each individual breed's health and welfare.
"We hope this research, funded in part by The Kennel Club Charitable Trust, helps to improve dog welfare across the board and reduces the impact of this disease, which can be managed with medication."
---
Notes to Editors
Reference
O'NEILL, D. G., KHOO, J. S. P., BRODBELT, D. C., CHURCH, D. B., PEGRAM, C. & GEDDES, R. F. 2022. Frequency, breed predispositions and other demographic risk factors for diagnosis of hypothyroidism in dogs under primary veterinary care in the UK. Canine Medicine and Genetics, 9, 11.
The full URL for the article when published will be: https://cgejournal.biomedcentral.com/articles/10.1186/s40575-022-00123-8
For media enquiries, please contact:
About the RVC
The Royal Veterinary College (RVC) is the UK's largest and longest established independent veterinary school and is a Member Institution of the University of London.
It is one of the few veterinary schools in the world that hold accreditations from the RCVS in the UK (with reciprocal recognition from the AVBC for Australasia, the VCI for Ireland and the SAVC for South Africa), the EAEVE in the EU, and the AVMA in the USA and Canada.
The RVC is ranked as the top veterinary school in the world in the QS World University Rankings by subject, 2022.
The RVC offers undergraduate and postgraduate programmes in veterinary medicine, veterinary nursing and biological sciences.
The RVC is a research led institution with 88% of its research rated as internationally excellent or world class in the Research Excellence Framework 2021.
The RVC provides animal owners and the veterinary profession with access to expert veterinary care and advice through its teaching hospitals and first opinion practices in London and Hertfordshire.