Is the Staffordshire Bull Terrier as tough as its reputation?
A new study from the Royal Veterinary College (RVC) has revealed that despite stereotypes, Staffordshire Bull Terriers do not show increased risk of aggression compared with non-Staffordshire Bull Terriers.
The study, led by the RVC's VetCompass™ programme, explored the health of 1,304 Staffordshire Bull Terriers compared with 21,029 non-Staffordshire Bull Terriers, compiling a list of the 36 most common disorders, including dental disease, ear infection and obesity, across both groups of dogs to see which was healthier.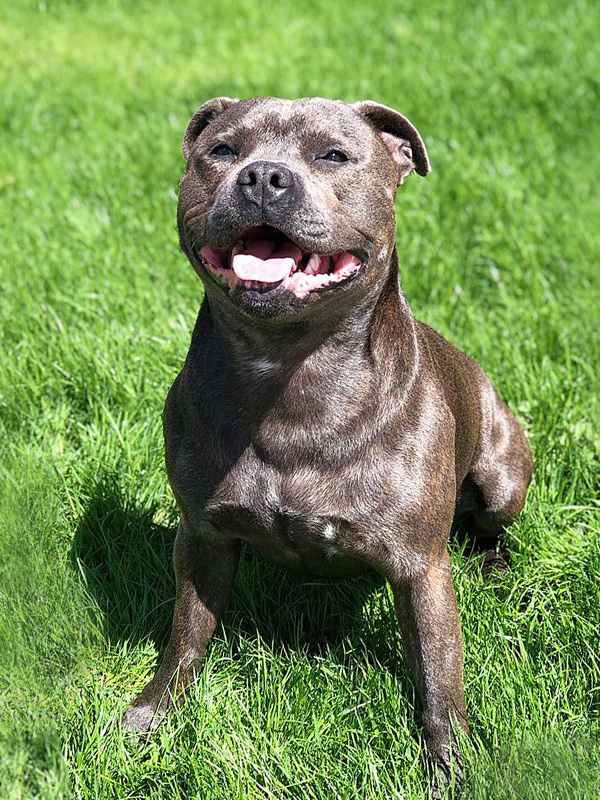 The findings show that overall, Staffordshire Bull Terriers had higher risk of 4/36 (11.1%) disorders and lower risk of 5/36 (13.9%) disorders, with no difference in risk detected in the majority [27/36 (75.0%)] of disorders. This research is important as it helps to provide owners and breeders with valuable guidance about key health concerns, in order to reduce risk of these in the future.
By focusing specifically on the most common disorders, the researchers were able to concentrate on problems that contribute most to the health of these dogs and avoid rarer conditions with less impact at a population level. Additional key findings include Staffordshire Bull Terriers having:
Significantly increased risk of seizures (x2.1), atopic dermatitis (x1.9), skin mass (x1.8) and stiffness (x1.8)
Reduced risk of anal sac impaction (x 0.5), dental disease (x 0.4), heart murmur (x 0.3), retained deciduous tooth (x 0.2) and patellar luxation (x 0.2).
The Staffordshire Bull Terrier, also known as the Staffie, is one of the most popular dog breeds in the UK. The breed has a reputation for being tough with a tendency towards aggression, but until now, there has been limited reliable evidence on their general health.
Importantly, this new study shows no evidence that the overall health of Staffordshire Bull Terriers differs significantly from other dogs in general however, it does provide owners and breeders with a list of disorders with higher risk that they can monitor for in their dogs and help address and seek veterinary support as early as possible.
Camilla Pegram, VetCompass™ Epidemiologist at the RVC, and author of the paper, said: "Staffordshire Bull Terriers are very popular in the UK and are therefore commonly seen by veterinarians in practice. Although Staffies are often perceived as aggressive, this study revealed no significant difference in the risk of aggression between Staffordshire Bull Terriers compared with non-Staffordshire Bull Terriers. It may therefore be time we moved on from these stereotypes, although further research could help determine if this is still the case for specific forms of aggression, such as that directed towards dogs, towards owners or towards strangers."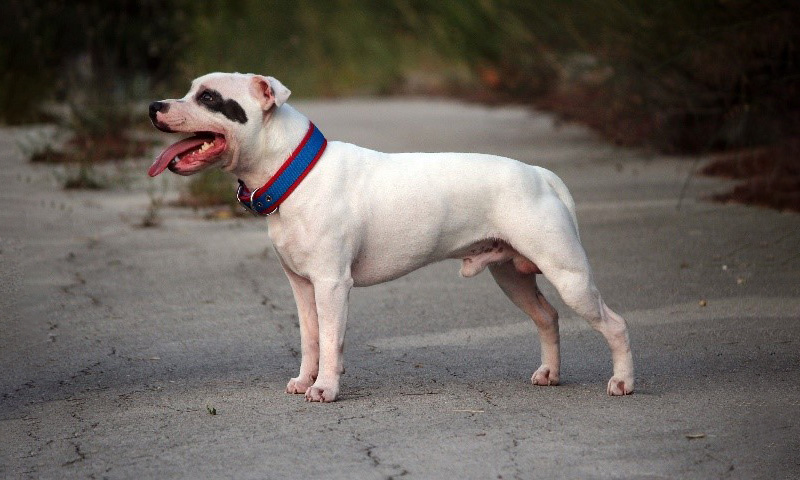 Dr Dan O'Neill, Senior Lecturer, Companion Animal Epidemiology, at the RVC, and co-author of the paper, said: "Until now, most studies on dog breed health have focused only on the conditions to which breeds are predisposed; this approach has often painted a biased and negative picture of breed health. However, this new study shows a much more balanced approach where we consider both sides of the coin; the good points as well as the bad points of the breed. We can now say that there is no evidence that Staffordshire Bull Terriers are any less healthy than other dogs overall, but we can also identify the key areas where the health of the breed can still be improved. Knowledge is power."
Research reference
Pegram, C., Wonham, K., Brodbelt, D. C., Church, D. B. & O'Neill, D. G. 2020. Staffordshire bull terriers in the UK: their disorder predispositions and protections. Canine Medicine and Genetics. doi.org/10.1186/s40575-020-00092-w
---
Notes to Editors
For more information please contact:
About the RVC
The Royal Veterinary College (RVC) is the UK's largest and longest established independent veterinary school and is a Member Institution of the University of London. It was the first in the world to hold full accreditation from AVMA, EAEVE, RCVS and AVBC.
The RVC is the top veterinary school in the UK and Europe, and ranked as the world's second highest veterinary school in the QS World University Rankings by subject, 2020.
The RVC offers undergraduate and postgraduate programmes in veterinary medicine, veterinary nursing and biological sciences.
In 2017, the RVC received a Gold award from the Teaching Excellence Framework (TEF) – the highest rating a university can receive.
A research led institution with 79% of its research rated as internationally excellent or world class in the Research Excellence Framework 2014.
The RVC provides animal owners and the veterinary profession with access to expert veterinary care and advice through its teaching hospitals and first opinion practices in London and Hertfordshire.
---
You may also be interested in:
A new study by the VetCompass team at the Royal Veterinary College (RVC) has found that dogs with …