Incontinence in bitches: huge breed predispositions shown in VetCompass study
Urinary incontinence describes involuntary leaking of urine from the bladder. It is often a distressing condition for both owners and their pets, and may impact negatively on the bond between them.
The condition needs to be managed effectively to avoid welfare problems for affected bitches such as urinary tract infections and skin scalding from urine leakage. However, until now, there has been little reliable information on the frequency and breeds affected in England.
A new epidemiological study from the VetCompass™ Programme at the Royal Veterinary College (RVC) has revealed that certain breeds of bitches are more predisposed to urinary incontinence. Other factors such as weight, neuter status and age also play key roles. It is hoped that the findings of this study will provide an evidence base that allows veterinarians to enhance their clinical recommendations for higher risk bitches.
The VetCompass™ study was based on a population of 100,397 bitches attending 119 veterinary clinics across England.
The key findings include:
Urinary incontinence affects 3.14% of bitches overall, but affects over 15% of bitches in some high-risk breeds
High-risk breeds include the Irish Setter, Dobermann, Bearded Collie, Rough Collie and Dalmatian
Bitches weighing above average for their breed had 1.31 times the odds of urinary incontinence compared with bitches weighing below average
Older bitches were also predisposed, with bitches aged between 9 and 12 years old having 3.86 times the odds compared to younger bitches
Neutered bitches had 2.23 times the odds compared with entire bitches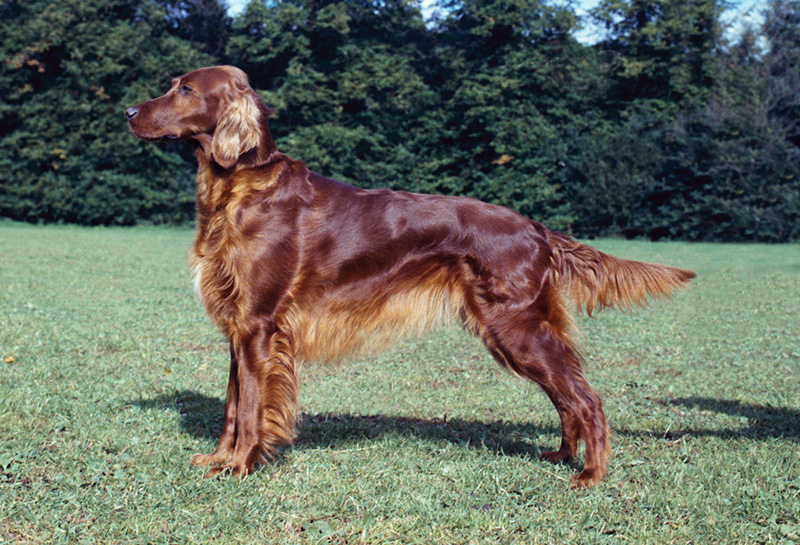 The study also gave evidence on the welfare impact from urinary incontinence. Almost half of cases (45.6%) received medical therapy for the condition. In addition, of the bitches that died during the study period, urinary incontinence was recorded as either contributory or the main reason for death in 16.7 % of these deaths.
RVC veterinary epidemiologist and VetCompass researcher Dr Dan O'Neill said: "This urinary incontinence study has uncovered dramatic breed predispositions that have previously been hidden to vets and owners. Overall, about 3% of bitches were affected but this rose to over 30% in the Irish Setter and over 20% in the Dobermann with many other breeds also predisposed. Vets can now use these results to alert owners to typical clinical signs in order to ensure earlier treatment and better outcomes. The study also suggests increased risk in heavier and neutered bitches. Following on from this study, a VetCompass Masters project supported by BSAVA PetSavers is working to unravel these associations in order to identify potential preventive strategies, especially in those highly predisposed breeds."
The Veterinary Companion Animal Surveillance System (VetCompass™) provides clinical evidence to improve companion animal health. The not-for-profit research project is co-ordinated at the RVC and collaborates with many of the UK's veterinary practices to gather anonymised clinical data on over 6 million UK pets. VetCompass studies aim to provide unique insights that can improve animal welfare and support the human-pet bond.
Dr O'Neill continued: "VetCompass is rapidly becoming the world's biggest data resource on companion animals and the UK now leads the world in research to learn from these extensive data. These anonymised data on millions of animals support investigations that would have been impossible previously. VetCompass findings are revolutionising our understanding of companion animal health care."
Caroline Kisko, Kennel Club Secretary said: "The Kennel Club welcomes any research that provides valuable information regarding the health of dogs and we believe that the work of VetCompass is invaluable to the advancement of animal health and welfare.
"This study has given experts an insight into an issue that had previously not been explored in such detail, and will hopefully help vets and owners, particularly those with breeds of a higher predisposition, to look out for warning signs and treat the problem earlier."
This paper is available in Early View on Wiley Online Library ahead of publication in JSAP.
---
Press Office ;Contact
Uche Graves / Zoe Chadwick
T: 0800 368 9520
E: uche.graves@plmr.co.uk / zoe.chadwick@plmr.co.uk
Notes to Editors
The Royal Veterinary College (RVC) is the UK's largest and longest established independent veterinary school and is a constituent College of the University of London. The RVC offers undergraduate, postgraduate and CPD programmes in veterinary medicine, veterinary nursing and biological sciences, being ranked in the top 10 universities nationally for biosciences degrees. It is currently the only veterinary school in the world to hold full accreditation from AVMA, EAEVE, RCVS and AVBC.
A research-led institution, in the most recent Research Excellence Framework (REF2014) the RVC maintained its position as the top HEFCE funded veterinary focused research institution.
The RVC also provides animal owners and the veterinary profession with access to expert veterinary care and advice through its teaching hospitals; the Beaumont Sainsbury Animal Hospital in central London, the Queen Mother Hospital for Animals (Europe's largest small animal referral centre), the Equine Referral Hospital, and the Farm Animal Clinical Centre located at the Hertfordshire campus.
RVC Press Release 21 September 2017
See other Press Releases.
---
You may also be interested in:
A new VetCompass study from the Royal Veterinary College (RVC) has revealed that veterinary …