Health and Welfare of Brachycephalic (Flat-faced) Companion Animals - New Book Available to Pre-order
Dr Rowena Packer and VetCompass' Dr Dan O'Neill edit new book about brachycephalic health and welfare
Health and welfare issues of brachycephalic (flat-faced) animals are one of the most pressing problems facing companion animals right now. Dogs, in particular, are suffering from a 'brachycephalic crisis' resulting from a perfect storm where predispositions to an array of health issues are amplified by a population boom for certain brachycephalic breeds such as the French Bulldog and Pug. But yet, for many owners, these dogs represent the perfect companion: endearing personas and cute looks in a socially desirable package. So where is the truth in all of this?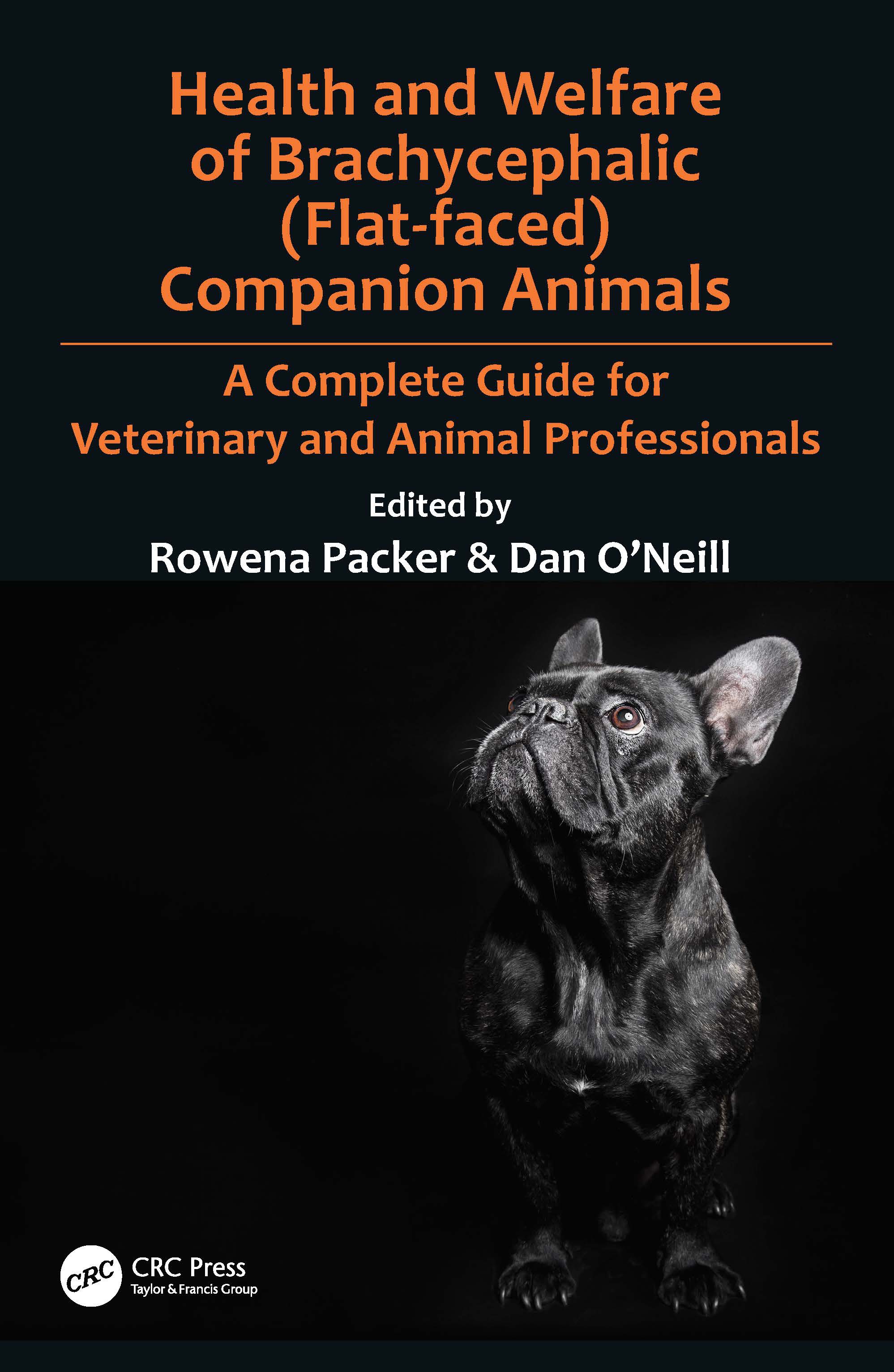 This book will equip veterinary professionals, animal welfare scientists, breeders and owners with the fuller story about brachycephalic health and welfare. The first half of the book provides the context of how and why we are in this crisis, offering in-depth historical, social, ethical, communication, nursing, welfare, epidemiological, genetics and international perspectives. The second half shifts towards the clinical arena, with chapters that cover the background, diagnosis, treatment and prevention of the many unique healthcare needs of brachycephalic animals. Cutting-edge knowledge is shared on a range of disciplines including respiratory disease, ophthalmology, dermatology, dentistry, neurology, obesity, reproduction and anesthesia.  
With twenty chapters written by world-leading experts, lifetimes of experience and knowledge are condensed into the first book dedicated exclusively to brachycephaly in companion animals. This essential reference resource will inform, challenge and stimulate; it will open your mind to new opportunities for you to improve the welfare of brachycephalic animals by your personal and collective choices and actions. But prepare to be surprised: you may just find that your views on brachycephaly in companion animals will be changed forever. 
Click to pre-order - Item will ship after 14th July 2021.
Reviews
The conundrum of flat-faced pets is that people love them despite – and sometimes because of – the features that may cause health issues. At a time of heightened concern about the welfare and popularity of brachycephalic breeds, this comprehensive volume brings together the world's experts to consider the history, human psychology, ethics, genetics, and veterinary aspects of caring for them. Surprising, thoughtful, and practical, this book is essential reading for anyone who cares about animal welfare.
- Zazie Todd, PhD, Canisius College, Companion Animal Psychology website
Finally. A much-needed, comprehensive, science-based look at flat-faced dogs--how they came to be and how we can, and must, improve their wellbeing. This is an essential book for veterinary professionals and dog owners alike.
-- Mia Cobb, PhD, and Julie Hecht, MSc, of Do You Believe in Dog?
Health and Welfare of Brachycephalic Companion Animals is an excellent and unique resource for all veterinary professionals working with these breeds. As the popularity of these dogs continues to increase, this book provides a detailed exploration of the history of the breeds, the unique nature of owner/ patient relationships and the genetics and ethics of breeding. The second part of the book is dedicated to discussion of the management of the wide range of conformational abnormalities which occur frequently in these breeds. Having all this information gathered together in to a single text will be an invaluable source for reference both in and out of the clinic.
-- Rachel Hattersley, BVetMed(Hons), CertSAS, DECVS, MRCVS, Specialist in Soft Tissue Surgery, Dick White Referrals Ltd
This book is a vital tool for both veterinary and animal welfare professionals, as well as those simply looking to be better informed. It provides the reader with a broad understanding of the complex drivers and consequences of breeding companion animals for brachycephalic features. Most importantly, it also proposes integrated mechanisms for management and change of what continues to be a contentious and intractable problem.
-- Mark J Farnworth PhD., Associate Professor (Animal Welfare), Animal, Rural and Environmental Sciences, Nottingham Trent University, UK
---
You may also be interested in:
A new VetCompass study from the Royal Veterinary College (RVC) has revealed that veterinary …