Get brushing: Dental disease tops the list of most common problems in UK dogs, according to new study by the RVC
A new study from the Royal Veterinary College (RVC) has found that the most common health problems in dogs are dental disease, obesity and ear infections. It is hoped that these findings will encourage owners to help develop early habits during ownership to look after their dog's teeth, ears and bodyweight, in order to help them live the happiest and healthy lives.
The Covid-19 pandemic has prompted an increase in the number of dog and pet owners in the UK, highlighting a national love for dogs. However, it also makes studies like this increasingly important in ensuring owners understand the responsibility of pet ownership both before and while owning a dog, in order to best support the health of their much-loved pets.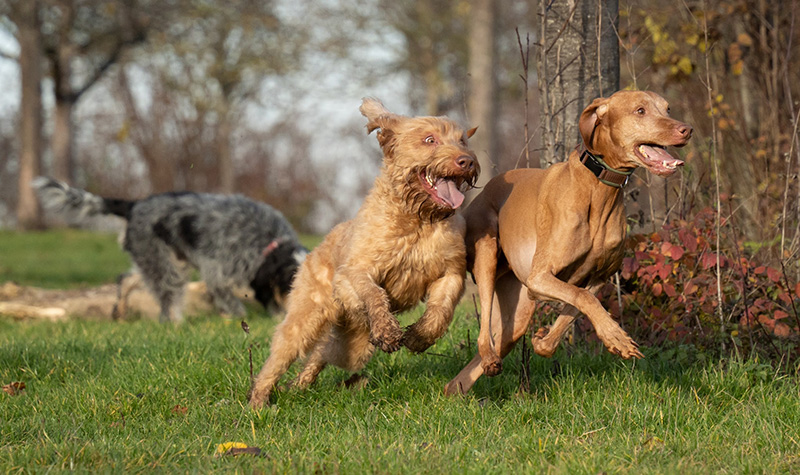 The study is part of the RVC's VetCompass programme which include anonymised veterinary information from over eight million UK dogs. From this pool, a random sample of 22,333 dogs were followed for a year, identifying all health issues that were diagnosed during this time. The study is one of the largest ever studies to explore the anonymised health records from veterinary surgeries and report on the most common disorders in dogs. The study also looked at whether the health of dogs varied by age, sex and whether the dogs were neutered.
Key findings from the study include:
The most common health problems of dogs are dental disease (12.5%), ear infection (7.3%) and obesity (7.1%)
65.8% of the observed dogs had at least one disorder in the single year of the study
Male dogs had higher risk than females for 10 disorders: ear infection, aggression, coughing, seizures, foreign body, drug reaction, moist dermatitis, wound, laceration and arthritis
Female dogs had higher risk than males for four disorders: urinary incontinence, urinary tract infection, mammary lump and overgrown nails
The study showed that health in dogs generally deteriorates as dogs age, with older dogs generally having more health problems per year than younger dogs.
These findings highlight the complexity of caring properly for dogs; but by knowing more about why dogs get sick, owners are better placed to keep them safe. These findings can also assist veterinarians and owners to decide on the best preventive care for their dog, especially as they get older.
Dr Dan O'Neill, Senior Lecturer, Companion Animal Epidemiology, at the RVC, and lead author of the paper, said:
"This study shows that it is really important for owners to develop strong habits of caring for their dog's teeth, ears and weight, right from the time they first acquire a puppy. This study shows interesting and strong correlations between human and canine healthcare: the need for good dental and bodyweight maintenance. Given how closely the lives of humans and dogs are intertwined, this should be no surprise really; we often share the same food and exercise. Owners should work closely with their vet to plan appropriate dental and weight care programmes at each visit to their veterinary clinic."
Hannah James, Health Research Manager at the Kennel Club, and co-author of the paper, said:
"As dog owners, the key priority is keeping our pets healthy and happy, but it can be difficult to put into context the most common problems that affect our canine counterparts and which areas we need to pay particular attention to in order to maintain this. These findings help us establish these key areas, and where we as owners, vets and organisational bodies can work towards to improve the day-to-day life of our beloved companions."
Research reference
O'Neill, D.G., James, H., Church, D.B., Brodbelt, D.C. and Pegram, C. Prevalence of commonly diagnosed disorders in UK dogs under primary veterinary care: results and applications. BMC Vet Res 17, 69 (2021). doi.org/10.1186/s12917-021-02775-3
---
Notes to Editors
For more information please contact:
About the RVC
The Royal Veterinary College (RVC) is the UK's largest and longest established independent veterinary school and is a Member Institution of the University of London. It was the first in the world to hold full accreditation from AVMA, EAEVE, RCVS and AVBC.
The RVC is the top veterinary school in the UK and Europe, and ranked as the world's second highest veterinary school in the QS World University Rankings by subject, 2020.
The RVC offers undergraduate and postgraduate programmes in veterinary medicine, veterinary nursing and biological sciences.
In 2017, the RVC received a Gold award from the Teaching Excellence Framework (TEF) – the highest rating a university can receive.
A research led institution with 79% of its research rated as internationally excellent or world class in the Research Excellence Framework 2014.
The RVC provides animal owners and the veterinary profession with access to expert veterinary care and advice through its teaching hospitals and first opinion practices in London and Hertfordshire.