MRes - Using veterinary practice data to improve understanding of equine Strangles
Supervisors: Professor Nicola Menzies-Gow and Professor Dave Brodbelt
Department: Clinical Science and Services
---
Project Details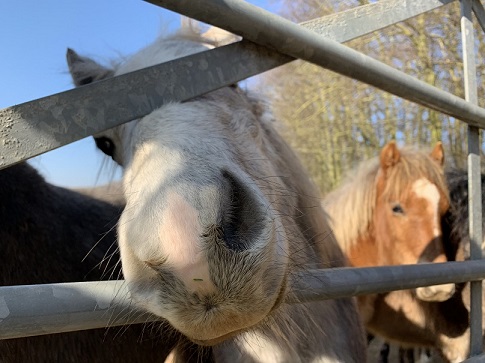 The Veterinary Companion Animal Surveillance System (VetCompass) programme analyses veterinary clinical information to help better understand disorders and improve the welfare of companion animals. Equine VetCompass was initiated in 2016 as an extension of the small animal initiative and collects data from 39 mixed and equine practices.
Strangles is an important respiratory condition with major health and welfare impacts for horses and their owners. This project will build on existing and ongoing RVC research in this area by appraising Strangles in first-opinion equine veterinary practice using Equine VetCompass data. This alternative perspective will allow a better understanding of what vets see and how they diagnose and manage this condition in practice. Determining the current incidence of Strangles in practice is also valuable as it allows us to put into context its frequency and impact on the general horse population. Evaluating major risk factors and identifying which types of horses are more likely to get the condition (e.g., older or younger, certain breeds etc.) can help us better diagnose the condition and improve our treatment and management approaches.
To explore signalment risk factors further in a group of more tightly characterised and confirmed cases of Strangles, a case-control study will also be undertaken. Laboratory-confirmed cases will be identified during the same time period using the Surveillance of Equine Strangles project data. These will be compared to theVetCompass control horses.
Finally, training of veterinary/science graduates in epidemiology is essential to continue to expand the evidence base relevant to the health of horses in practice. The student will benefit from undertaking formal training as well as through developing and running this research project and will be well-placed to lead equine practice relevant research in an academic or practice setting.
---
References
Allen SE, Verheyen KLP, O'Neill DG, et al. Use of antimicrobials licensed for systemic administration in UK equine practice. Equine Vet J 2022; doi.org/10.1111/evj.1387

Allen SE. Equine VetCompass: Guiding Evidence-Based Equine Healthcare: Royal Veterinary College, 2020

McGlennon A, Waller A, Verheyen K, et al. Surveillance of strangles in UK horses between 2015 and 2019 based on laboratory detection of Streptococcus equi. Vet Rec 2021;189:e948.
---
Requirements
Essential:
Must meet our standard MRes entry requirements.

Do not need to be a vet or have any epidemiological background but must have a background in equine science.
Desirable:
This can be taken as a full-time or part-time (12months FTE) project commencing in October 2023, based at RVC's Camden/Hawkshead campus.
---
Funding
Self-funded: The MRes student will be expected to meet some of the project costs (£2167), course fees and their living expenses.
International applicants are welcome to apply but must be able to fund the difference between "Home" and "Overseas" tuition fees.
You can find information on fees and funding online. A postgraduate master's loan may be available to help cover costs.
---
How to Apply
For more information on the application process and English Language requirements see How to Apply.
Deadline: 30th July 2023
We welcome informal enquiries - these should be directed to Nicola Menzies-Gow (nmenziesgow@rvc.ac.uk)
Interview date and location: TBC (August 2023)