MRes - Testing the 'legs as linkages' paradigm
Supervisors: Prof Jim Usherwood and Prof Alan Wilson
Department: Comparative Biomedical Sciences
---
Project Details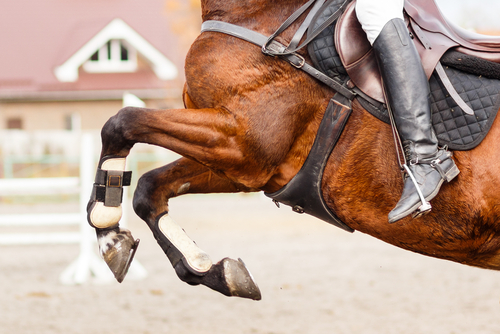 Animal legs are not wheels. However, during fast running, they appear to act like wheels or skates, supporting body weight (vertical forces) as the hips and shoulders 'slide' horizontally over the feet. As with wheels and skates, this trick of supporting vertical forces during horizontal translation demands little mechanical work. However, it is only now becoming recognized how animal muscles and tendons might be arranged in a manner that achieves the trick without requiring the muscles to waste energy working against each other. Series of 4-bar (forelimb) and 6-bar (hindlimb) linkages, engaged sequentially as different muscles become loaded through simple geometry, result in legs that support vertical forces while getting shorter in early stance, vaulting in midstance, and extending in late stance, resulting in the 'sliding' weight support and avoiding the demand for energy loss and return. This view of leg form and function contrasts entirely with the 'legs and tendons as springs' paradigm.
This project will explore whether the degree to which these linkages are accurate and informative for mammals ranging from small rodent (mouse, hamster) through domestic dog, to horse. Which model best accounts for leg behaviour? 'Legs as linkages, tendons as spokes' or 'legs as bouncy, tendons as springs'
---
References
Farley, C.T., Glasheen, J. and McMahon, T.A. (1993). Running springs: speed and animal size. J. Exp. Biol., 185, 71-86. doi: 10.1242/jeb.185.1.71

Usherwood, J.R. (2020). The Possibility of Zero Limb-Work Gaits in Sprawled and Parasagittal Quadrupeds: Insights from Linkages of the Industrial Revolution. Integrative Organismal Biology, 2, doi: 10.1093/iob/obaa017

Usherwood, J.R. (2022). Legs as linkages: an alternative paradigm for the role of tendons and isometric muscles in facilitating economical gait. J. Exp. Biol. 225. doi: 10.1242/jeb.243254

Recent conference presentation: https://mediaspace.wisc.edu/media/DW22_Usherwood%2C+Jim-+June+13th+%28Camera%29/1_yru88a4s
---
Requirements
Essential:
Desirable:
Suitable degrees include biology, engineering, physics

A level or equivalent physics, maths

Willingness, competence to work with live animals

Willingness, competence to code
This is a full time project commencing in October 2023, based at RVC's Hawkshead campus.
This project will involve working with pet and laboratory animals. Live animal work will include force measurements, video and motion analysis. No work will be performed requiring direct Home Office approval.
---
Funding
Partially funded: e.g. the lab will be covering the project costs, with the MRes student expected to meet the course fees and their living expenses.
International applicants are welcome to apply but must be able to fund the difference between "Home" and "Overseas" tuition fees.
You can find information on fees and funding online. A postgraduate master's loan may be available to help cover costs.
---
How to Apply
For more information on the application process and English Language requirements see How to Apply.
Deadline: 30th July 2023
We welcome informal enquiries - these should be directed to jusherwood@rvc.ac.uk
Interview date and location: TBC (August 2023)