MRes - Derivation of corneal keratocytes from canine induced pluripotent stem cells
Supervisors: Dr Christiane Kafarnik, Dr Clara de Pascale and Dr Debbie Guest
Department: Clinical Science and Services
---
Project Details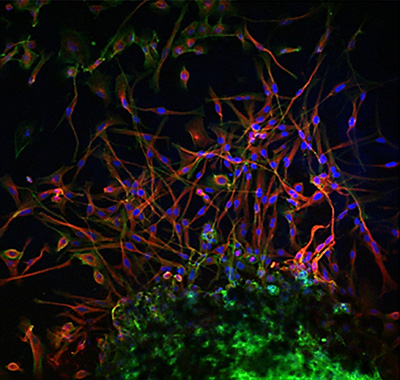 The cornea is an optically clear tissue permitting light transmission into the eye. Transparency of the corneal stroma depends upon the orthogonal organization of collagen lamellae produced by keratocytes (the progeny of corneal stromal stem cells; CSSCs).
To better understand corneal diseases (corneal dystrophies) and to work towards cell therapy development CSSCs have been cultured from human, bovine, murine, rabbit, porcine corneas (1,2). We have recently demonstrated that the dog cornea also contains corneal stromal (stem) cells (CSSCs), which can be differentiated into keratocytes in vitro in 2D and appear to be immune privileged (3).
Canine CSC are present in very small numbers in the cornea and they have limited self-renewal (3). This would make it difficult to utilize them clinically as a large source of donor corneas would still be required. The CSSC-keratocyte-3D model will serve as positive control for the iPSC-keratocyte differentiation in 3D in this Master project.
iPSCs can be derived from somatic cells and used to generate cells for cell therapies, drug screening and developing disease models. Such disease models provide a laboratory platform for testing novel pharmaceuticals and aiding drug discovery whilst minimizing the use of experimental animals (4,5). We (6), and others (7-9) have previously derived canine iPSCs (6).
This study builds upon our previous work which is ongoing and led by Clara de Pascale (postdoctoral scientist) where we have 2D differentiated ciPSCs into keratocyte-like cells and have identified some conditions required to enable neural crest cell (NCC) induction.
The MSci student will contribute to establish a tissue like structure, 3D cellular model for corneal disease such as corneal dystrophies. Keratocytes (corneal cells) will be differentiated from canine stem cells (corneal stromal stem cells), using porcine corneal buttons as a scaffold for the 3D cell culture system. Gene and protein expression and collagen alignment will be used to assess cellular differentiation.
The MSci project is an integrated part of a wider project at the RVC "CornealCellVision" (https://www.rvc.ac.uk/research/projects/cornealcellvision)
This project is suited for students with interest in regenerative medicine and disease modelling with potential translational application.
---
References
Fernandez-Perez, J., Binner, M., Werner, C. & Bray, L. J. Limbal stromal cells derived from porcine tissue demonstrate mesenchymal characteristics in vitro. Scientific reports 7, 6377, doi:10.1038/s41598-017-06898-2 (2017).

Pinnamaneni, N. & Funderburgh, J. L. Concise review: Stem cells in the corneal stroma. Stem Cells 30, 1059-1063, doi:10.1002/stem.1100 (2012).

Kafarnik, C., McClellan, A., Dziasko, M., Daniels, J. T. & Guest, D. J. Canine Corneal Stromal Cells have multipotent mesenchymal stromal cell properties in vitro. Stem Cells Dev, doi:10.1089/scd.2019.0163 (2020).

Lee, G. et al. Modelling pathogenesis and treatment of familial dysautonomia using patient-specific iPSCs. Nature 461, 402-406 (2009).
Yazawa, M. et al. Using induced pluripotent stem cells to investigate cardiac phenotypes in Timothy syndrome. Nature 471, 230-234 (2011).
Baird, A. E. G., Barsby, T. & Guest, D. J. Derivation of canine induced pluripotent stem cells. Reprod Dom Anim 50, 669-676 (2015).
Whitworth, D. J., Ovchinnikov, D. A. & Wolvetang, E. J. Generation and characterisation of LIF-dependent canine induced pluripotent stem cells from adult dermal fibroblasts. Stem Cells Dev 21, 2288-2297 (2012).
Luo, J. et al. Generation of LIF and bFGF-dependent induced pluripotent stem cells from canine adult somatic cells. Stem Cells Dev 20, 1669-1678 (2011).
Lee, A. S. et al. Preclinical derivation and imaging of autologously transplanted canine induced pluripotent stem cells. J Biol Chem 286, 32697-32704 (2011).
---
Requirements
Essential:
Must meet our standard MRes entry requirements.

A BSc degree from a range of disciplines such as medicine, veterinary medicine, biological sciences, animal sciences
Desirable:
Previous laboratory experience including cell culture and/or molecular biology would be beneficial but is not essential.
This project will be full-time (12 months) commencing in October 2023. It will be based at RVC's Hawkshead campus.
---
Funding
This project is partially funded: e.g. the lab will be covering the project costs, with the MRes student expected to meet the course fees and their living expenses.
You can find information on fees and funding online. A postgraduate master's loan may be available to help cover costs.
---
How to Apply
For more information on the application process and English Language requirements see How to Apply.
Deadline: 30th July 2023
We welcome informal enquiries - these should be directed to ckafarnik@rvc.ac.uk
Interview date and location: TBC (August 2023)