The RVC helps dachshund injured by bike collision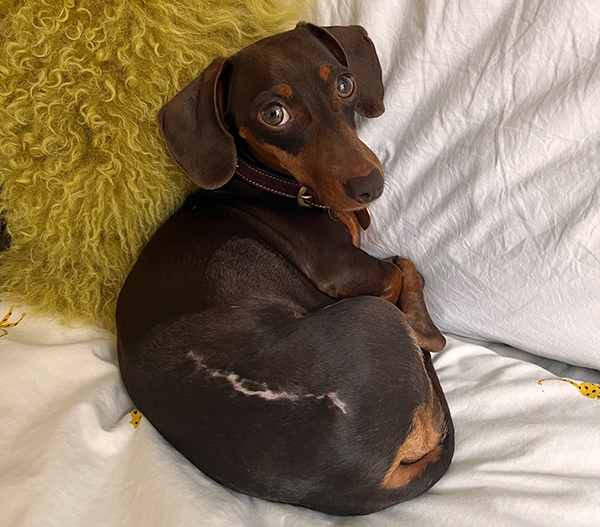 A miniature dachshund, who was severely injured after being runover by a bike, has made an incredible recovery after being treated by specialists at the Royal Veterinary College (RVC).
The dachshund, Frida, obtained injuries so extensive that euthanasia was discussed as an option when her owners took her to their local vets. However, the family decided they wanted to give her a "fighting chance" and so she was sent to RVC Small Animal Referrals at the Queen Mother Hospital for Animals.
Injuries sustained by two-year-old Frida during the accident included pelvic fractures, significant intraabdominal bruising and a urethral rupture (a tear in the tube through which a dog urinates) – but thankfully she made a full recovery.
Frida was an inpatient at the RVC's Hertfordshire-based small animal referral hospital for just over one week. During that time, she received treatment and care initially from the Emergency & Critical Care team, followed by both the Soft Tissue Surgery Service and Orthopaedic Service.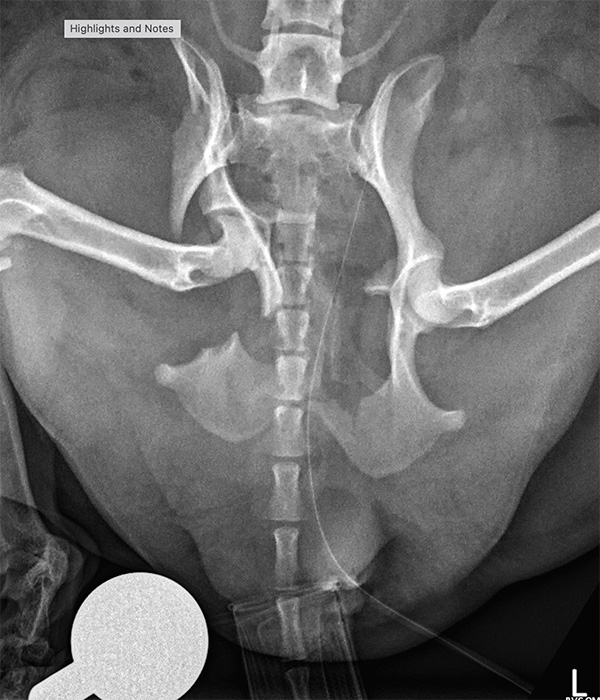 On the day of her admission, further investigations revealed a rupture of her upper urethra. During surgery, two more urethral tears were identified and repaired. The following day, as Frida had recovered well, she had a right ilial body fracture repaired by members of the Orthopaedic Service and returned to the ICU before moving to the dog ward.
Frida's owners were given a graded exercise programme to support her recovery when she was discharged. This started with five-minute walks on a short lead for three or four times a day for the first two weeks, before then slowly increasing to 20-minute walks at five to eight weeks after discharge.
Frida returned to the RVC for re-examination two months later and with her owner's following the exercise plan, she was making a good recovery. Follow-up radiographs showed healing of her ilial fracture with no implant concerns. Frida's exercise was then allowed to be gradually increased back to normal and she was signed off by the RVC teams.
Today, Frida is back to her usual self and enjoying all that life has to offer!
Commenting on Frida's treatment, care and recovery, owner, Nancy McCartney, said:
"The teams at the RVC were completely fantastic from day-one. They were kind, understanding, and explained everything to us in as much detail as we needed. The communication from the veterinary surgeons was brilliant. We had daily phone updates from Dr Matthew Simpson, who was just fantastic and kept us in the loop about Frida's progress.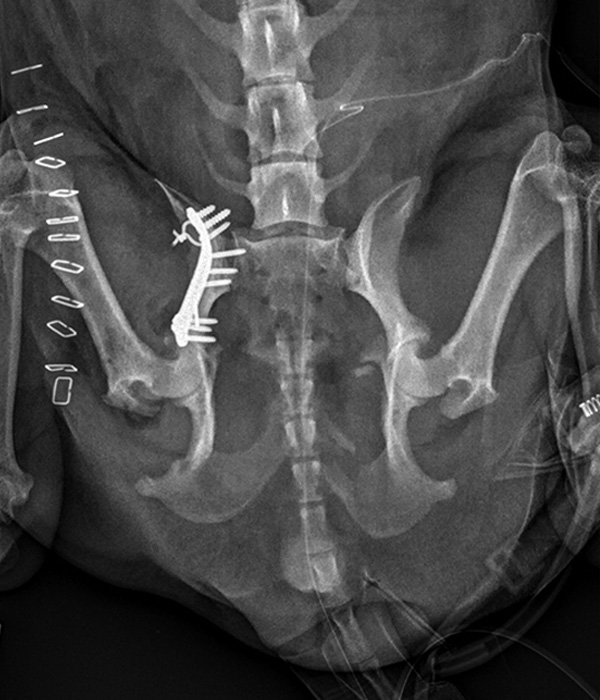 "Frida spent the first few weeks at home getting back to eating and sleeping. She had lost a lot of weight post-accident – from 4.4kg to 3.5kg. She slowly gained confidence in walking small distances and her personality definitely came back. Over the months, she has improved beyond our wildest dreams. She is pretty much as she was pre-accident. She loves nothing more than chasing her ball on the beach down in Devon and snuggling up under the blanket on the sofa. Considering the position we found ourselves in June 2022, we cannot thank the amazing team at RVC enough."
Matthew Simpson, a veterinary specialist-in-training at the RVC, said:
"We have really enjoyed hearing about Frida's progress from her owners – she's such a resilient little dog! The case was a multidisciplinary collaboration between different specialist teams, including Soft Tissue and Orthopaedic Surgery and Critical Care, with veterinary specialists, residents, registered veterinary nurses and veterinary patient care assistants from across different teams all working together to help Frida."
Professor Richard Meeson, Head of the Orthopaedics Service, added:
"It is great to hear how Frida has been doing. We have an incredibly varied caseload and encounter many amazing patients, but Frida made a real impact on us. The team tackles a wide range of musculoskeletal conditions in dogs and cats, including joint diseases – such as elbow and hip dysplasia and arthritis – angular limb deformities, cruciate disease, joint replacements and repair of broken bones and joints. We also work closely with other specialist teams across the hospital, including Neurology and Neurosurgery, Soft Tissue Surgery and Critical Care."
---
Notes to Editors
For media enquiries, please contact:
Press Line: 0800 368 9520
About the RVC
The Royal Veterinary College (RVC) is the UK's largest and longest established independent veterinary school and is a Member Institution of the University of London.
It is one of the few veterinary schools in the world that hold accreditations from the RCVS in the UK (with reciprocal recognition from the AVBC for Australasia, the VCI for Ireland and the SAVC for South Africa), the EAEVE in the EU, and the AVMA in the USA and Canada.
The RVC is ranked as the top veterinary school in the world in the QS World University Rankings by subject, 2023.
The RVC offers undergraduate and postgraduate programmes in veterinary medicine, veterinary nursing and biological sciences.
The RVC is a research-led institution, with 88% of its research rated as internationally excellent or world class in the Research Excellence Framework 2021.
The RVC provides animal owners and the veterinary profession with access to expert veterinary care and advice through its teaching hospitals and first opinion practices in London and Hertfordshire.
---
You may also be interested in:
Superhero Pets: the RVC names "Pet Blood Donors of the Year 2023" this World Blood Donor Day

In …