The dog who defied the odds wins Animal Hero Rescue Award
Brave Romanian rescue dog, Fleur, has been awarded the Mirror's Animal Hero Rescue Award 2019.
She was given the award on Monday (30 September 2019) evening after judges learned how she had defied the odds of a 1% survival rate after an incredibly tough journey. With help from her local vets, the Royal Veterinary College (RVC) and her loving owners, Fleur has made a full recovery and is now helping others through pet therapy.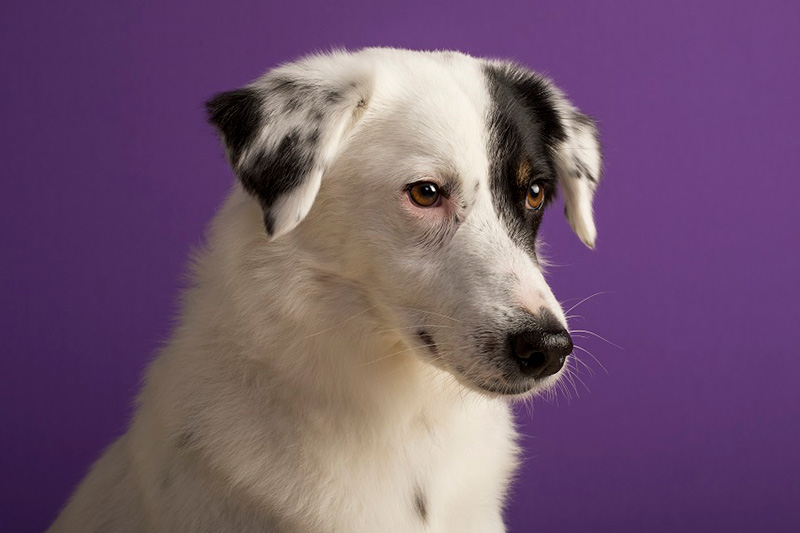 Fleur was found on the streets of Bucharest, where she was left fighting for her life following a gruelling spay operation. After UK-based charity, Valgrays Border Collie Rescue, organised for Fleur to have an operation to fix the damage, she was adopted by UK couple Andrew and Wendy Morris. Three weeks after arriving in the UK though, Fleur collapsed and the local vet discovered she had rotten, dead intestines and sepsis.
Fleur was operated on immediately to remove over 60cm of her intestines and despite being given a 1% chance of recovery and being advised to consider euthanasia, Fleur, Wendy and Andrew were determined not to give up. The RVC's Small Animal Hospital in Potters Bar agreed to help Fleur. Despite the slim chances of survival, after three vets, five hours of pioneering surgery and two weeks in intensive care, against all the odds, she survived.
Since making a full recovery, Fleur has become an iconic ambassador for rescue dogs, becoming Scruffts Best Rescue Finalist in 2017, taking part in a Channel 4 documentary, and being a finalist in the Charity Film Awards after her story was made into a short film. As a recently qualified Pets for Therapy dog, Fleur assists young people who struggle with reading, to gain confidence and self-esteem through therapeutic sessions.
Wendy Morris, Fleur's owner, said: "We're absolutely delighted that Fleur has been awarded this recognition. She is truly beautiful inside and out and nursing her back to health was one of the more beautiful and unifying aspects of humanity. People's willingness to go to great lengths to help Fleur just showed how much they cared; it really was a miracle.
"Fleur is a happy girl, living life to the full. She has taught us that we shouldn't ever give up – a 1% chance is better than nothing. With the help of many people, she is a symbol of hope that for some dogs at least there can be a different life."
Vicky Lipscomb, RVC's Professor of Small Animal Surgery, who operated on Fleur, said: "I got to know Fleur while she was a patient at the RVC Small Animal Hospital. She was very sick as her whole body and blood stream were infected. It is absolutely fantastic that Fleur is being recognised with this award given everything she has been through. She is a very special dog"
---
Notes to Editors
For more information please contact:
About the RVC
The Royal Veterinary College (RVC) is the UK's largest and longest established independent veterinary school and is a constituent College of the University of London.
The RVC is ranked as the world's number one veterinary school in the QS World University Rankings 2019.
The

R

VC

offers undergraduate, postgraduate and CPD programmes in veterinary medicine, veterinary nursing and biological sciences.
The RVC was the first veterinary school in the world to hold full accreditation from AVMA, EAEVE, RCVS and AVBC, and currently holds full accreditation from RCVS, AVBC and AVMA and conditional from EAEVE.
In 2017, the RVC received a Gold award from the Teaching Excellence Framework (TEF) – the highest rating a university can receive.
A research-led institution, the RVC maintained its position as the top veterinary institution in the Research Excellence Framework (2014), with 79% of its submission being rated as world-class or internationally excellent.
The RVC also provides animal owners and the veterinary profession with access to expert veterinary care and advice through its teaching hospitals: the Beaumont Sainsbury Animal Hospital, in central London, and the Queen Mother Hospital for Animals (Europe's largest small animal referral centre) and Equine Referral Hospital, both located at the Hertfordshire campus.
---
You may also be interested in:
Superhero Pets: the RVC names "Pet Blood Donors of the Year 2023" this World Blood Donor Day

In …