Successful FIP treatment with remdesivir
Merlin, a 24-week-old male neutered Bengal, was presented to the Queen Mother Hospital for Animals at the Royal Veterinary College with a one-week history of lethargy, hyporexia and a 24-hour history of tachypnoea.
Presentation and Investigations
On presentation Merlin was pyrexic (40oC), with palpable abdominal masses and a pleural effusion requiring thoracocentesis. Serum biochemistry revealed mild hypoalbuminemia (24.1; reference interval [RI] 25 - 45 g/l), moderate hyperglobulinaemia (57.7;RI 25 - 45 g/l) and moderate hyperbilirubinemia (30.4; RI 0.1 - 5.1 umol/l). Haematological examination revealed moderate monocytosis 4.47 (RI 0 - 1.5 x 109/l) and marked neutrophilia (60.36; RI 2.5 - 12.5 x 109/l) with left shift and moderate toxicity. CT of his thorax and abdomen demonstrated bilateral pleural effusion, with pleuritis and multifocal lymphadenopathy. Fine needle aspirates of abdominal lymph nodes were consistent with pyogranulomatous inflammations and the pleural fluid was a protein-rich transudate (59g/L) with an A:G ratio of 0.5 and positive coronavirus titre.
Unfortunately, Merlin's case was complicated by the presence of severe phlebitis of his right cephalic vein from previous catheter placement, resulting in extensive necrosis of the overlying skin. He required skin debridement under general anaesthesia and antibiotic treatment. While hospitalised, Merlin's condition unfortunately deteriorated. He developed peritoneal effusion and became recumbent, obtunded, oxygen-dependent and his pleural effusion required repeat thoracocentesis. A diagnosis of feline infectious peritonitis (FIP) was suspected, and his owners opted to start treatment with remdesivir (UK Specials-based[DJ1] company).
Treatment
Merlin started treatment with 15mg/kg remdesivir intravenously. 24 hours after starting treatment his pleural effusion increased in volume and he required repeat thoracocentesis. After 36 hours, Merlin remarkably appeared brighter, he was no longer oxygen-dependent and began eating. By 48 hours he was bright, vocal and active and was transferred out of the intensive care unit. By 72 hours there was significant reduction in both pleural and peritoneal effusions. By day-five his pleural effusion had resolved, and he was transitioned onto 10mg/kg subcutaneous remdesivir injections. By day-seven his peritoneal effusion had resolved, and he underwent a general anaesthetic and surgical repair of his extensive right forelimb wound. He recovered well from the procedure and two days later Merlin was discharged home on subcutaneous remdesivir injections.
Outcome
Eleven weeks into treatment, Merlin is doing brilliantly at home. His wound healed completely with no complications, and he has continued to tolerate his daily remdesivir injections. Merlin will complete 84 days of 10mg/kg s/c remdesivir treatment in total.
Merlin is the first of six cats to be treated with remdesivir at the RVC.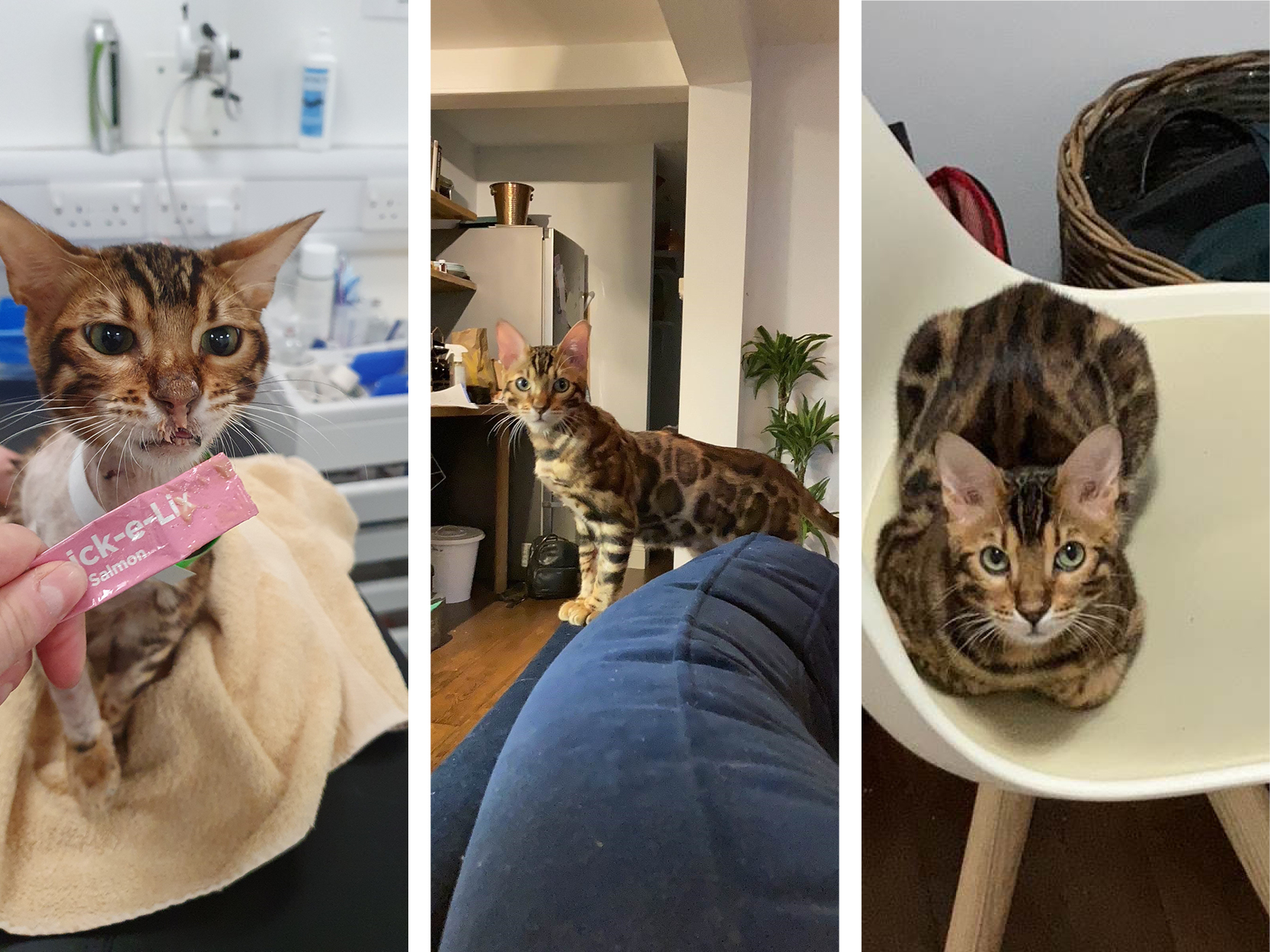 For More Information
Contact: qmhreception@rvc.ac.uk FAO Internal Medicine Team or Sarah Tayler Staff Clinician in Small Animal Internal Medicine
---
You may also be interested in:
Superhero Pets: the RVC names "Pet Blood Donors of the Year 2023" this World Blood Donor Day

In …