Royal Veterinary College wins award for its commitment to vet wellbeing
The Royal Veterinary College's (RVC) Beaumont Sainsbury Animal Hospital (BSAH) has won the 'medium practice' category at this year's prestigious Vet Wellbeing Awards. The win demonstrates RVC and BSAH's dedication to providing a welcoming and supportive workplace for its employees.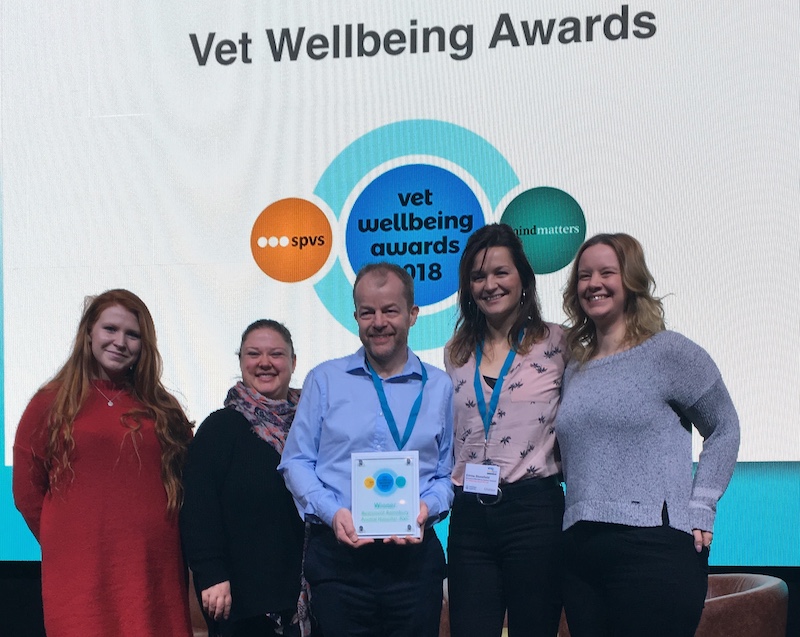 The Vet Wellbeing Awards is run by the Society of Practising Vets (SPVS) in partnership with the Royal College of Veterinary Surgeons' Mind Matters Initiative. This year's event took place on Friday 25th January at the Celtic Manor Resort. BSAH impressed the judges with the number of measures it has in place to ensure the wellbeing of its 44 staff members at what is a very busy teaching hospital that sees around 15,000 consultations a year.
These measures include: the investment in mental health first aid training and subsequent creation of wellbeing champions; making sure the induction process for students on rotations include information on looking after their mental health; a busy social calendar of events to bring the whole hospital team together; and the introduction of a daily morning brief for the whole team which allows for any potential pinch-points in the day to be identified and addressed early on.
On top of this, as part of the RVC, all staff have access to benefits such as counselling services, regular CPD courses, private health insurance, discounts at certain retailers, a financial advice service, a child care voucher scheme and travel schemes such as a seasonal ticket loan and cycle to work.
Anne Richings, Hospital Director at BSAH, said: "I am absolutely delighted that the BSAH has won this award. It is a reflection of the fantastic and compassionate team that we have at the hospital, who all contributed to the application process, which was led by our head vet, head nurse and a lecturer in our exotics team. Leadership in wellbeing is important and the whole team need to be engaged in caring for their own mental health as well as looking out for their colleagues. The RVC provides a great deal of opportunities for career development and employee benefits. Ultimately, it's the combination of organisational opportunities and the team culture that has the greatest impact and offers the greatest environment for all."
Paul Pollard, Head Vet at BSAH, added: "Our whole hospital team are very proud and delighted to receive this award. Wellness is something that is very important to us and is one of our core values within the hospital. We do lots of training to be able to look after our patients and clients to the best of our ability. We feel that it is equally important to be able to look after ourselves and each other. Being a teaching hospital also gives us a unique opportunity to role model and share these values with the vets of the future." The team at BSAH is made up of 11 vets, 15 nurses, five nursing assistants, 10 receptionists and three administrators.
For more information please contact: Alex Cassells or Ploy Radford Press Line: 0800 368 9520
About the Royal Veterinary College
The Royal Veterinary College (RVC) is the UK's largest and longest established independent veterinary school and is a constituent College of the University of London.
The RVC offers undergraduate, postgraduate and CPD programmes in veterinary medicine, veterinary nursing and biological sciences. It is currently the only veterinary school in the world to hold full accreditation from AVMA, EAEVE, RCVS and AVBC. In 2017, the RVC received a Gold award from the Teaching Excellence Framework (TEF) – the highest rating a university can receive.
RVC is a research led institution with 79% of its research rated as internationally excellent or world class in the Research Excellence Framework 2014.
The RVC also provides animal owners and the veterinary profession with access to expert veterinary care and advice through its teaching hospitals; the Beaumont Sainsbury Animal Hospital in central London, the Queen Mother Hospital for Animals (Europe's largest small animal referral centre), the Equine Referral Hospital, and the Farm Animal Clinical Centre located at the Hertfordshire campus.
---
You may also be interested in:
Superhero Pets: the RVC names "Pet Blood Donors of the Year 2023" this World Blood Donor Day

In …