Pioneering Hypophysectomy Treatment Reaches 100-Case Milestone
The UK's first successful feline hypophysectomy surgery was performed at the RVC in 2012, to treat a cat with acromegaly. This July, a cat called Rusty with the same condition became the 100th patient to be treated by hypophysectomy at RVC Small Animal Referrals.
The surgery involves the removal of the pituitary gland along with the tumour, which is the cause of acromegaly. The surgery can also be used for patients with non-functional pituitary tumours.
Following the success of this pioneering surgery at the RVC, the team has been using the procedure to treat dogs with pituitary-dependent hyperadrenocorticism (PDH, Cushing's disease).
Over the past seven years, not only have more than 100 RVC referral patients with debilitating disease had their lives transformed by the procedure but it has changed the lives of owners, who have often been freed up from the frequent administration of costly medicine. Most acromegalic cats have their diabetes cured after the procedure and dogs with Cushing's no longer need trilostane treatment.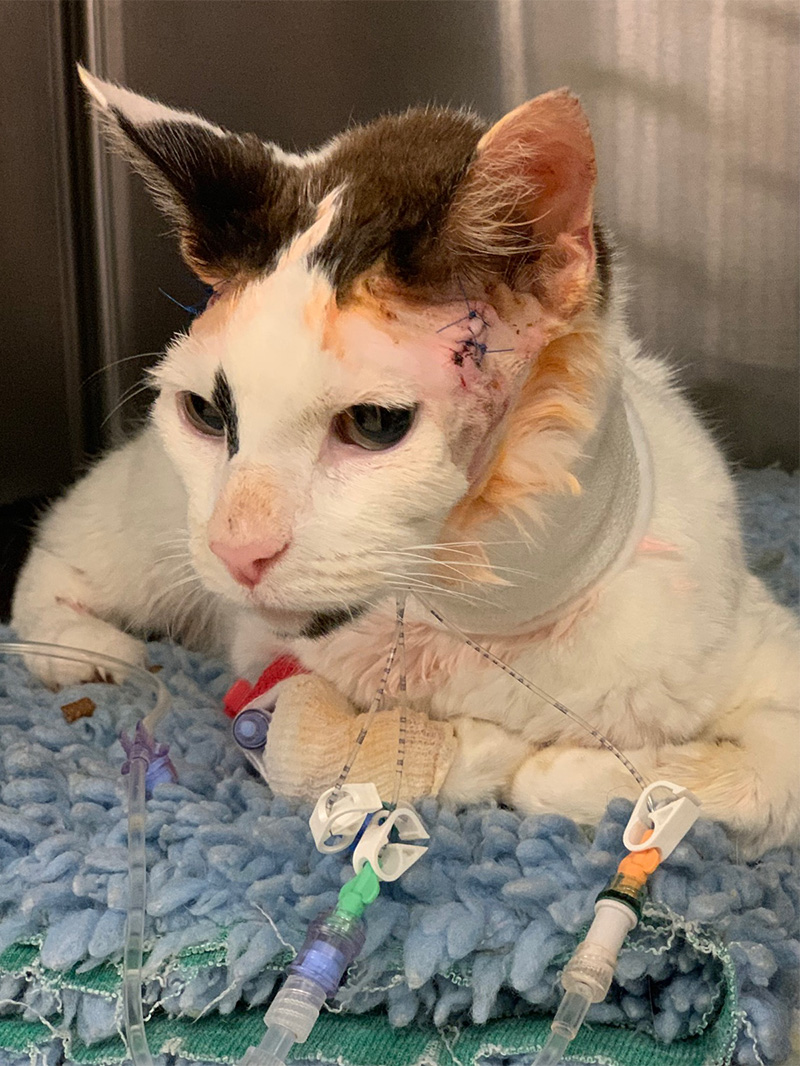 Until the RVC started offering hypophysectomy, the only treatment option available for cats and dogs in the UK with pituitary tumours was radiation therapy (and managing the diabetes mellitus in case of acromegaly). However, radiation therapy is frequently ineffective in such cases and managing diabetes is often extremely difficult and frustrating for owners when its management is confounded by the presence of a functioning pituitary tumour. Therefore a permanent surgical solution is clearly preferable.
Commenting on Rusty's presentation prior to treatment, Professor David Church, Deputy Principal and Acting Vice-Principal (Clinical Affairs) said: "Rusty was diagnosed with diabetes mellitus by his primary care vets in early 2019, but achieving control of his condition quickly became very difficult. Investigation of the reasons for this confirmed Rusty had a tumour in his pituitary gland at the base of his brain, producing hormones that not only stopped insulin working properly and causing his diabetes, but they also made his diabetes almost impossible to control. This had meant he had lost a great deal of weight despite a huge appetite and was also not his previous happy self."
Surgeon Joe Fenn, Lecturer in Veterinary Neurology and Neurosurgery, added: "Until quite recently there would have been no reliably effective treatment options available for cats with Rusty's condition. However, since 2012, the RVC team has been routinely performing hypophysectomy, the surgery aimed at removing the overactive pituitary gland tumour in cats, and we are extremely proud to say that Rusty was the 100th patient that we operated on.
"After a discussion between his owners and our Internal Medicine Service, Rusty was booked in for hypophysectomy surgery. His procedure went according to plan, allowing us to remove all of his pituitary gland tumour successfully, and after a short stay in our intensive care unit he was moved back to wards to continue his recuperation. Rusty responded very well to the surgery and was discharged a week later, no longer requiring insulin injections. To see Rusty back home enjoying life again with his owners and with his diabetes effectively cured is immensely rewarding, and we look forward to following his progress in the coming years."
He also said: "To have been able to change the lives of 100 patients using this pioneering surgery to treat such a challenging condition is a real testament to the huge team at the RVC who are involved in making these cases a success. It has been a real privilege to be able to offer hypophysectomy as a positive treatment option for Rusty's owners, as well as all of the cats this procedure has helped so far and all the future cats who will benefit from the RVC's expertise."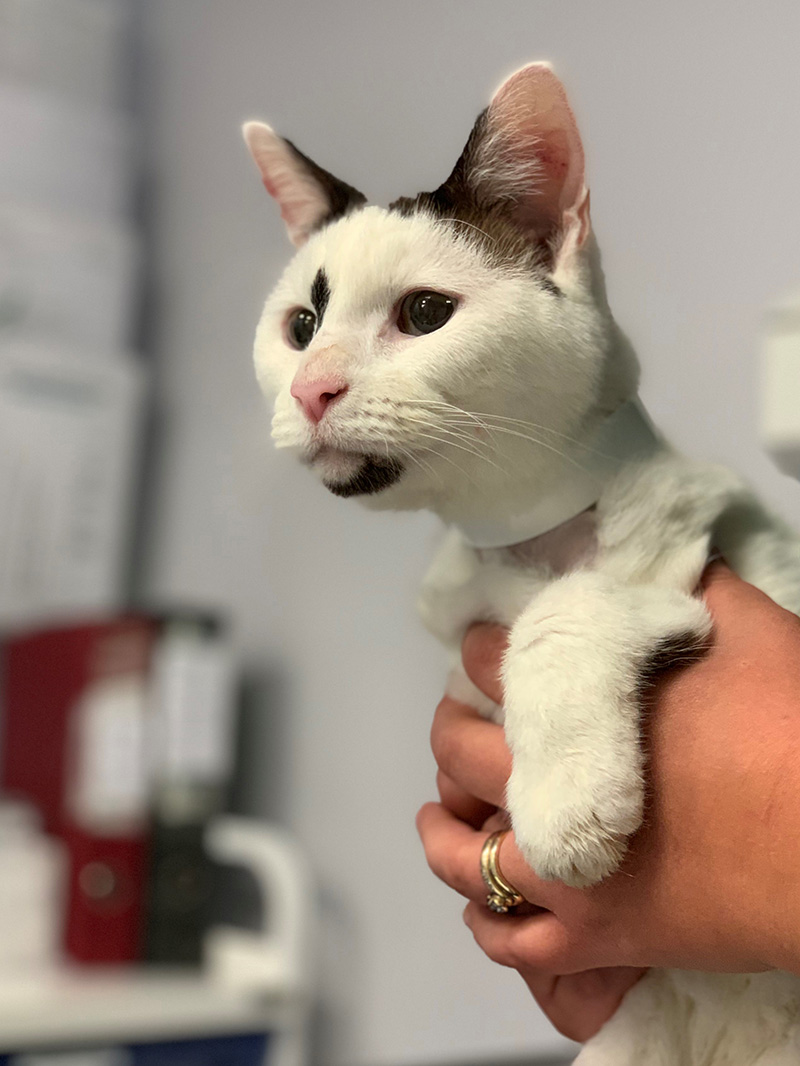 Describing Rusty's journey from health to acute character change with the condition and return to health, owner Sophie Peacock said: "My darling Rusty has always been the most amazing, laidback, funny and loving cat. So when I started to notice the changes in his behaviour it was soul destroying. I took him to the vet as soon as I had a list of symptoms and the vet confirmed he had diabetes, and so, insulin therapy began.
"What started out as a cute and eager tap-on-the-leg from his paw as I prepared his meals, turned into a food aggression I didn't think were possible. He became a cat I didn't recognise. I had to fit child locks to the all kitchen cupboards containing food, as he'd managed to raid the cupboards on multiple occasions, devouring everything in his path. This of course sent his blood glucose levels sky high – I often had readings that were too high to give me an accurate reading, sending me into a panic. His insulin was continuously increased as his blood glucose wasn't ever below 20. His symptoms got worse, he continued to lose weight and his blood glucose levels were uncontrollable.
"Our vet contacted the RVC for advice and they suggested an IGF-1 test be carried out. Within a few days the results were back and it was confirmed that he had feline acromegaly. I had no idea what this was and frantically googled and came across the term, 'brain tumour.' I thought I was going to lose my little boy. We had an emergency referral and were at the RVC within a matter of days. I have never felt more at ease and reassured. My experience with the RVC was nothing but positive and refreshing from the moment we were referred. The staff are friendly, knowledgeable and they have treated Rusty as if he were their own."
"A few weeks later I took Rusty to the RVC ready for his surgery to be carried out by Joe Fenn on the following day. It broke me to leave him behind, but I knew he were in the best possible hands. The next day I was informed that the surgery had been a success – they'd managed to remove the whole mass – and he was stable in ICU. I continued to receive calls twice a day from the RVC team, in the morning and the evening, to inform me on how Rusty was recovering.
"Less than a week later I was told I would be able to collect my darling boy and bring him home. The discharge consultation was brilliant. I was provided with a fantastic medication plan, which I wouldn't have been able to cope without. All my questions were answered without hesitation and I was confident in bringing Rusty home and starting his recovery journey there."
She added: "Since returning home, Rusty has shown massive signs of improvement – I've been able to eat in the same room as him and though he has been intrigued, I haven't been attacked for the food. He's in remission from diabetes and no longer needs insulin therapy. He's able to relax and lay down, instead of pacing around all day long. He's even brought out his favourite toys to play with already."
---
Notes to Editors
For more information please contact:
About the RVC
The Royal Veterinary College (RVC) is the UK's largest and longest established independent veterinary school and is a constituent College of the University of London.
The RVC is ranked as the world's number one veterinary school in the QS World University Rankings 2019.
The

R

VC

offers undergraduate, postgraduate and CPD programmes in veterinary medicine, veterinary nursing and biological sciences.
The RVC was the first veterinary school in the world to hold full accreditation from AVMA, EAEVE, RCVS and AVBC, and currently holds full accreditation from RCVS, AVBC and AVMA and conditional from EAEVE.
In 2017, the RVC received a Gold award from the Teaching Excellence Framework (TEF) – the highest rating a university can receive.
A research-led institution, the RVC maintained its position as the top veterinary institution in the Research Excellence Framework (2014), with 79% of its submission being rated as world-class or internationally excellent.
The RVC also provides animal owners and the veterinary profession with access to expert veterinary care and advice through its teaching hospitals: the Beaumont Sainsbury Animal Hospital, in central London, and the Queen Mother Hospital for Animals (Europe's largest small animal referral centre) and Equine Referral Hospital, both located at the Hertfordshire campus.
---
You may also be interested in:
Superhero Pets: the RVC names "Pet Blood Donors of the Year 2023" this World Blood Donor Day

In …