New RVC research sheds light on best toys and housing to improve ferret welfare as well as those that pose serious risk
A new study from the Royal Veterinary College (RVC), has revealed the toys and environmental enrichments – enhancements to an animal's environment to promote physiological and psychological wellbeing – that can directly impact ferrets' health and wellbeing.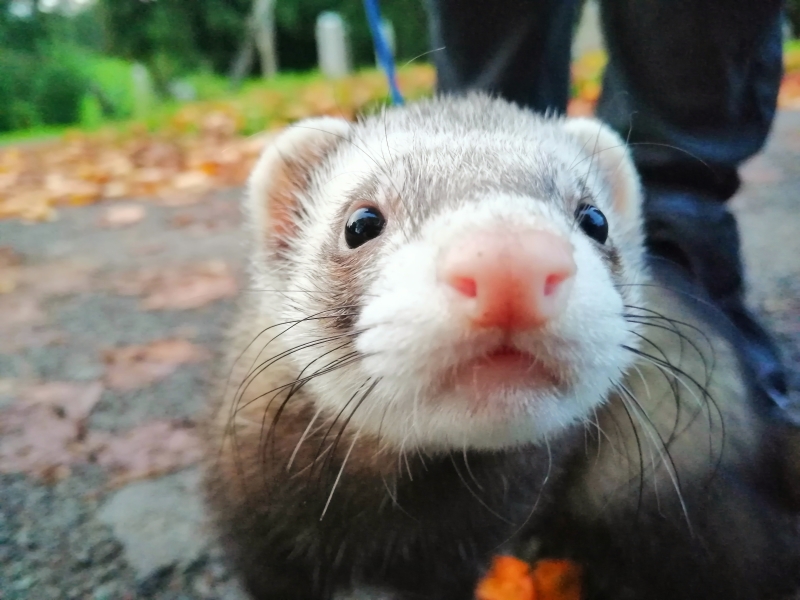 While environmental enrichment can be highly beneficial, inappropriate attempts to enhance a ferret's housing can be ineffective and cause stress and injuries. When not housed with their preferred environmental enrichments, ferrets can display more combative or aggressive behaviours, and play significantly less with other ferrets. These findings are therefore, important as they can help owners and those working with ferrets to further improve their welfare.
It is estimated that there are more than one million pet ferrets in the UK, and a further 500,000 in the United States. This is in addition to the wider sectors of society, yet little was known about how ferrets are housed and what environmental enrichment they may benefit from.
In conducting this study, the team of RVC researchers developed an online questionnaire which was shared with ferret caretakes, including pet owners, laboratory, zoo, rescue and pest control sectors. Receiving more than 750 valid responses, the researchers analysed results from 17 countries, the majority (82.4%) of which were from pet owners.
The results show that most ferrets were housed with at least one other ferret, providing important social interaction, and the environmental enrichments that ferret keepers believed their ferrets most enjoyed were tunnels (42.5%), digging (27.3%), human interaction (20.8%) and exploration (17.6%).
Conversely, the items reported as being most problematic, and therefore to be avoided, include rubber toys, which can cause internal blockages when chewed and swallowed (45.1%); and enrichments which can result in claws or other body parts becoming trapped (28.6%), such as narrow tunnels and certain fabrics including fleece, towels and loosely woven fabrics. This suggests a need for increased awareness of the risks of these types of enrichments and for more commercially available safety-tested ferret environmental enrichments.
Additional key findings, include that:
Scent trails were also reported as being amongst the most enjoyable enrichments but were only reported to be provided by 15% of total respondents, suggesting they could be introduced to more ferret housing.
Housing varied across sectors from single level cages to free-range housing in a room or outdoor enclosure however, multi-level cages and hutches, or free-range housing, promotes better ferret welfare compared to single level cages.
The environmental enrichment most commonly provided were items that promote rest (such as hammocks or a soft bed), tunnels, boxes and human interaction.
Ferrets' ideal housing could be informed by their natural ecology, which indicates a preference for burrows with dark sleeping areas.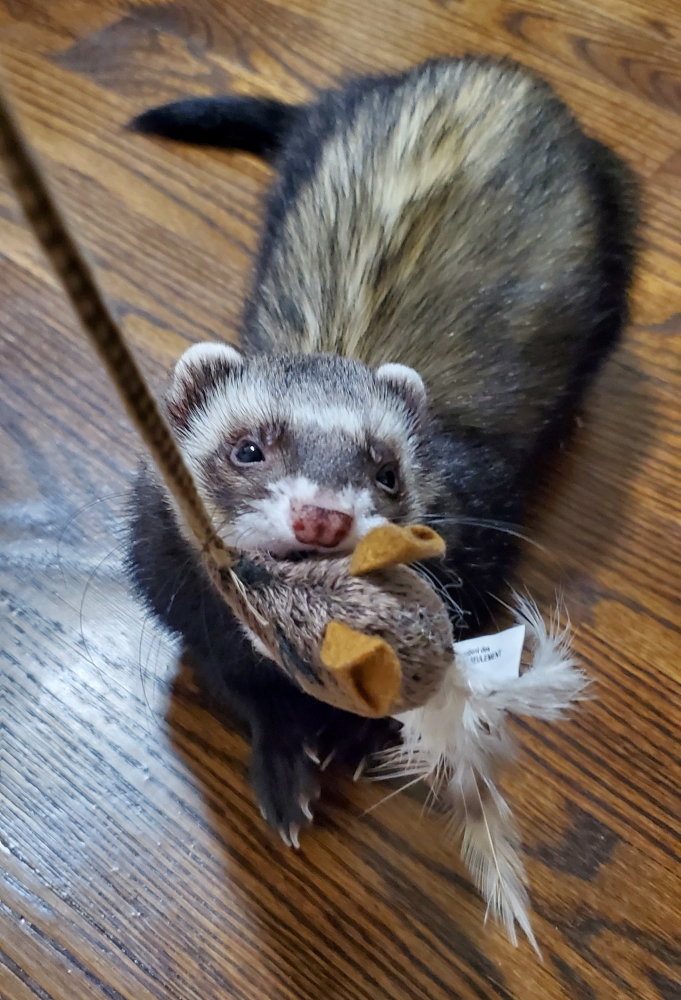 Further to these findings, this study also builds on pre-existing research into how frequently ferrets' habitat should be changed – with enhancements that are designed to stimulate recommended being changed in an unpredictable order more than once a month. One respondent commented, "They are very sociable and inquisitive animals who love to explore new toys and places." Conversely, those promoting rest should be changed less regularly and may provide a sense of security in their permanence.
Dr Charlotte Burn, Associate Professor in Animal Welfare and Behaviour Science at the RVC, said:
"It's really important that ferret keepers avoid hazardous rubber toys, narrow tunnels and claw-catching fabrics, because many of our respondents said these could injure their ferrets, sometimes requiring surgery or other veterinary assistance.
"The ferret keepers in our survey had some great tips about what ferrets seemed to most enjoy. Some are already commonly provided, such as wide tunnels, digging, and supervised exploration, but we'd like to encourage owners to try some of the rarer ones too. These included paper bags for ferrets to rustle about inside, supervised water play, and scent trails with a healthy treat at the end. Scents to try include prey animal scents from fur, feathers or used rodent bedding, or certain herbs and spices – but ferrets seem to dislike the smell of peppermint!"
Alice Dancer, PhD Student at the RVC, and lead author of the paper, said:
"How animals are housed and the environmental enrichment they are given can have a significant impact on their health and wellbeing. The finding that large housing and high numbers of enrichment are possible in all ferret-keeping sectors is a really good sign for ferret welfare. We hope that these results help inspire ferret caretakers to consider the housing they use, offer ideas for new ferret enrichments, and raise awareness of enrichments which may harm their ferrets."
---
Notes to Editors
Reference
Dancer AMM, Díez-León M, Bizley JK, Burn CC. Housing and Environmental Enrichment of the Domestic Ferret: A Multi-Sector Survey. Animals. 2022; 12(9):1065. https://doi.org/10.3390/ani12091065
The full paper is available from Animals and can be accessed here: https://www.mdpi.com/2076-2615/12/9/1065
For media enquiries, please contact:
Press Line: 0800 368 9520
About the RVC
The Royal Veterinary College (RVC) is the UK's largest and longest established independent veterinary school and is a Member Institution of the University of London.
It is one of the few veterinary schools in the world that hold accreditations from the RCVS in the UK (with reciprocal recognition from the AVBC for Australasia, the VCI for Ireland and the SAVC for South Africa), the EAEVE in the EU, and the AVMA in the USA and Canada.
The RVC is ranked as the top veterinary school in the world in line QS World University Rankings by subject, 2022.
The RVC offers undergraduate and postgraduate programmes in veterinary medicine, veterinary nursing and biological sciences.
A research led institution with 79% of its research rated as internationally excellent or world class in the Research Excellence Framework 2014.
The RVC provides animal owners and the veterinary profession with access to expert veterinary care and advice through its teaching hospitals and first opinion practices in London and Hertfordshire.
---
You may also be interested in:
Superhero Pets: the RVC names "Pet Blood Donors of the Year 2023" this World Blood Donor Day

In …