Author honours RVC Beaumont Sainsbury Animal Hospital
Dedication to duty has bought an unexpected reward to two vets working at the Royal Veterinary College's (RVC) Beaumont Sainsbury Animal Hospital (BSAH) in Camden. Children's author Jane Elson has written a special acknowledgment in her latest book Will You Catch Me? to vets Duncan D'Arcy-Howard and Louise Alum, in recognition of their care for her cat and for providing the professional knowledge that helped Jane write her novels.
Jane regularly brought her elderly rehomed rescue cat Larry to the BSAH. The experience of meeting the expert and compassionate staff, and her encounters with other animals under their care, gave Jane the inspiration for characters in several of her books.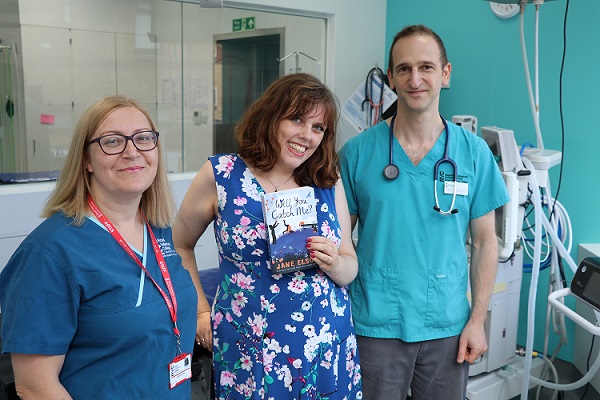 Buster the Staffordshire bull terrier is one such character who featured in her award-winning novel How to Fly with Broken Wings and also appears in Jane's new novel, Will You Catch Me?, a story about 11-year-old Nell Hobbs who lives on the Beckham Estate and looks after a large collection of rescue animals. Jane credits the animal care knowledge imparted to her by RVC vets Duncan D'Arcy-Howard, Louise Alum and the rest of the clinical team, with helping her write this latest book.
The BSAH is a state-of-the-art teaching hospital. Staffed by experienced veterinarians and nurses, it provides final year veterinary medicine students with first-hand experience of clinical practice as part of their degree at the RVC.
The award-winning children's author commented:
"The knowledge that I gained from Duncan, Louise and their veterinary colleagues will stay with me forever. It has been such an influence on my writing that I want to personally thank them – and to include them in the acknowledgements of 'Will You Catch Me?'"
Duncan Darcy Howard, clinician at the BSAH, said:
"I first met Jane and her cat Larry in early 2012, Jane having recently re-homed Larry from a charity called the Celia Hammond Trust. Over the next 20 months or so I saw them both quite regularly, as Larry had a veritable textbook of medical issues to contend with! Despite his various ailments, Larry remained a lovely cat, and he was always bright and gentle when he came in to see me. Jane proved to be a fantastic owner, very conscientious, caring and pro-active, and a lovely person to boot! I definitely felt a bond with them both, so I was very touched to hear from her again as she related how the staff at the BSAH helped her so much with Larry's care, and honoured to have been mentioned in her new novel's acknowledgements."
ENDS
Notes to Editors
For more information please contact:
• Alex Cassells (alexander.cassells@plmr.co.uk) or Ploy Radford (ploy.radford@plmr.co.uk)
• Press Line: 0800 368 9520
About the Royal Veterinary College
• The Royal Veterinary College (RVC) is the UK's largest and longest established independent veterinary school and is a constituent College of the University of London.
• The RVC offers undergraduate, postgraduate and CPD programmes in veterinary medicine, veterinary nursing and biological sciences.
• It is currently the only veterinary school in the world to hold full accreditation from AVMA, EAEVE, RCVS and AVBC.
• In 2017, the RVC received a Gold award from the Teaching Excellence Framework (TEF) – the highest rating a university can receive.
• A research-led institution, in the most recent Research Excellence Framework (REF2014) the RVC maintained its position as the top HEFCE funded veterinary focused research institution.
• The RVC ranked as the top vet school in the Agriculture, Veterinary and Food Science unit of the most recent Research Assessment Exercise, with 55% of academics producing world-class and internationally excellent research.
• The RVC also provides animal owners and the veterinary profession with access to expert veterinary care and advice through its teaching hospitals; the Beaumont Sainsbury Animal Hospital in central London, the Queen Mother Hospital for Animals (Europe's largest small animal referral centre), the Equine Referral Hospital, and the Farm Animal Clinical Centre located at the Hertfordshire campus.
• http://www.rvc.ac.uk
---
You may also be interested in:
The exotics service at the RVC is led by Joanna Hedley, an RCVS and European specialist in exotic …