Academics from the RVC publish ground-breaking new book dedicated to welfare improvement in flat-faced companion animals
Dr Rowena Packer and Dr Dan O'Neill, both leading researchers at the Royal Veterinary College (RVC), have published the first ever book condensing global knowledge of brachycephaly (having a flat-faced conformation) in companion animals.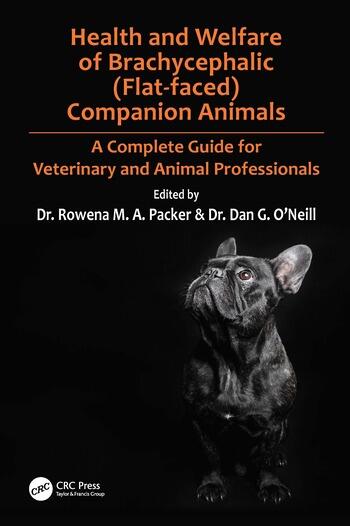 The book, titled Health and Welfare of Brachycephalic Breeds: A Guide for Veterinary Professionals, includes contributions from 29 internationally recognised experts on a wide range of aspects related to brachycephalic health.
Sadly, brachycephalic (flat-faced) companion animals are currently facing a huge health and welfare crisis. Dogs in particular are suffering from a 'perfect storm' because the welfare harms from conformation-related predispositions to several health issues are being amplified by a population boom for certain brachycephalic breeds, such as the French Bulldog, Pug and English Bulldog.
Although flat-faced dog breeds were invented by man over a century ago, they are currently rising rapidly in popularity. From 2000 to 2020, Kennel Club registrations for English bulldogs rose by 488%, for pugs by 601% and a staggering 17,198% for French bulldogs. Research from the RVC has shown that flat-faced dog breeds are highly predisposed to conditions including corneal ulceration, difficulty giving birth, slipping kneecap, dry eye, upper respiratory tract disorders and heatstroke.
In the context of the growing demand for flat-faced breeds of not only dogs but also cats and rabbits, this new book will equip veterinary professionals, animal welfare scientists, breeders and owners with a fuller understanding of brachycephalic health and welfare.
The book provides the context of how and why we are in this flat-faced animal crisis, offering in-depth historical, social, ethical, communication, nursing, welfare, epidemiological, genetics and international perspectives. It also provides clinical support, covering the background, diagnosis, treatment and prevention of the many unique healthcare needs of flat-faced (brachycephalic) animals. Cutting-edge knowledge is shared on a range of disciplines including respiratory disease, ophthalmology, dermatology, dentistry, neurology, obesity, reproduction and anaesthesia.
Given the breadth of expertise throughout the chapters, this book aims to generate new perspectives on how owners, breeders and veterinary professionals can best care for flat-faced (brachycephalic) companion animals, providing a solid evidence base of published literature that has been curated and interpreted by world-leading experts in the field.
Dr Dan O'Neill, Senior Lecturer in Companion Animal Epidemiology at the RVC and editor of the book said:
"Many humans love the flat-faced animal look. The popularity of flat-faced dogs, cats and rabbits is ever-increasing. But how many humans ever imagine how it feels to live a flat-faced life from the animal's perspective. The flat-faced conformation increases the likelihood of these animals having a daily struggle to breathe, along with increased risks of skin fold infections and eye problems.
"This book provides the latest evidence and thinking on the many faces of living a flat-faced animal life and will challenge each of our perspectives on our human responsibilities to animals under our care."
Dr Rowena Packer, Lecturer in Companion Animal Behaviour and Welfare Science at the RVC and editor of the book said:
"Having joined the RVC twelve years ago to pursue a PhD exploring the impact of brachycephaly on dog health and welfare, it has been gratifying to see scientific interest as well as public concern in this important area grow during this period. We are extremely proud to have distilled much of this cutting-edge international work into one comprehensive text for the first time.
"We hope this book helps veterinary and animal professionals globally, who are faced with the often challenging task of protecting the welfare of brachycephalic animals. Most importantly, we hope this book is another step towards improving the lives of so many animals who have been impaired by the body shape they have been bred for."
---
Notes to Editors
The book is available for purchase in hardback and paperback: https://www.routledge.com/Health-and-Welfare-of-Brachycephalic-Flat-faced-Companion-Animals-A-Complete/Packer-ONeill/p/book/9780367207243
For media enquiries, please contact:
Jasmin De Vivo (jasmin.devivo@plmr.co.uk) or

rvc@plmr.co.uk
Press Line: 0800 368 9520
About the RVC
The Royal Veterinary College (RVC) is the UK's largest and longest established independent veterinary school and is a Member Institution of the University of London. It was the first in the world to hold full accreditation from AVMA, EAEVE, RCVS and AVBC.
The RVC is ranked as the top veterinary school in the world in line with the QS World University Rankings by subject, 2021.
The RVC offers undergraduate and postgraduate programmes in veterinary medicine, veterinary nursing and biological sciences.
In 2017, the RVC received a Gold award from the Teaching Excellence Framework (TEF) – the highest rating a university can receive.
A research led institution with 79% of its research rated as internationally excellent or world class in the Research Excellence Framework 2014.
The RVC provides animal owners and the veterinary profession with access to expert veterinary care and advice through its teaching hospitals and first opinion practices in London and Hertfordshire.
---
You may also be interested in:
Superhero Pets: the RVC names "Pet Blood Donors of the Year 2023" this World Blood Donor Day

In …