Supporting Clubs and Societies
Clay Pigeon Shooting Team Fundraiser
The Clay Pigeon Shooting Team is one of the oldest societies at the RVC and has represented the university at several competitions this year, seeing over an 80% increase in member numbers! The Team want to make what is often seen as an expensive sport accessible to all by subsidising cartridge costs and providing all the necessary equipment and shotguns.
"We are so grateful to our Alumni for helping us to purchase new equipment to keep pace with the growth of the club and to improve both training and performance."
Due to COVID-19 restrictions, training sessions and competitions have been postponed, but the Team continues to hold virtual socials for members to help keep connected and are planning for a fuller schedule this year.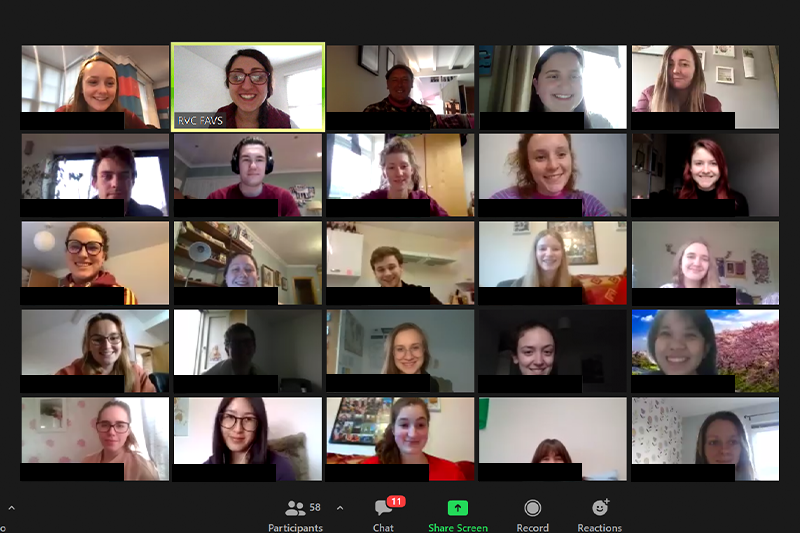 RVC Farm Animal Vet Society Symposium
This year, the RVC Farm Animal Vet Society (FAVS) held its first fully-virtual symposium. We are happy to announce that it was a smashing success, with 108 registrants, participating from six different countries!
The symposium hosted a brilliant line-up of speakers, starting with Matthew Smith, of 'The Yorkshire Vet' and Clinical Director of Donaldson's Vets. Dr. Smith shared his story on how he came to be a 'Yorkshire Vet' and his journey to this point in his career. It was inspiring to all the aspiring vets in attendance. Throughout the day, guests were treated to additional discussions and lectures on topics such as Bovine ultrasounds, avian influenza, swine practice, farm emergencies and what farmers expect from their vets.
It was a fantastic day of learning, engaging with other students across the world, and getting first-hand knowledge and advice from veterinary mentors. The FAVS were so happy to have been able to provide members, RVC students, and vet students from across the globe with the opportunity to expand their knowledge, despite the current pandemic.
During the COVID-19 pandemic, many students have missed out on crucial practical sessions and skill development. Therefore, within the next year, FAVS will be using the funds from Alumni to provide hands-on learning opportunities to our members, including animal handling sessions, to make up for lost AHEMS time.
Heather Durkin, FAVS Treasurer
---
You can support RVC clubs and societies by making a donation to the Alumni Fund.