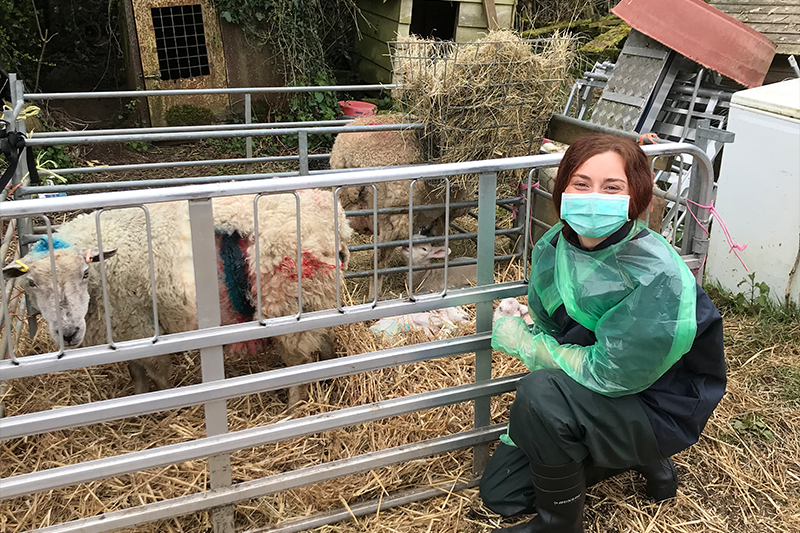 Your donations to the Alumni Fund support exciting EMS+ placements for RVC students, giving them enriching opportunities to apply their learning in practice. Hear from one student's long-awaited journey to a mixed-practice in the Devon countryside...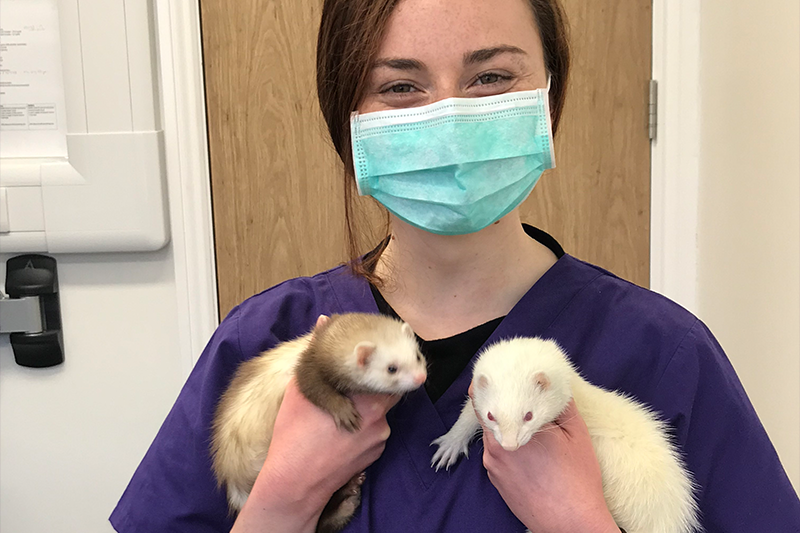 Arianna Brugnola: Experiences that are worth the wait!
In March 2021 I had the amazing opportunity to complete two weeks of EMS at a first opinion mixed practice in Bovey Tracey, Devon. I had always been interested in a mixed veterinary job after graduation, but due to the COVID pandemic and the inevitable cancelled student placements and travel restrictions I had not been able to gain any farm or equine experience. I really enjoyed learning about herd health management and equine medicine in lectures and practicals, and I was so looking forward to the first opportunity to experience work as a mixed vet.
Moorgate veterinary group is an independent, RCVS accredited, mixed practice that has been serving the South Devon area for over 50 years. I luckily attended my placement during the busy lambing and calving season and therefore I was able to hop on the vet's car and drive to farm visits all day and return to the practice to see small animal consults in the evening.
I observed several dystocia cases due to foeto-maternal disproportion, ringwomb and foetal malpositioning. In most cases a C-section was required, however in one of these cases the vet had to perform an embryotomy on a dead lamb. It was really interesting to see consults around newborn care- including port-partum care of ewes and cows to deal with several conditions like mastitis, prolapses and metabolic problems. I was able to observe the work-up of common farm problems, such as ill-thrift of the young-stock, wasting syndrome, respiratory difficulties, lameness and abortions.
The clinic also worked closely with the Dartmoor Pony Association, an organization that aims to preserve the breed in the moor. Care for the ponies included tetanus vaccinations, castrations and microchipping. Besides the native breed, I watched the workup of cases of laminitis, colic, vaccination and asthma in companion horses.
Several farms in the area kept alpacas and I had a first exposure to camelid medicine and the challenges it poses. Alpacas were not as cooperative as most farm species, and most drugs were not licensed or had different dosages than the ones commonly used in cattle. Besides dealing with these larger animals, the vets in the clinic treated several exotic species including ferrets, rabbits and hedgehogs and chickens.
It is safe to say that I had the chance to observe a lot of interesting cases in the two weeks I attended my placement. The vets allowed me to get really involved and let me practice injections, handling, full clinical examinations and perform several dog, calf, lamb and goat castrations under their supervision.
Overall, it was very interesting to notice how the rhythms and the challenges between mixed and small animal practice differ. The experience definitely helped me solidify my interest in mixed practice after graduation and consolidate farm and equine medicine knowledge.
After completing this placement, I can confidently say this was an incredible experience that allowed me to gain more confidence with production animals and horses, improve my knowledge and clinical skills as well as enjoy the stunning natural beauty of Dartmoor and South Devon.
---
You can support the enriching opportunities offered to RVC students through EMS placements by making a donation to the Alumni Fund.