The Sustainable and Healthy Food Systems (SHEFS) programme
SHEFS forms part of the Wellcome Trust's Our Planet, Our Health programme, and is led by the London School of Hygiene and Tropical Medicine. The RVC's work focuses on livestock-derived foods (LDF) in South Africa.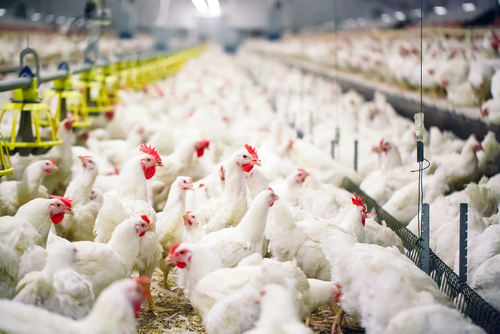 Challenge
South Africa bears a triple burden of malnutrition, with persistent levels of stunting, micronutrient deficiencies and rising obesity. LDF provide an energy dense and micronutrient rich food, important for pregnant and breast-feeding women and children's cognitive development. However, they may also present health risks through overconsumption, foodborne diseases and chemical hazards and have a greater environmental impact than plant-based diets. South Africa has a transitioning, complex and dualistic LDF system with both a sophisticated and regulated commercial system, and an informal system, of which the broiler system is an exemplar. Broiler meat is produced largely through large scale integrated companies, has it has shown an almost doubling of per capita consumption since the turn of the century. It is the most affordable and preferred meat option for consumers and contributes to national food security. The overarching aim of SHEFS is to provide policymakers with novel, interdisciplinary evidence to define future food systems policies that deliver nutritious and healthy foods in an environmentally sustainable and socially equitable manner. Our challenge is to find recommendations for policymakers to transform South African LDF systems within the SHEFS aim.
Solution
A food systems approach was used to develop a conceptual system dynamics model of the LDF system, which provided a foundational understanding of the system. A qualitative analysis of broiler stakeholder interviews was conducted, alongside an online questionnaire. These data were used to develop a qualitative system dynamics model of the commercial broiler system within the boundaries of human health, nutrition, and environmental sustainability. The findings were presented to stakeholders for validation and for identification of key areas that policymakers need to consider to ensure the future of the commercial broiler system is environmentally sustainable, whilst providing safe, healthy, and nutritious food for consumers.
Impact
Several policy briefs are planned which will focus on i) the need for a systems approach to ensure policy around LDF is more integrated and durable, ii) resolving inequality within LDF food systems, iii) mitigating health impacts of overconsumption, iv) improving and integrating food safety governance, v) unveiling environmental impacts of broiler meat in the South Africa context, and vi) the transferable lessons from the broiler system to the wider LDF system.
Partners
London School of Hygiene and Tropical Medicine, UK; University of KwaZulu-Natal, South Africa; University of Sheffield, UK.
Publications
| | | |
| --- | --- | --- |
| Title | Publication | Year |
| A food systems approach and qualitative system dynamics model to reveal policy issues within the commercial broiler chicken system in South Africa | PLOS ONE | 2022 |
| A Qualitative Analysis of the Commercial Broiler System, and the Links to Consumers' Nutrition and Health, and to Environmental Sustainability: A South African Case Study. | Frontiers in Sustainable Food Systems | 2021 |
| Using qualitative system dynamics analysis to promote inclusive livestock value chains: A case study of the South African broiler value chain. | Frontiers in Sustainable Food Systems | 2021 |
| A Systems Analysis and Conceptual System Dynamics Model of the Livestock-derived Food System in South Africa: A Tool for Policy Guidance. | Journal of Agriculture, Food Systems, and Community Development | 2020 |