Peste des Petits Ruminants (PPR) Programme
The Peste des Petits Ruminants (PPR) programme involves a pool of existing partners in Europe, Asia and Africa working collaboratively to generate evidence to support a Global PPR eradication programme.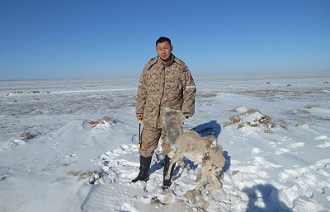 Challenge
In 2015, FAO and OIE developed a global strategy that aims to eradicate PPR by 2030. This strategy heavily relies on large-scale vaccination of sheep and goats, vaccination monitoring and disease surveillance. However, the implementation of this strategy faces several logistical constraints and knowledge gaps, ones which can be addressed through dedicated research programmes.
RVC research team has been working since 2013 on a range of topics that include PPR transmission dynamics, environmental and human drivers of the viral persistence, and developing adapted surveillance and control strategies of PPR in African and Asian systems.
Peste des Petits Ruminants Virus Elimination are complex and RVC and partners have undertaken a series of projects ~ six million pound research investment, focused on improved understanding of the epidemiology of PPR in atypical hosts. The first was the EU-funded ANIHWA ERANET PROJECT led by the Pirbright Institute, where RVC led Work Package 1. The RVC also co-led Work Package 2 which related to rapid detection of PPR in the field for early warning and prevention of outbreak. This project was followed by two Global Challenges Research Fund projects funded by UKRI.
These projects have concluded and RVC are candidates with a number of partners on the proposed Ecopest project under European Research Fund H2020. The Ecopest project focuses jointly on the ecology and control of PPR and African Swine Fever (ASF) at the livestock wildlife interface in in Europe, Africa, and Asia.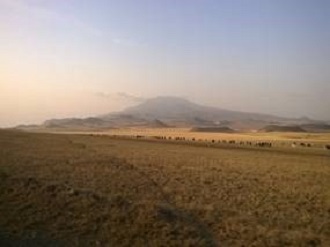 Peste des petits ruminants is a transboundary viral disease of sheep, goats, some untypical domestic hosts such as camels and wildlife artiodactyls. The disease is now endemic in many countries of Africa and Asia, and is a major threat for pastoralist farmers, making a significant impact on food security, livelihoods and trade and a threat to wildlife and biodiversity conservation.
PPR has been identified as a target for global eradication, but some gaps in knowledge for the eradication effort remain, including the role of wildlife in PPR epidemiology in Asia. The aim of the RVC thematic research on PPR is to improve understanding of the epidemiology of PPR in livestock, wildlife interface and PPR virus (PPRV) circulation in complex ecosystems.
The programme to date developed conceptual models of selected ecosystems, integrated existing data and identified knowledge gaps to be addressed by qualitative and quantitative field studies in wildlife and livestock, including serosurveillance. This was completed by 2021 across eastern Africa to determine virus presence in wildlife populations and antibody prevalence through both convenience sampling, purposive studies and randomised sampling for true prevalence. The work also focused on the interface with livestock and strengthened disease reporting and investigation and active surveillance in livestock, and qualitative studies of small ruminant movements and trade, supported by laboratory diagnostics and molecular analysis.
Although PPR has been reported regularly in wildlife and livestock in Asia few research activities in the region have been completed. This is a critical gap. RVC with partners initiated some important work on a major outbreak of PPR in wildlife in Mongolia in 2017 including a major die off of saiga antelope, a critically endangered species and the first confirmed disease epidemic in free-ranging antelope globally. This gap in knowledge of the epidemiology of PPR in Asia across many species demands more attention.
Solution
The aim of this programme is to improve understanding of the epidemiology of PPRV at the livestock, wildlife interface globally. A particular focus has been on the Greater Serengeti ecosystem of Kenya and Tanzania to facilitate the design of effective and efficient surveillance and vaccination strategies for the elimination of PPRV and ad hoc research where disease outbreaks have been reported e.g. in Mongolia.
The specific objectives of the series of projects 2013-2021 have been to:
ANIHWA PROJECT (IUEPPR Improved Understanding of the Epidemiology of PPR) objectives
Work Package 1 (RVC led): Possible role of wildlife in PPR emergence using risk assessment approach



• To Identify current epidemiological hotspots at the wildlife livestock interface in selected high-risk countries (Uganda, Sudan, Kenya Tanzania)




• To obtain PPRV at the hotspots for genomic studies and molecular epidemiology




• To characterise of the disease socio-eco-epidemiology in an exemplar small livestock pastoral production system and wildlife interface in Ethiopia




• Modelling to determine importance of different species and pathways for infection




Work Package 2 (joint with Pirbright and CIRAD): Rapid detection of PPR in the field for early warning and prevention of outbreak




• Development of Rapid and sensitive assays that detect PPR genome


• Development and evaluation of a non-invasive methodology to detect PPRV infection in wildlife



Global Challenges Research Fund (GCRF) PPR Project objectives

• To define wildlife and small ruminant population, spatial and temporal dynamics and their interface in the Greater Serengeti Ecosystem.
• To describe the spatial and temporal dynamics of PPR infection and disease in wildlife and domestic small ruminant populations in the Greater Serengeti Ecosystem
• To develop surveillance and vaccination strategies for the elimination of PPR virus from the Greater Serengeti ecosystem.
• To develop multispecies validated serology protocols for complex ecosystems, focused on East Africa, in support of Global PPR eradication
• To strengthen coordination and build capacity to support cross-border disease surveillance and control policy and strategy.

GCRF GRTA Project objectives

• To optimise, evaluate and share amongst partner laboratories a number of currently available serological tests for PPR (including PVNA, LIPS, VNT, c ELISA N and b ELISA (PANVAC)) using sera obtained from atypical PPR host species (wild and domestic) and natural hosts, sheep and goats.
• To establish a regional PPR research laboratory in eastern Africa with appropriate serological tests in place for multiple domestic (atypical) and wild host species.
• Using the new protocols developed for serological diagnosis of PPRV, determine the sero-prevalence of PPRV antibody in African buffalo and Grant's gazelle in the Greater Serengeti ecosystem, and analyse whether there is an association with proximity to domestic sheep and goats.
• In line with recent proposals at the International meeting of OIE FAO GREN in Rome 2019, the intention is to publish these results and propose to the OIE FAO PPR GEP and PPR GREN a new standard for serological surveillance and diagnostic interventions fit for complex ecosystems and inclusive of atypical host species (wild and domestic).
Impact
Improved the capacity for risk-based surveillance and enhanced understanding of sources and pathways of emergence and spread of PPR at the wildlife-livestock Interface.
Understanding of host susceptibilities across a wide range of artiodactyl species.
Enhanced capacity to prevent and control of PPR at the wildlife-livestock Interface and development of appropriate strategies for virus elimination to be incorporated into national and regional strategies.
Strengthened resilience of livestock-keeping communities, whilst maintaining biodiversity conservation and integrated land use systems, helping to achieve better health and socioeconomic outcomes in both animals and humans, and to catalyse action in the eradication programme for PPR virus in Africa.
Societal impact
The programme has been catalytic at the beginning of a global process of eradication of PPRV. The outcome of the work supports the next phase of elimination of PPR in wildlife livestock ecosystems and contributes to future strategy and methods employed. This in turn feeding into the regional and international eradication programme through the FAO OIE PPR Global Eradication Programme and Research Network (PPR GREN). This will shorten the period of impact of this disease on communities into the future, ensuring sustainable livelihoods and socioeconomic benefits and will satisfy the sustainable development goals of the United Nations and benefit society as a whole, and reduction in poverty.
Transformative impact
The programme has been catalytic to the implementation of the national and regional PPR eradication programmes, providing an improved understanding of the epidemiology of PPR in complex multi-species ecosystem, and contributing to the development of appropriate strategies for virus elimination to be incorporated into national and regional strategies. It will provide a case study of integrated research methods that will be of relevance for PPR control in other wildlife-livestock ecosystems. Researchers from the region have participated in design, implementation and analysis of transdisciplinary research that addresses an important constraint to pastoralist livelihoods, contributing to more resilient agricultural systems.
Partnerships
Existing and new collaborations will be strengthened between Royal Veterinary College (RVC), University College London (UCL), Pirbright, Centre de Coopération Internationale en Recherche Agronomique pour le Développement (CIRAD), University of Glasgow Centre for Virus Research (CVR), Food and Agriculture Organization Global Eradication Programme (FAO GEP) and a number of African and Asian organisations and NGOs; Southern African Centre for Infectious Disease Surveillance (SACIDS), Directorates of Veterinary Services in Kenya and Tanzania, Kenya Wildlife Service (KWS), Tanzania Wildlife Research Institute (TAWIRI) and Ngorongoro Conservation Area Authority (NCAA).
Selected publications