Control of brucellosis in dairy herds in Rwanda
We are working with overseas partners to research the frequency and distribution of brucellosis among dairy herds, and longitudinal studies to identify Brucella species causing infection in dairy herds.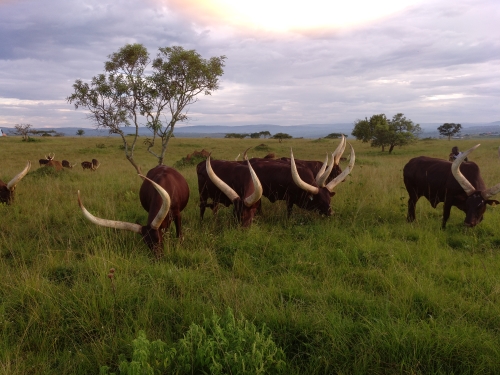 Challenge
Brucellosis is the world's most widespread zoonosis, imposing a substantial burden on the livelihoods of poor people as a result of human disease and reduced livestock productivity. However, brucellosis is rarely a priority for health systems and for this reason the WHO classifies brucellosis as a "neglected endemic zoonosis"
The main routes by which people can be infected are consumption of contaminated dairy products and direct contact with infected animals. Therefore, the control of human brucellosis depends on its control in animals, mainly ruminants, while its detrimental effects include both animal and human disease.
Although a range of tools (diagnostics, vaccines) are available and have been used, sometimes successfully, to control brucellosis in different parts of the world the disease remains present at high levels in others. It is likely that failure to control the disease is due to a combination of factors, some of them technical (e.g. quality and appropriateness of different vaccines for different settings), others socioeconomic (livestock keepers perceptions towards the disease and incentives for its control) or institutional (priority given by veterinary services to the disease, lack of interaction between animal health and public health services).
Solution
In this project we target one of the livestock systems in which brucellosis is likely to pose the heaviest burden on vulnerable populations in Sub-Saharan Africa: dairy farms supplying milk to rapidly growing urban populations in West and Central Africa, and we will do it by integrating a range of disciplines so that we consider the different biological, social and institutional dimensions of the disease that are relevant for its control. We will focus on the first phase of control of the disease: the reduction of its prevalence by means of vaccination, since total eradication requires conditions that are not currently met in the target area. The so-called peri-urban dairy farms are an important source of wealth in poor settings and a source of protein in increasingly urbanised African populations. Furthermore, there is evidence that this region has the highest prevalence of ruminant brucellosis in sub-Saharan Africa.
We have been carrying out a series of field studies to measure the burden of brucellosis in livestock productivity and human health in the main areas for peri-urban dairy production in the 15 target countries, to identify routes by which people become infected, to quantify the economic consequences of the disease for farmers and to understand farmers' perceptions and attitudes toward the disease. In parallel we have been carrying out a series of training activities and working with local institutions to identify barriers for effective and sustainable control and to overcome those. The results will be used to design and carry out two-year control programmes based on vaccination in a small number of settings. The effectiveness of these control programmes will be carefully monitored and the results widely shared within and outside the region.
Impact
Dairy farmers in the main peri-urban dairy production zones of the 15 west and central African countries targeted by the project. All of them can benefit from more effective and sustainable ways of reducing the prevalence of brucellosis in their animals, including improved access to vaccines, improved local diagnostic capacity and improved awareness of veterinary and public health services of the burden of disease and of livestock keeper's priorities.
Furthermore, we expect the subset of farmers from areas selected for implementation of five control programmes as part of the project to directly benefit from a reduction in the prevalence of infection towards the end of the project (years 4-5). Peri-urban dairy farmers from the target countries but located in areas not targeted by the five control programmes, could benefit from the expansion of programmes to their areas after the conclusion of the project. In summary, peri-urban dairy farmers will benefit from enhanced and more effective public and private services in relation to brucellosis control and from higher productivity as a result of lower prevalence of an infection that compromises reproductive efficiency and milk production of their cattle. Eventually, keepers of livestock of all ruminant species could benefit if the project succeeds at instigating national control programmes for brucellosis in their countries.
The local population exposed to direct contact with dairy cattle in the above systems (livestock keepers, farm workers and their families) will benefit from a decreased risk of infection as prevalence in cattle is reduced. Brucellosis is associated with a considerable burden to the local population through subacute disease and chronic disability and its control in ruminants is likely to reduce direct transmission to humans.
The much larger population of consumers of milk and dairy products from the above livestock systems will benefit from a lower risk of exposure to Brucella spp via consumption of contaminated products.
Partners
Central to this project is the Interstate School of Veterinary Science and Medicine of Dakar (EISMV) a regional educational hub that involves 15 West and Central African countries. EISMV academics work in partnership with UK-based researchers from two leading veterinary and medical educational institutions: the RVC and London School of Hygiene and Tropical Medicine, and with the international reference laboratory for brucellosis at Animal Health Veterinary Laboratories Agency. The Global Alliance for Livestock Veterinary Medicines (GALVmed), an organisation which works globally to facilitate access of poor livestock keepers to affordable livestock vaccines, medicines and diagnostics is also an essential part of the consortium contributing to the translation of our research findings into tangible benefits for vulnerable populations and livestock keepers in poor countries.
Publications