Kelsey Goode' Study Abroad Experience
-
Kelsey Goode' Study Abroad Experience
-
My name is Kelsey Goode and I am currently a senior Animal Science major at Cornell University in NY, USA. I found RVC while researching abroad opportunities that offered a unique perspective on veterinary medicine, while allowing me an opportunity to explore life in a new city. The application process for the RVC was very straight forward, which was lucky for me as I started the whole study abroad process later than most other students. I was allowed to choose the classes in which I wanted to enroll, Wild Animal Biology and Prevention versus Cure, and I was fortunate enough to find housing in the first year dorms, which were right next to the main academic building. Classes at RVC afforded me opportunities to work with and learn about animals and conservation efforts in the UK, and one of my courses, Wild Animal Biology, was even held at the London Zoo many times.
Faculty and staff, and of course the students, were all very welcoming and made me feel at home and very comfortable in my new setting. Faculty are very invested in their students at RVC, and are willing to put forth every effort to help with any issues that may arise. I found I was able to talk very easily with all staff, which was helpful especially in the first months when I was adjusting to living abroad. As a part of the Bioveterinary Science course I was also able to get involved in a research project in an area of my choice, and was given the opportunity to hone my skills in the laboratory. As a pre-veterinary student interested in specializing in oncology research as part of my career, continuing to work in a laboratory setting was very important to me while I was abroad, and RVC was wonderful in giving me options in research. I would definitely recommend studying at the RVC for those students who are very serious about continuing their education in the animal sciences.
Although there was plenty of work to do while I studied at RVC, students always made time to go out and have a good time, and every week there were events going on at clubs and other venues in the city. There certainly is no lack of things to do in London, and even as hard as all of the students work in their studies, they make time to have fun. During the week I was involved in with the rowing team and found it was a great way to meet other RVC students and become a part of the whole RVC community. I'm used to dividing my time between multiple clubs at Cornell, and I was happy to keep myself just as busy with rowing.
Right now I am in the process of applying to veterinary schools, and I plan to become a veterinarian working in aquatic animal medicine with a specialization in oncology in wild and exotic animals. I am very passionate about veterinary medicine, and my experiences at RVC helped allowed me to gain new insight into a profession that I love.
I made some of my closest friends while abroad, traveled to amazing places, and learned so much in my studies than I ever could have imagined. I loved every single second, and I hope that many more students will follow in my footsteps and experience what I was lucky enough to be a part of at RVC.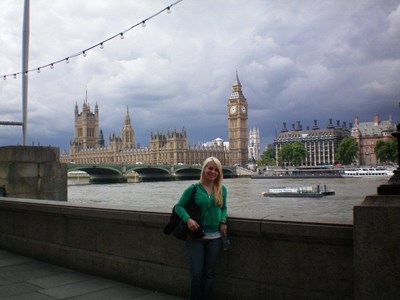 Is International Profile?: Yes