World Blood Donor Day – Celebrating Animal Blood Donations at the RVC
World Blood Donor Day on 14th June 2016 is a time to raise awareness of the importance of donating blood and helping to save lives – and it's not just humans whose lives can be changed by blood donations. Unbeknown to many people, thousands of animals' lives are saved too, and there is an increasing need for dog and cat donors.
On this global awareness day, the Royal Veterinary College (RVC), which currently has the busiest animal hospital blood donor programme of its kind in Europe, will be thanking the hundreds of animals who have donated blood and saved the lives of their fellow animals, as well as encouraging more donors to come forward.
In order to celebrate World Blood Donor Day and highlight the bravery of its fantastic blood donors, the RVC has created a 'Blood Donor of the Year' award. This year's winner is Raisin the Labrador who donated blood to 8 dogs through the RVC's Blood Donor Programme during his two years on the programme.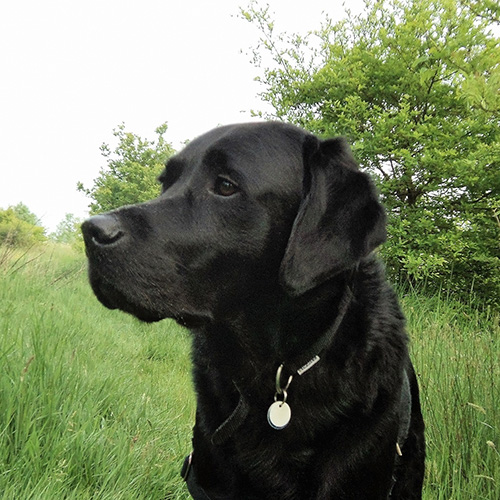 Raisin is a true hero. Not only is he a blood donor, he is also a hearing dog for his owner Ann Fort. He joined the RVC's programme because Ann has been very unwell over recent years and has received many blood transfusions herself. Ann wanted to give back, and while she couldn't donate, Raisin could. So not only has he been a day-to-day lifeline for her, he has also helped dogs too. Raisin retired from donating blood at Christmas but will be returning to the RVC on 14th June to receive his award.
Ann commented, "I first read about the Blood Donor Programme in the Royal Vet College Magazine Hooves and Paws. My husband and I thought this was a wonderful service and one perhaps we could offer help.
She continued, "After consulting Hearing Dogs for Deaf People I contacted the College and was invited to attend a preliminary interview and test for Raisin. After having blood taken and the results back Raisin and I were invited to his first "donation day".
"When Charlotte, his nurse, said he would have to lie still for at least 5 or 10 minutes I thought it would be unlikely. Raisin is such an active lively boy who at that time was 2 years old. Much to my amazement he did exactly as he was asked. Jumped on the couch, lay down, and patiently waited whilst blood was taken. Afterwards he received lots of cuddles and treats and a big bowl of food.
"At subsequent visits Raisin became very excited as soon as I drew up in the car park. Could not wait to get in and to greet "his nurses".
"Everyone at the Hospital was so welcoming it was a pleasure to attend. Raisin loved the attention and is a sucker for "ladies in uniform". He seemed to remember exactly where he had to go and what to do without any prompting or cajoling. I could not believe how well he behaved.
This is truly a marvellous service and every pet owner who has a pet of the right age and fitness should consider joining. We never know when we might need the service for our beloved pets."
The RVC created its Blood Donor programme at its small animal referral hospital – the Queen Mother Hospital for Animals (QMHA) in 2005 to try to address the demand for dog and cat blood. This demand increases year on year, particularly given the complexity of the treatments offered at the QMHA - from open-heart surgery to emergency and critical care, and from spinal surgery to cancer treatment.
The RVC's blood donors are the pets of people in the local community and they are put through a rigorous screening process to ensure they are comfortable with the process of donating blood and are healthy enough to do so. There are currently 90 canine donors and 30 feline donors registered at the QMHA.
The RVC is also leading the advancement of Transfusion Medicine. Thanks to funding from the RVC's charity, the RVC Animal Care Trust (ACT), the Blood Transfusion Service has not only received cutting edge equipment for the service, it has also facilitated research projects into transfusion medicine, including one looking at how effective feline transfusions are and how to optimise them. This will make sure the donations that our donor heroes provide are used in the most effective manner.
ACT funding has also allowed development of truly pioneering new techniques, with the RVC Transfusion Medicine Service starting to store feline blood in 2015. Previously, when a cat needed a transfusion, a cat blood donor needed to be called in to the hospital, as the blood storage systems available for cats were not sterile. However, the RVC's transfusion medicine team were able to design a new system, which now means that, as with dog blood, cat blood is now available when required, even if that is in the middle of the night.
Professor Dan Chan, Professor of Emergency and Critical Care Medicine at the RVC said: "The RVC's Blood Donor Programme is an incredibly important part of what we do at the QMHA. Over the last year alone, hundreds of animals' lives have been saved at the QMHA through blood donations and this number is increasing year on year. We are always looking for new donors so if you think your dog or cat might be suitable please check our criteria online at Blood Donor Programme."
Press Office Contact
Uche Graves / Zoe White
T: 0800 368 9520
E: uche.graves@plmr.co.uk / zoe.white@plmr.co.uk
Notes to Editors
The Royal Veterinary College (RVC) is the UK's largest and longest established independent veterinary school and is a constituent College of the University of London. The RVC offers undergraduate, postgraduate and CPD programmes in veterinary medicine, veterinary nursing and biological sciences, being ranked in the top 10 universities nationally for biosciences degrees. It is currently the only veterinary school in the world to hold full accreditation from AVMA, EAEVE, RCVS and AVBC.
A research-led institution, in the most recent Research Excellence Framework (REF2014) the RVC maintained its position as the top HEFCE funded veterinary focused research institution.
The RVC also provides animal owners and the veterinary profession with access to expert veterinary care and advice through its teaching hospitals; the Beaumont Sainsbury Animal Hospital in central London, the Queen Mother Hospital for Animals (Europe's largest small animal referral centre), the Equine Referral Hospital, and the Farm Animal Clinical Centre located at the Hertfordshire campus.
RVC Press Release 14 June 2016
See other Press Releases.
---
You may also be interested in:
The Royal Veterinary College (RVC) has signed a memorandum of understanding (MoU) with the Advanced …