Royal Veterinary College helps critically endangered monkey
A white-naped mangabey monkey called Ziggy has been successfully treated through a collaboration between The Royal Veterinary College (RVC) and ZSL London Zoo, after grass and foreign bodies were removed from her nasal cavity.
She was referred to the RVC from ZSL London Zoo who had performed the initial treatment on Ziggy before working with specialists at the RVC to ensure she returned to full health.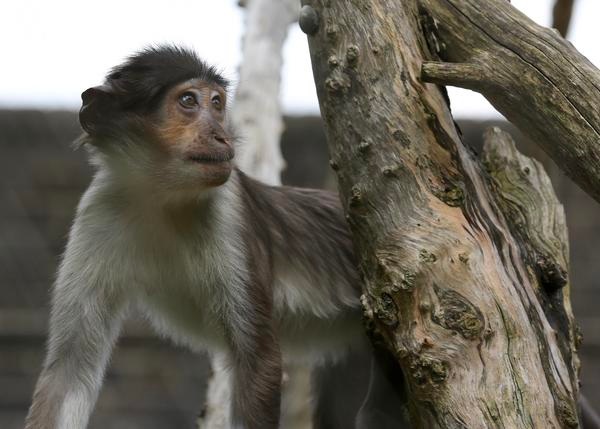 Ziggy, a three and a half year old white-naped mangabey, a Critically Endangered species native to Sub-Saharan western Africa, was suffering with epiphora and epistaxis which was causing sneezing, nose bleeds and discharge from one of her eyes. Vets from the ZSL London Zoo undertook a procedure to remove old strands of grass which had become stuck in Ziggy's nasal cavity and were understood to be causing Ziggy's discomfort. This procedure reduced Ziggy's symptoms but she was still showing signs of discharge. The Zoo's vets sought further expertise from the specialists at the RVC's Queen Mother Hospital for Animals (QMHA) and asked them to evaluate Ziggy's symptoms to ensure that all foreign bodies were removed from her nasal cavity and to ensure a quick and full recovery.
At the QMHA, Ziggy first underwent a CT scan which allowed the vets to analyse the extent of debris in Ziggy's nose. The QMH team, alongside vets and keepers from ZSL, then performed endoscopic surgery to remove the additional debris. The QMHA team who undertook the procedure included clinicians Monica Augusto and Dr Gert ter Haar, anaesthetists Paulo Monticelli and Dr Tristan Merlin, head medicine and endoscopy nurse Gina Parkes, and endoscopy nurse Jade Porter. Following the surgery, Ziggy was put on a short course of anti-inflammatories and antibiotics.
Subsequent check-ups at the Zoo confirmed that all the debris had been removed. Ziggy has made a full recovery and is now in peak health.
Gina Parkes, Head Medicine Nurse at the QMHA, said: "It was very exciting to work with such a beautiful species. The process of removing the debris via endoscopy was not a straight forward one, we had to try a variety of techniques but luckily the skill and perseverance of the team paid off. It was very gratifying to work alongside conservation experts and get the result that we did. We are delighted that we could help."
Nic Masters, Head of Veterinary Services at Zoological Society of London (ZSL) which runs ZSL London Zoo, said: "With more than 700 different species at ZSL London Zoo alone, the ZSL veterinary department is responsible for the healthcare of a huge diversity of patients.
"Collaboration with institutes such as The Royal Veterinary College is vital so that we can pool our combined expertise, and specialist equipment to provide the very best care for the animals we look after.
"We've worked with the RVC on a variety of different clinical cases over the years with brilliant results. Ziggy's case was a great example of how beneficial these collaborations can be to the animals here."
---
Press Office Contact
Uche Graves / Zoe White
T: 0800 368 9520
E: uche.graves@plmr.co.uk / zoe.white@plmr.co.uk
Notes to Editors
The Royal Veterinary College (RVC) is the UK's largest and longest established independent veterinary school and is a constituent College of the University of London. The RVC offers undergraduate, postgraduate and CPD programmes in veterinary medicine, veterinary nursing and biological sciences, being ranked in the top 10 universities nationally for biosciences degrees. It is currently the only veterinary school in the world to hold full accreditation from AVMA, EAEVE, RCVS and AVBC.
A research-led institution, in the most recent Research Excellence Framework (REF2014) the RVC maintained its position as the top HEFCE funded veterinary focused research institution.
The RVC also provides animal owners and the veterinary profession with access to expert veterinary care and advice through its teaching hospitals; the Beaumont Sainsbury Animal Hospital in central London, the Queen Mother Hospital for Animals (Europe's largest small animal referral centre), the Equine Referral Hospital, and the Farm Animal Clinical Centre located at the Hertfordshire campus.
RVC Press Release 8 August 2016
See other Press Releases.
---
You may also be interested in:
The Royal Veterinary College (RVC) has signed a memorandum of understanding (MoU) with the Advanced …